Established in 1860 as Kentucky's first public water provider, Louisville Water Company supplies water and fire protection to communities in Louisville Metro and parts of Bullitt, Hardin, Nelson, Oldham, Shelby, and Spencer Counties. Every day, Louisville Water provides safe, high-quality drinking water to nearly one million people. For 162 years, the utility has continually delivered quality, innovation, value, and service.
Challenge
Louisville Water has a strong sense of pride in its company heritage, brand, and technology. Staff wanted to embrace these values while transforming operations to be the utility of the next generation, using a modern digital platform. They identified a digital transformation project to be the nexus of providing insights into all connected things for the organization—customers, assets, and work.
This digital transformation project presented multiple challenges:
The service order and asset maintenance work systems were more than 30 years old, paper driven, inflexible, and manual. They did not offer customers with expected modern services.
There were no mobile field solutions for mobile workers to communicate and record their work.
Data was outdated and did not adequately represent field activities.
Product support was limited, and no enhancements were available.
Consumers and employees demanded more services despite mounting pressure to lower rates. Louisville Water decided the time was right to embark on what would become a multiphase digital transformation project to streamline operations and boost efficiencies. The utility's motto continues to be "Do the right thing—in the right place—at the right time."
Partner
The implementation team was led by Louisville Water's business systems support team as well as Ernst & Young and TMG Consulting, with support coming from KloudGin and Esri.
Solution
Louisville Water implemented KloudGin's native mobile and single-scheduling engine and integrated it with ArcGIS. This helped drive improvements for customer service as well as mobile crew enablement across customer information system (CIS) and enterprise asset management work. KloudGin and ArcGIS integrate with the customer care and billing and asset management systems, enabling the business to get the value of unified scheduling and geospatial data integrated into mobile workflows that allow intuitive data capture from the field. Simple, intuitive data capture through KloudGin drives business decisions so that Louisville Water can offer better service, improve efficiency, and reduce operational costs—all resulting in the lowest cost possible to customers.
Enabling our field crews to manage all workflows (asset work, leaks, AMI, customer service, regulatory compliance) in a single mobile application online/offline and single scheduling engine is a game changer for us. It allows us to capture critical information right at the source without removing complexity from our field crews. It eliminates multiple applications and devices.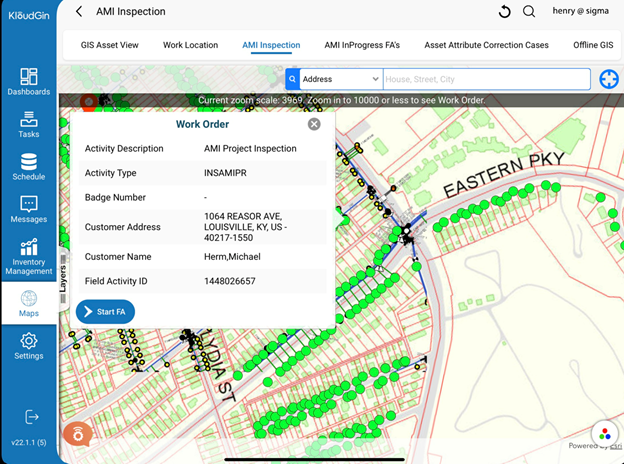 The project was divided into three streams. Stream 1 was Louisville's implementation of Oracle's Work and Asset Management (WAM) 2.2. Louisville Water was the first North American utility company to embark on this version of the tool and successfully implement it for plant and facilities maintenance. Also, KloudGin satisfied Louisville Water's need for scheduling work and mobile online/offline data capture by crews. Crews recorded labor, collected asset surveys, and used geographic information system (GIS) technology through KloudGin as part of their workflow.
Stream 2 was Louisville Water's expansion of WAM and KloudGin use to the utility's distribution facilities and workflows. KloudGin and GIS played crucial roles in this phase, enabling crews to easily review, create, and complete linear asset management work orders through KloudGin's intuitive native mobile application. Online and offline support was also crucial, particularly in places where internet and wireless service where not available. Performing valve tracing, investigating leaks, updating work locations, and identifying impacted services and customers are all seamless workflows supported by KloudGin utilizing the ArcGIS integration.
Stream 3 began as Louisville was evaluating KloudGin's CIS-based mobile workforce solution. KloudGin successfully replaced the existing tool in a 10-week implementation through an Oracle Customer Care and Billing (CC&B) integration. This stream also leveraged embedded GIS to give crews access to relevant customer service geospatial data. Louisville Water implemented a single mobile scheduling system integrated with ArcGIS for work related to customer service, advanced metering infrastructure (AMI), leaks, and assets.
Streams 2 and 3 went live at the same time. With this, Louisville Water realized the value of KloudGin's unified scheduling engine working across CIS and distributed EAM work orders. This was crucial to the organization in identifying synergies where crews can be optimally scheduled by one application. Also, crews have the ability to take multiple actions directly from the ToolTip from within the GIS map.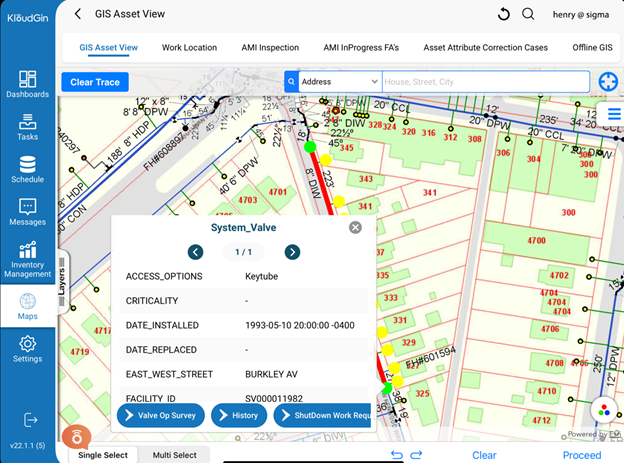 Results
ArcGIS and KloudGin integration has increased efficiency and enabled staff to work smarter, not harder. KloudGin uses web services to call and render maps through the mobile app, and this is built into the workflows and processes. With distribution assets, the crews need to know where they are going and which assets they are working on. They can now view work orders using the mobile app. As the work is completed, they can reference and glean data from the GIS map and update work activities.
This is a huge benefit—the mobile app can be used to pinpoint where a repair was made (which valves, main segments, etc.). KloudGin enabled this process so that crews can update the work activity with the exact location of repairs, all as part of the mobile process. Louisville Water is able to better manage its assets—not only pipes, pumps, and tanks but also human assets to deliver high-quality service and value for its customers.
Digital transformation has helped Louisville Water include AMI-type work orders in its mobile solution and facilitated the business's AMI meter-replacement project. This project helps drive timely billing and enhanced customer service capabilities. This has resulted in a 75 percent reduction in manual data entry time and a 65 percent overall reduction in paperwork with digitized forms.
Louisville Water realized its vision for a single scheduling engine across critical work systems, enabling staff to seamlessly work across CIS, EAM, and GIS technologies.
Every day, nearly one million people depend on Louisville Water Company to provide safe, high-quality drinking water. Modern digital tools are key for us to deliver exceptional value to our customers.
Stay Connected with Esri's Water Team
ArcGIS is an extensive information system that enables modernization of workflows with easy-to-use applications for the field and office. Strengthen your organization with smart water solutions that will increase efficiency and provide insight for decision-makers. Visit Esri Water Utilities web site for more information.
Join the Water Utilities Community
Follow #EsriWater on social media: Twitter | LinkedIn
Subscribe to the Water Industry newsletter "Esri News for Water Utilities and Water Resources"