In the quickly evolving landscape of construction and infrastructure technology, attendees at the Design-Build Institute of America (DBIA) Design-Build Conference & Expo held in National Harbor, MD bolstered the importance of the geographic information system (GIS) technology in delivering Design-Build projects. GIS technology leverages the power of spatial data, equipping owners, designers, engineers, and builders with valuable tools and insights. Feedback from the attendees at the Esri booth, mainstage presentations, and in conference sessions reinforces the fact that GIS can be a critical tool and process to enhance project efficiency, accuracy, and team collaboration.
Understanding the Design-Build Process
As the name implies, Design-Build for construction integrates both design and construction into a single collaborative process between architects and contractors from the project's outset. This streamlined approach often results in faster project completion, cost savings, and a more efficient construction process. Design-Build is a quickly growing approach to delivering built projects; based on research from the leading consulting and investment banking firm FMI, design-build will account for 47% of U.S. construction spending by 2026, up from 42% in 2020. Total growth in design-build spending is projected to be 22.5% from 2022 to 2026. 1
The uptick in acceptance of this process is based on its ability to adapt to changes during construction and is valued for its collaborative nature. On the other hand, Design-Bid-Build can be more rigid, with potential for disputes and change orders as the project progresses.
Understanding GIS in the Design-Build Process
Before digging into the observations from the show supporting the importance of GIS, it's essential to establish what GIS means in the context of planning, designing, constructing, and operating the built world. GIS includes software tools, data of various types, and processes used to collect, manage, analyze, and visualize geometric and geospatial data. This data incorporates geographical features, land use, terrain, and significantly important for this discussion, CAD / BIM / LiDAR and other formats describing built projects, both horizontal and vertical. In the design-build process, which is inherently collaborative and information dependent, GIS integrates this data to guide decision-making at all stages of capital-intensive projects.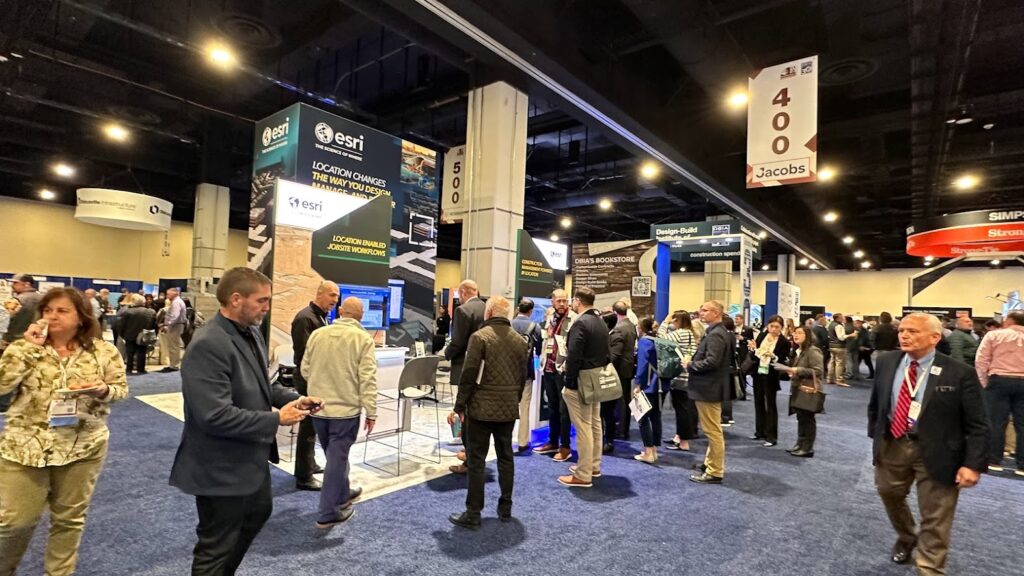 Site Selection and Feasibility Studies
Selecting the optimal site is a fundamental initial step in any project. At the Design-Build Conference & Expo, attendees who saw demonstrations at the Esri booth confirmed that GIS offers the wealth of data, from geological information, traffic patterns, weather and climate information, demographic studies, and land-use history, essential to project stakeholders for informed decision-making. Numerous booth visitors endorsed the data-driven approach aids in assessing site feasibility, identifying potential challenges, and comprehending environmental and regulatory considerations.

The feedback from conference attendees supported our position that by harnessing geospatial data and analytical capabilities, design-build project stakeholders can make informed decisions, assess feasibility, mitigate environmental impact, ensure regulatory compliance, and manage risks effectively. In essence, GIS empowers collaborative teams comprised of owners, designers and builders to select the most suitable sites, setting the foundation for successful, efficient, and sustainable projects. Attendees often came to our demonstrations with minimal knowledge of GIS, but left understanding GIS is indeed a cornerstone of smart, data-driven site selection.
Improved Planning and Design
Through numerous demonstrations and examples, Esri staff explained the benefits of GIS continue to be invaluable during the planning and design phases. Attendees at the DBIA conference affirmed that GIS aids design-build teams in creating accurate, data-driven designs that take into account existing infrastructure, environmental conditions, topographical challenges, and various contextual concerns. This feedback in the booth and overheard at conference sessions underlines the significance of visualizing data in a geographic context, allowing a broad range of project stakeholders to identify potential issues early and make necessary adjustments.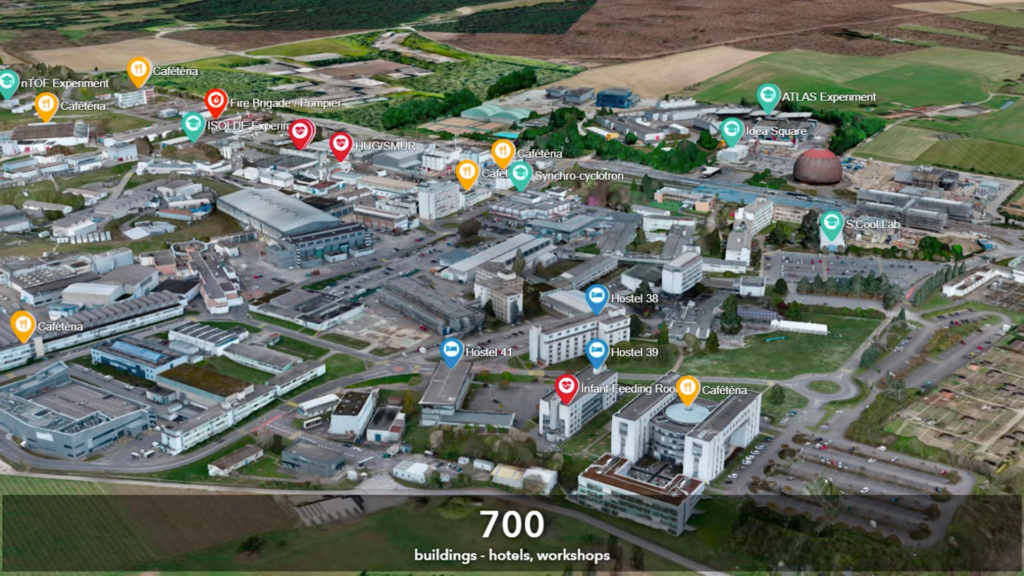 The consensus from our participation at the Design-Build Conference & Expo backed-up our awareness that in the realm of design-build projects, GIS is a game-changer during the design phase. Attendees confirmed that GIS provides architects and designers with the tools to create informed, data-driven designs by incorporating real-world data, such as topography, land use patterns, and existing infrastructure. This context-aware approach ensures that design choices are optimized for the specific site, maximizing energy efficiency and adhering to local building codes, including set-backs, site-lines, green-spaces and more. Attendees in our booth agreed that GIS facilitates site suitability assessment, environmental impact assessment, and risk mitigation, all of which are critical aspects of the design process. The feedback and interest we saw from attendees was a strong endorsement of the role of GIS in efficient, precise, and sustainable design-build outcomes.
Communication and Collaboration
Effective collaboration is a linchpin for the success of design-build projects, and the positive reaction seen from the DBIA Conference emphasizes that GIS significantly aids this collaboration. Attendees agreed that by using geospatial data, project managers, architects, engineers, and construction teams can work with a shared appreciation of the project's geographical context. This, as conference attendees indicated, streamlines decision-making and reduces the likelihood of errors.
Design-build projects thrive on collaboration, and feedback from attendees underscores that GIS is an essential capability for fostering effective teamwork. This collaborative project delivery method, involving close cooperation between design and construction teams from project inception, relies on a shared understanding of the project's context. By sharing project examples at the Esri booth, and presenting the concepts of GIS in conference sessions, attendees learned that GIS uniquely provides this common ground by offering geospatial data and mapping capabilities. The location-based representation of data simplifies communication and information sharing among project stakeholders. The consensus from the conference attendees made it clear that GIS is indeed a critical factor to connect teams of various skills, helping to guarantee alignment with the project's geographical reality.
Construction Management: Validated at the DBIA Conference
As construction commences, GIS is indispensable for project tracking and management. By overlaying geospatial data with construction schedules, managers can monitor progress and optimize resource allocation, as confirmed by conference attendees when shown various demonstrations and customer examples.
Construction management plays a pivotal role in design-build projects, ensuring that the vision becomes a reality. Feedback from attendees validates that GIS is increasingly essential in this aspect, offering a wide range of benefits that significantly enhances the design-build process.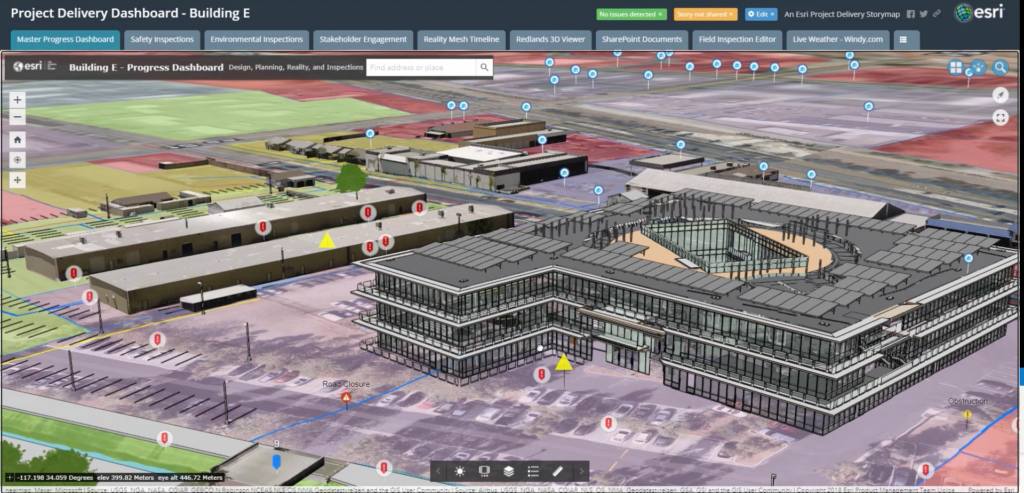 The feedback from attendees at the DBIA Conference at the Esri booth, aligns with the team's understanding that GIS uniquely provides real-time monitoring and progress tracking, enabling construction managers to keep projects on schedule and make timely adjustments. Having seen demonstrations of real-world projects, visitors to the Esri booth understood that GIS aids in resource optimization, allowing for efficient allocation of personnel, equipment, and materials.
GIS enhances safety management by identifying potential hazards and risks within the project's geographical context, and also facilitates precise asset management, reducing maintenance costs and ensuring assets are well-maintained. Lastly, GIS streamlines communication and reporting by offering a visual representation of project data, making it easier to convey complex information to stakeholders.
Key takeaways
In the dynamic and collaborative world of design-build projects, the attendees supported our team's belief that GIS is an indispensable tool for effective construction management, significantly contributing to the success of the project. Integrating geospatial data into the design-build process empowers professionals to make more informed decisions, reduce risks, and enhance the sustainability of their projects. The importance of GIS in construction is undeniable, and as technology continues to advance, its role is likely to grow.
The consensus from attendees at the Design-Build Conference & Expo emphasizes that embracing GIS is not only a smart move but also a responsible one. It aligns with the increasing global focus on sustainability and efficient resource use. As the construction industry continues to evolve, those who integrate GIS into their processes are more likely to stay ahead of the curve, delivering better results for their clients and the environment.
In an era where data is king, the feedback from the conference attendees confirms that GIS emerges as the key to unlocking the full potential of the design-build process, ensuring a more efficient, cost-effective, and sustainable future for construction and infrastructure development. Attendees also validated that the benefits of GIS are real and substantial, and their use is a game-changer for the design-build industry.
To learn more about the impact of GIS for the design build process, take a look at this StoryMap prepared by Esri's AEC Solution Engineers.