Keep track of what happens
---
With so many people and things in motion, business and government leaders don't have time to manually track each movement. With location intelligence, they can create live maps and apps for monitoring. By seeing what's happening now and analyzing what has already happened, decision-makers can identify opportunities for growth, safety, and efficiency. 
See movement patterns others can't
---
Monitor operations, resources, and assets—from field crews to vehicle fleets—using live maps, apps, and dashboards.
Analyze and display real-time data from sensors, devices, and social media feeds.
Put live tracking data in context of road or utility networks, hazards, weather, and demographics.
Send commands to sensors when patterns of interest are detected.
Get real-time alerts and visualization on maps and dashboards.
Integrate location history data with infrastructure data to discover trends and outliers.
Capabilities
---
Track assets and visualize, analyze, and understand huge volumes of data in real time with location intelligence technology from the Esri Geospatial Cloud.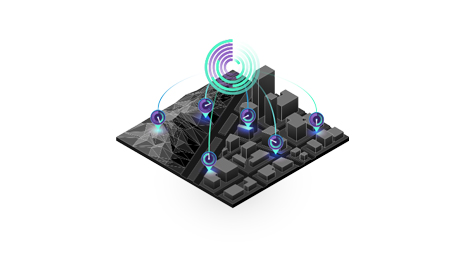 Real-Time Visualization and Analytics
Know where assets are across your organization and monitor changing situations. Use big data and Internet of Things (IoT) technology to make quick, informed decisions based on the most up-to-date information.
Spatial Analysis and Data Science
Use location as the connective thread to uncover hidden patterns and trends. Create a competitive edge by integrating location into machine learning models and artificial intelligence. 
Field Operations
Gain perspective on real-time field activities and use visually rich dashboards to inform decisions. See what can be accomplished through capturing accurate data and working in unison, easily navigating data and roads—even while offline.