Water outage solution benefits
Minimizing downtime from broken mains is a top priority to any water utility. Manage planned and emergency outages with Esri's complete location-based water outage solution. Help your field staff quickly isolate the broken main, send notifications to people that need to know, and coordinate repair activities. Outage information can also be automatically shared on your website to inform your customers. Take advantage of customer proven bundled apps that support water outage workflows.
Shut down your system quickly with location insights to minimize water loss.
Reduce costs with faster coordination.
Improve customer satisfaction with up-to-date information
How does the Water Outage Bundled Solution work?
Report leak
Assign workforce to leak
Run an isolation trace
Visualize outage dashboard
Communicate customer outages
Report leak
Allow staff to report on suspected leaks and dispatch fieldworkers to record location and details.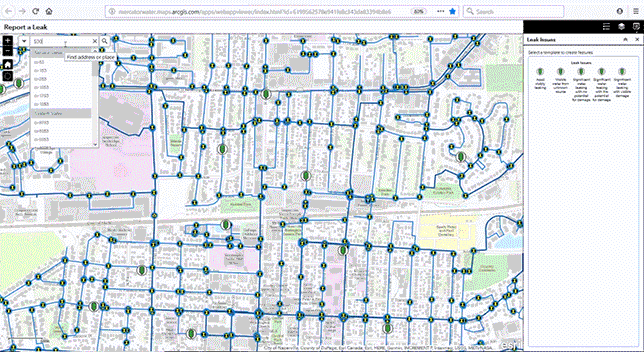 Assign workforce to leak
Quickly dispatch your fieldworker assignments to record location and details.
Run an isolation trace
Enable staff to run a trace to understand which valves to close and which hydrants and customers will be out of service.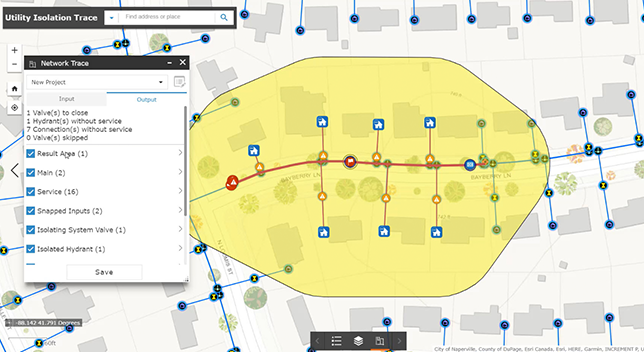 Visualize outage dashboard
Monitor and track the progress of your leaks and outages.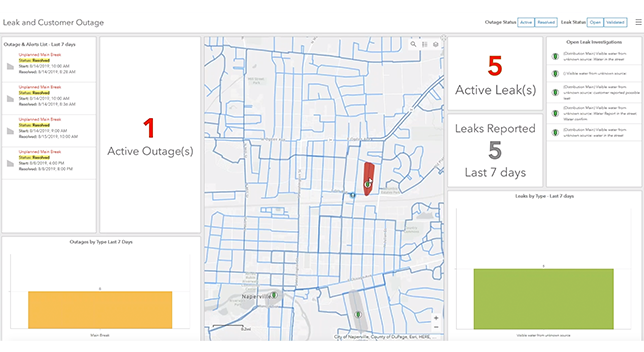 Communicate customer outages
Keep customers informed with an up-to-date view of areas with affected service.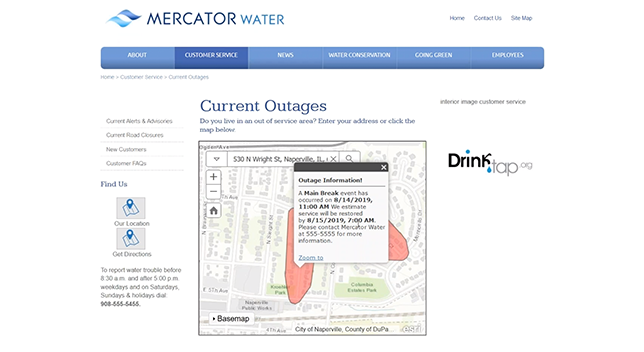 What's included?
Esri's water outage bundled solution is a customer-proven configured solution.
Esri software
The solution includes the ArcGIS software necessary to power the apps and tools delivered as part of the solution. This can include ArcGIS Enterprise Standard, ArcGIS Online, and named users.
Professional Services implementation
The Water Outage Solution Workshop Service Package provides up to 4 days of on-site installation and configuration support to deploy the information products. This includes configuring, testing, and knowledge transfer for all apps and tools included in the solution.
Technical support
Esri provides support analysts that are thorough, professional, and efficient, backed by processes that ensure your questions get the attention they need.
Training and documentation
Training is available as part of the solution in several ways including technical transfer and the documentation for the solution templates.
Testimonial
White House Utility District
It's allowed our field personnel to shut water off in a much more efficient manner, as well as notify everyone involved and impacted in a fraction of the time it previously took.
Avery Reecer
Operations Manager, White House Utility District
Ready to take charge of main breaks? Talk to an Esri representative today. Fill out the form below and let us help you get started.