local government user story
GIS Dashboards Keep Residents Informed and Safe Against COVID-19
Shawnee County and the City of Topeka in Kansas had little time to prepare for the coronavirus disease 2019 (COVID-19) outbreak that was bearing down on their state. Community spread was threatening the county's 178,000 residents.
Given the urgent need to communicate up-to-date information to residents in this time, a new geographic information system (GIS)-powered emergency response tool has been a game changer for the county's emergency management group.
Shawnee County's COVID-19 Community Impacts dashboard is providing critical insights to decision-makers and residents, driving situational awareness to help keep them fully informed and safe.
Shawnee County Helps Keep Residents Safe with GIS Dashboards
The COVID-19 Community Impacts dashboard provides interactive maps, apps, and critical resources.
Key Takeaways
The new GIS solution provides insights for government decision-makers, emergency managers, and residents.
Active cases, trends and patterns, and risk factors are being visualized in near real-time.
The City of Topeka's new open data website helps local residents stay safe and view open businesses.
A Data-Driven Answer to an Emerging Threat
As COVID-19 began to spread across the country, Shawnee County's GIS department prepared to meet the sudden needs of the other departments it directly supported. The unique nature of the COVID-19 outbreak would create immediate demand for new GIS solutions that could quickly and easily capture, as well as visually present, case data in near real time.
The GIS team envisioned an interactive dashboard that could help present critical information in a visually engaging way, for use in press conferences. The new dashboard needed to give users the ability to quickly view a holistic snapshot of active case data, emerging trends and patterns, and inherent risk factors that could impact the county.
Prior to activation, the GIS team was working on another dashboard configuration using the Survey123 for ArcGIS app to collect data and create a local auction fund-raising website, which fed into a similar type of operational dashboard. That work in progress helped the team quickly ramp up to build out the dashboard that the health department needed.
The state's stay-at-home order presented the team with an unexpected challenge, being suddenly dispersed and unable to work face-to-face in the office.
"Before we began to see active cases in our county, we were all working from home. This made things more complicated in terms of not being able to just sit down and show others what we needed to do and how," said Lee Allen, GIS manager, Shawnee County. "Losing a feel for all the things going on—the heartbeat of the organization—definitely made the process more challenging, in trying to get important things to a finished form. Luckily, I have an amazing GIS analyst to assist with some of the most difficult tasks."
The GIS team was resourceful and adapted quickly to establish a new plan of action and mobilize its members, dedicating all of its resources to accommodating the public health department's time-sensitive request.
A New GIS Dashboard Becomes a Go-To Information Resource
To accommodate the new request from the Shawnee County Health Department, members of the GIS team looked to Esri's COVID-19 GIS solution template. They had been monitoring the data dashboard that Johns Hopkins University seemed to be setting the bar with.
They immediately began adopting the ready-to-use datasets and templatized dashboard to configure and deploy their own unique solution using ArcGIS Pro. The county's COVID-19 Community Impacts dashboard was built in one day, fulfilling a critical need for a visually powerful tool that could be used anytime, from anywhere, to present up-to-date information on the outbreak. Although built in one day, dashboard items and presentation passed through a continuous cycle of revisions to get the best result.
The collaborative effort between the public health and GIS departments proved to be a real benefit for the county, allowing workflows to be adjusted quickly to meet the emerging threat.
Gianfranco Pezzino, MD, MPH, the strategy team leader at the Kansas Health Institute (KHI) in Topeka, Kansas, played an integral part in that collaboration. In his current role at KHI, Pezzino assists local health departments in their emergency preparedness activities. He offered valuable guidance on the information that the GIS team would need, in conjunction with Linda Ochs, the director of the Shawnee County Health Department.
The GIS team received direct input from Shawnee County's health leaders, such as Dr. Pezzino, Ochs, epidemiologist Lien Le and health planner Susan Caman. They gave guidance on what GIS data would best serve their needs, communicating how they wanted the information to be visually presented, and provided daily data input to the system.
"Given that they were holding press conferences twice a day, what they really wanted was to be able to take this new dashboard and get it out there, so that they didn't have to verbally confirm these numbers all the time," said Allen. "They were getting so many requests from the media and the public on what the status of the situation was. The dashboard provided them with a valuable resource to direct people to, containing a comprehensive view of the critical numbers."
Providing Location-Based Insights to Keep Residents Safe and Aware
The dashboards were merged into a single intuitive application using ArcGIS Experience Builder. Compatible on smart devices, the new dashboard is providing residents with the latest data on all confirmed cases, recoveries, and fatalities related to COVID-19. To adequately capture the whole picture, the dashboard also displays the current number of negative and pending tests as well as people being actively monitored throughout the county. Confirmed case demographic data was also added to further public knowledge.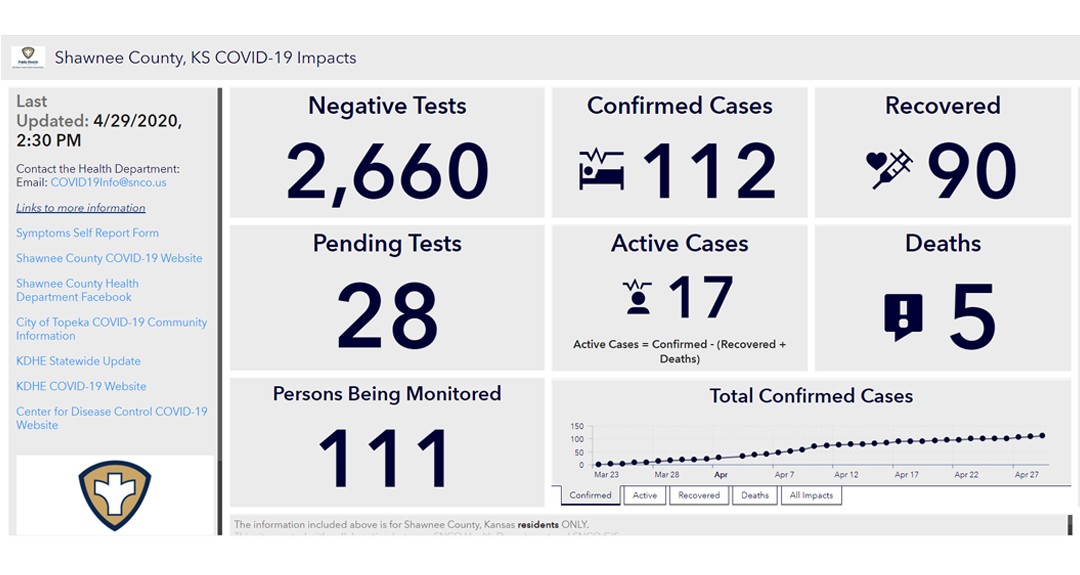 Shawnee County, Kansas Coronavirus Impact Dashboard.
This level of location intelligence is giving residents a new perspective into their community's level of preparedness in relation to risk factors to be aware of. These insights are helping over 175,000 people better understand effective safety measures and precautions that can protect them against community spread.

Shawnee County's GIS team is starting to see the positive difference the COVID-19 Community Impacts dashboard is having on the safety and situational awareness of the community. The new GIS solution is serving as a foundation for emergency response communications as a wide array of the county's decision-makers direct residents to it. This includes health department leaders utilizing it when speaking at their press conferences.
"We have been dedicated to understanding exactly what's going on, on a personal level, as far as where these numbers are coming from, what they communicate, and how people are using them," said Allen. "Hearing what our county's leading health officials were saying in their news conferences really helped us continue to gear the GIS technology toward what we understood they really wanted, or would best help them, and our local community members." 
The City of Topeka Maps Local Business Availability
Feeding off of Shawnee County's efforts, the technical support team in the City of Topeka's Public Works department collaborated with the city's communications department to engage local business owners in the face of the COVID-19 outbreak.
The city's new open data website features an extensive collection of valuable information and resources for residents to help them stay aware and informed of the impacts of the COVID-19 pandemic.
"There was an immediate need identified about creating and putting out a new online resource for local businesses to be able to report themselves as essential," said Brandon Bayless, division manager, Technical Support Group, Public Works department. "So the big push on our side involved putting the information that the city manager's office was communicating out onto the website, ensuring that we had something that was centralized and consolidated."
Supporting the Local Economy in a Time of Need
A new public awareness initiative is providing an easy way for Shawnee County's essential businesses to let residents know they are open and operating. The primary project of the city's 10-member technical support team in the Public Works department is a new interactive Business Availability map.
Built with ArcGIS in just a few days, the new solution is powered by crowdsourced data provided by local business owners via a short web form in the Survey123 for ArcGIS app.
While this is not a typical local government function, in the face of a growing pandemic, it has proven to serve as a very important data-driven solution to provide to residents in this time.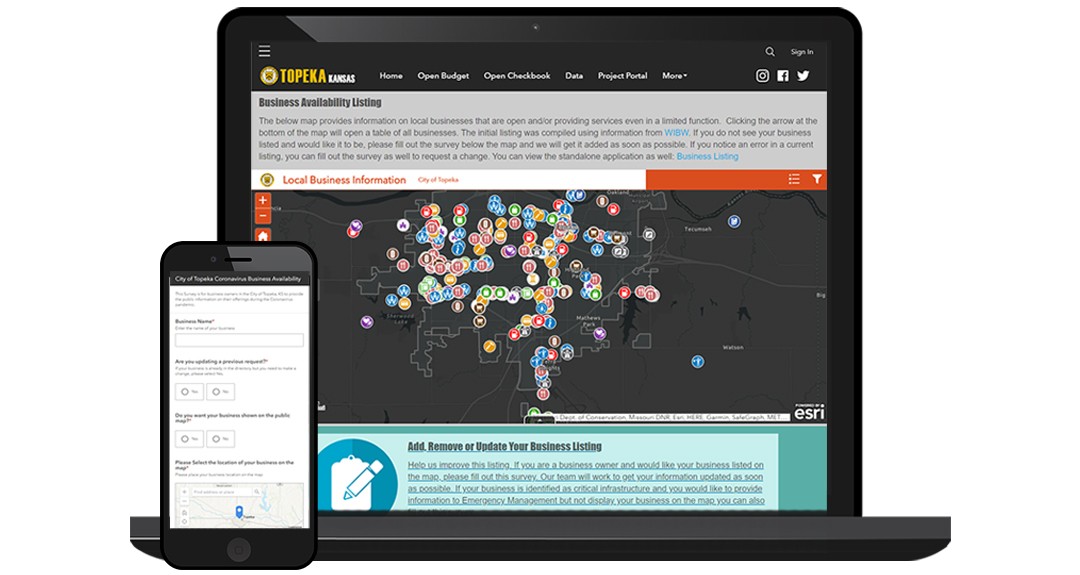 Topeka, Kansas Business Availability web map.
"While most of the work we do is for public works, our outreach is to every division within the City of Topeka," said Darren Haag, GIS solutions architect, Technical Support Group, Public Works department. "That's why something like this involves a high level of collaboration to put information out there for the whole city on its behalf. This allows the city to provide a vital service it couldn't offer before, without adding any additional resources."
Public awareness of the new Business Availability map was initially generated through press releases and announcements from the city's media communications department in local news outlets. In telecasts, news releases, videos, and social media feeds, business owners were directed to the web survey form, allowing them to easily add their business's offerings to the interactive smart map on the city's open data website.
Residents can click on the map's array of colorful icons, designated by business category, to view up-to-date information on a business, including its name, business type and service offering, address, contact information, hours, and website.
The city's new solution is gaining popularity throughout Shawnee County with over 550 surveys completed thus far. 
"Being able to be flexible and quick to adapt has allowed us to help drive important information out to the public, and that has been an essential part of this effort. I know from a general community standpoint, having that data mapped, showing where you can go to help support your local businesses, has been very critical," said Hannah Uhlrig, City of Topeka's deputy director of Internal Services, Public Works department.
The story of Shawnee County, Kansas and the City of Topeka, Kansas is just one example of how organizations are using GIS to respond and operate more effectively during the COVID-19 crisis. This effort can be replicated in communities across the globe.
Esri is dedicated to supporting the efforts of many organizations through software, technical support, and resources. Some examples include the following:

 The Esri COVID-19 site connects organizations with insights, information, and updates.

The COVID-19 GIS Hub provides a definitive resource for data, solutions, FAQs, and best practices to help organizations get started.
The Esri Disaster Response Program (DRP) assists organizations with GIS software needs, technical support, services, and data. For immediate assistance, submit a Request for Assistance form. Requests are monitored 24/7.
As GIS technology continues to support organizations worldwide through this crisis, Esri will gather best practices and share lessons learned from jurisdictions around the globe to provide a greater understanding of and inspiration for COVID-19 response efforts.
Being able to be flexible and quick to adapt has allowed us to help drive important information out to the public, and that has been an essential part of this effort. I know from a general community standpoint, having that data mapped, showing where you can go to help support your local businesses, has been very critical,
---
Hannah Uhlrig
Deputy Director of Internal Services, Public Works department, City of Topeka