Make space for returning office workers
Companies that invite workers back to the office should include social distancing protocols in their floor plans to reduce the risk of exposure to COVID-19. ArcGIS Indoors helps you make facilities safer. Powerful spatial analytics provide data-driven insight to plan and monitor COVID-19 protocols as well as improve facility performance. Visualizing building information modeling (BIM) and CAD data in context and using tools to interact with design can help you make effective decisions.
ArcGIS Indoors is also available as software as a service (SaaS) via ArcGIS Online, which streamlines deployment and secures information with assigned access. 
Reimagine the workplace
Visualize floor plans and streamline safety analysis.
Facilitate better planning across the portfolio.
Involve occupants in seating arrangements.
Optimize office space for hybrid (remote/on-site) work.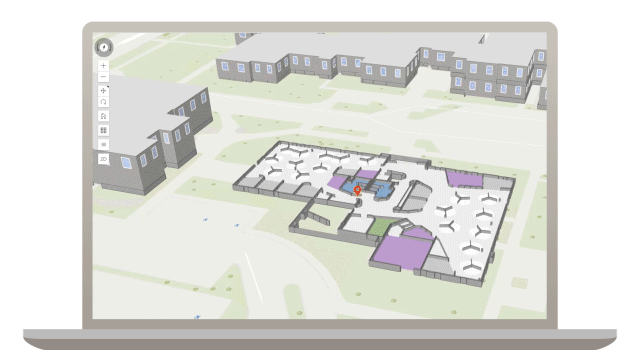 Watch the video of Space Planning for COVID-19 Recovery
Learn how your organization can leverage Indoor GIS capabilities to support space planning for your organization's COVID-19 recovery