case study
High School Students Learn Real-World STEM Skills with GIS
To succeed in an increasingly competitive world, students need opportunities to explore and develop real-world skills. At Anderson W. Clark Magnet High School (CMHS) in La Crescenta, California, students have such opportunities as a part of the Glendale Unified School District's Career and Technical Education (CTE) program. CTE programs integrate technical skills with core academics and are designed to prepare students for college and careers. Through CTE at CMHS, the Environmental Engineering pathway houses the geographic information system (GIS) programs, run by Dominique Evans-Bye, a biology teacher and certified GIS professional.
Evans-Bye created the school's GIS curriculum around the understanding and application of scientific theory and GIS technology. In addition to GIS software, the program is equipped with tools—such as a remotely operated vehicle with an imaging sonar system—for more intensive research and analysis, funded through the CTE program and grants. From day one, students are introduced to using and applying GIS to their coursework. Current courses include Geology of Disasters (GOD), Honors GIS and Remote Sensing, and project-based class Honors Environmental GIS. The GOD course integrates earth science to teach students about natural disasters caused by geological processes. They learn how to use GIS to monitor and communicate data about the locations and conditions of such events. Students work through college-level textbooks and GIS tutorials including Esri's tutorials and ArcGIS Blog tutorials.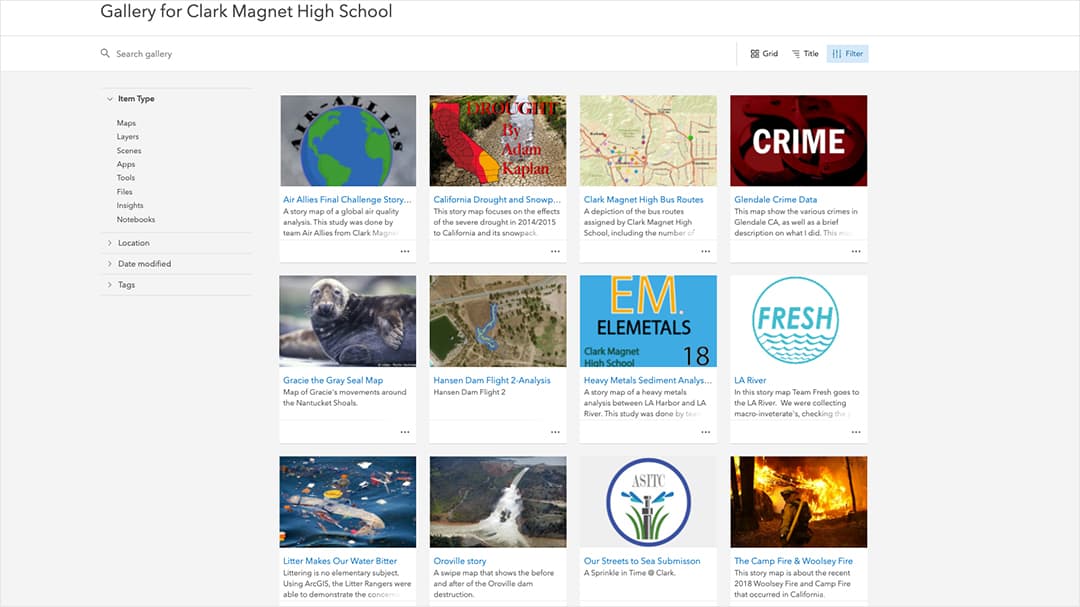 CMHS's ArcGIS StoryMaps gallery that highlights various projects from Evans-Bye's GIS students throughout the years.
Students in the Honors GIS and Remote Sensing course are taught the basics of remote sensing for land, ocean, and space, with a focus on imagery analysis. They learn how to use the Java Mission-planning and Analysis for Remote Sensing system and ArcGIS Pro, with the intent of mapping Mars. This year, Evans-Bye plans to have students analyze Mars Orbital Laser Altimeter data. Honors Environmental GIS, the capstone course for the CTE Environmental Engineering pathway, integrates GIS with environmental science to evaluate and address environmental issues and promote sustainability. The class is student led and project based, with Evans-Bye as a self-described "cheerleader." Her role is to keep students on track to meet deadlines and milestones while sharing relevant programs and tutorials for their projects.
Past students have used GIS to create a study analyzing heavy metal sediment between the Port of Los Angeles and the Los Angeles River, a study on water conservation at local school district campuses, and a global study analyzing both volatile organic compounds and air pollution levels.
This year, students of both Honors courses submitted two notable projects. The first was for the US Department of Education's CTE Mission: CubeSat, a national challenge for grades 9 to 12 aimed at building technical skills for careers in space, and science, technology, engineering, and mathematics (STEM). Participants are required to propose a mission, then design, build, and launch a CubeSat prototype—a standardized small cube satellite. The Honors GIS and Remote Sensing class decided to localize their project, studying whether nearby encampments for those experiencing homelessness are in high-risk wildfire areas, with the goal of reporting their findings to the Los Angeles City Fire Department.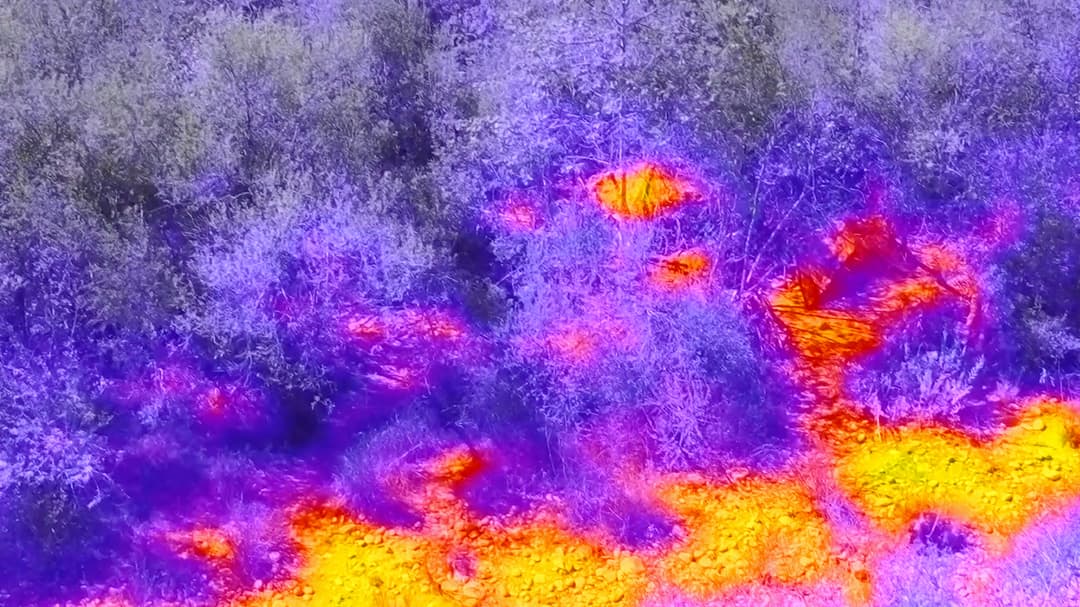 A thermal image pulled from an infrared camera used to obtain a proof of concept for the CubeSat project.
Article Snapshot
The Career and Technical Education program at Anderson W. Clark Magnet High School includes a successful GIS curriculum that integrates science and technology with hands-on learning.
Key Takeaways
• Educators with a strong understanding of GIS can apply it across a wide range of content.
• GIS application is effective for teaching STEM courses and promoting career-relevant skills.
• Project-based learning provides students opportunities for success in school and their future endeavors.
The class built a CubeSat prototype with infrared sensors to map encampments. To determine suitable locations to fly, students conducted a site suitability analysis using ArcGIS Online, accounting for a team-determined radius around their school, Federal Aviation Administration controlled airspaces, high-risk wildfire areas, and open spaces. They then had to collect ground truth data to confirm for encampments in these locations. For their effort, the CMHS Honors GIS and Remote Sensing class was chosen as one of five finalists and rewarded $5,000 and in-kind prizes.

The second project, inspired by Esri's 2020 ArcGIS StoryMaps Competition for the Sustainable Development Goals (SDGs), was a food sustainability program addressing 10 of the 17 global SDGs created by the United Nations General Assembly. Titled "Students Search for Sustainability," the Honors Environmental GIS class project focused on three issues found at their school: food waste, the use of single-use plastics, and a lack of vegetarian meal options. The students' proposed solutions included donating surplus food to food banks, emergency shelters, and the local nonprofit Food Forward; replacing single-use plastics with bamboo utensils; and offering vegetarian meal options based on district guidelines, budget, and student input. They utilized GIS in all three solutions: conducting drive-time analyses to find nearby donation locations, sourcing bamboo utensil distributors for bulk purchase, and using ArcGIS Survey123 to gather and display survey data to determine vegetarian meal option demand.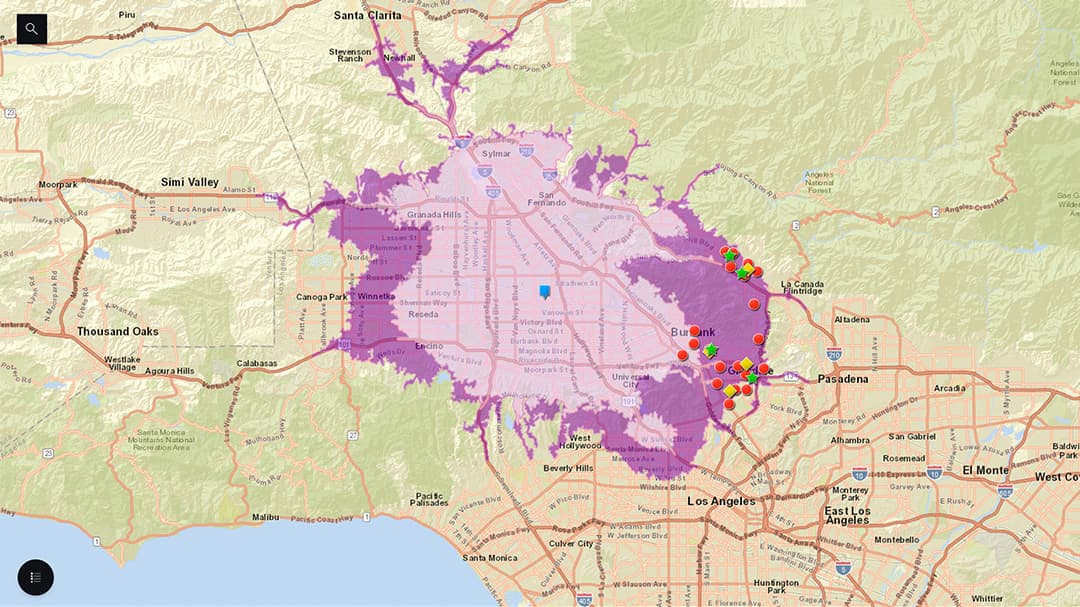 A still of an interactive map used in the "Students Search for Sustainability" narrative map that shows a drive-time analysis of donation locations in the vicinity of the nonprofit organization, Food Forward.
"Students Search for Sustainability" was submitted to the President's Environmental Youth Award, a national program for kindergarten through grade 12 created to recognize a commitment to environmental stewardship, and to SkillsUSA Championships, a career competition showcasing the best CTE students in the nation.
Opportunities to Grow with GIS
Through GIS, CMHS students have opportunities to challenge themselves, think creatively, and apply their skills toward projects that benefit the environment and local community. They've been successful, entering and winning competitions such as the previously mentioned SkillsUSA Championships, Generation Earth's Streets to the Sea Competition, and the California Geographic Alliance My California GIS Mapping Showcase and Competition. Most notably, students have won more than $400,000 over the last 13 years in Scholastic's Lexus Eco Challenge, a national STEM contest that awards scholarships and grants.
CMHS students also attend and occasionally present at conferences such as the California GIS Conference, the Western Society of Naturalists meeting, the Esri User Conference, and the Esri Ocean, Weather, and Climate GIS Forum. In their final semester, they participate in massive open online courses and are encouraged to apply for internship and scholarship opportunities.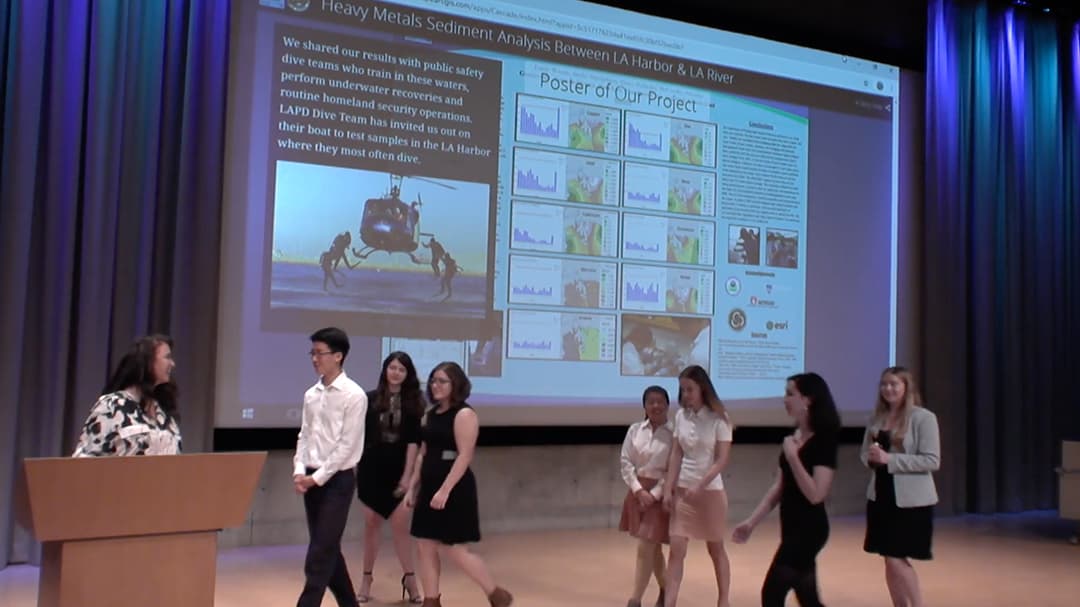 Dominique Evans-Bye and her students presented their study analyzing heavy metal sediment between the Port of Los Angeles and the Los Angeles River at the 2018 Esri Ocean GIS Forum.
Ultimately, Evans-Bye focuses on her students' success. She encourages students to build on group research and enter individual science research competitions such as the Los Angeles County Science and Engineering Fair and the Regeneron International Science and Engineering Fair. In the future, the high school's GIS pathway may include the use of drones as well as programming and scripting with Python and Jupyter Notebook.
Though not every student will take GIS to the professional level once they graduate, Evans-Bye said she hopes the skills they've learned will be valuable on their journey ahead. "Hopefully they'll look back and say, 'You know what? I did that in high school. I think I can do this again for whatever job I've got.'"
Learn how schools use GIS for free for instruction