case study
Waukesha County Empowers Residents to Advocate for Cleaner Waterways
In January 2018, the Waukesha County Land Information Office was approached by Jayne Jenks, a specialist with the county's Land Conservation Division, about the prospect of using geographic information system (GIS) technology in developing an adopt-a-drain program. This program would allow county residents to "adopt" a storm drain near their home and commit to keeping it free from debris. The program would give residents a sense of ownership of a small part of their stormwater infrastructure, leading to a form of waterway stewardship.
The adopt-a-drain program had two goals at the outset. The primary purpose was to improve the quality of regional waterways by reducing the inflow of trash, debris, plastics, and organic matter into the stormwater system, which ultimately drains directly to local rivers, streams, lakes, and retention ponds. Unlike residential wastewater, stormwater runoff is not processed at area waste treatment plants before it is dumped into rivers. By encouraging homeowners to keep drains clear of detritus, improvements to water quality would result.
The second goal was to reduce the number of storm drain backups during heavy rainfalls. Left unchecked, storm drains can become clogged with organic matter and trash, causing stormwater pooling in intersections and creating traffic hazards and other issues. With the recent increase of strong storms and 100-year flood events in the region, it is critical that stormwater runoff systems are working at peak efficiency to move water downstream or to retention ponds quickly.
During the program design and ramp-up, it was determined that the Land Conservation Division would begin by doing the legwork of creating educational materials and getting the word out via the county website and public mailings. Also, staff developed a how-to video showing the drain inspection and cleaning process and posted it on the county website. 
From a geographic standpoint, Jenks decided to start small by using a single city as a pilot project to ensure that the program was embraced and work out the kinks before broadening it out to other areas. The city of Waukesha was chosen as the pilot project area in part because it had a mature GIS including a complete inventory of spatially accurate storm drain assets. The city and county have a long history of GIS collaboration including data sharing, distributed parcel mapping, and participation in the Southeastern Wisconsin Esri Technical Users Group (SEWETUG). This group is composed of public sector GIS professionals in the greater Milwaukee area. They meet biannually to share information, tips and tricks, and application development ideas with a focus on the Esri suite of products and solutions.
After the land information staff met with Jenks, expectations were set regarding the functional requirements for developing a browser-based, public-facing application. Jenks wanted an interface that could provide for easy, map-based adoption of drains by users and would entail entering a minimal amount of address information so that the homeowners could be mailed an "adoption kit." This kit includes drain-clearing instructions, an adhesive storm drain marker, and a reflective vest to wear for safety while cleaning in areas of traffic.
Introduction of an Adoption Agent
Adopt a Highway Case study
Similar to how the County of Waukesha uses GIS to improve their Adopt a Drain program, see how County of St. Louis saved $200,000 in their Adopt a Highway program.
Jim Landwehr, land information system (LIS) supervisor for Waukesha County Department of Parks and Land Use, designed the application using the Geocortex Essentials and Workflow products. (Geocortex is now VertiGIS.) The workflow designer product allowed for the development of custom forms that prompt users for information and provide feedback based on their response. The application is powered by ArcGIS Enterprise feature services on the back end that allow the display of storm drain locations. Editing tools within the interface provide users the ability to select a drain to adopt and also to enter their home address so that informational mailers can be sent to them. The county also recently introduced a rewards program for frequent cleaners—small promotional items are sent to storm drain cleaning champions.

The adoption form allows users to have a little fun by giving their drain a nickname. It has resulted in some creative names including Drainy McDrainface, Clown Lookout, Purple Drain, and Drain Dead Easy. Also, before any drain can be adopted, the form requires users to acknowledge and accept the terms of agreement that absolves the county of liability.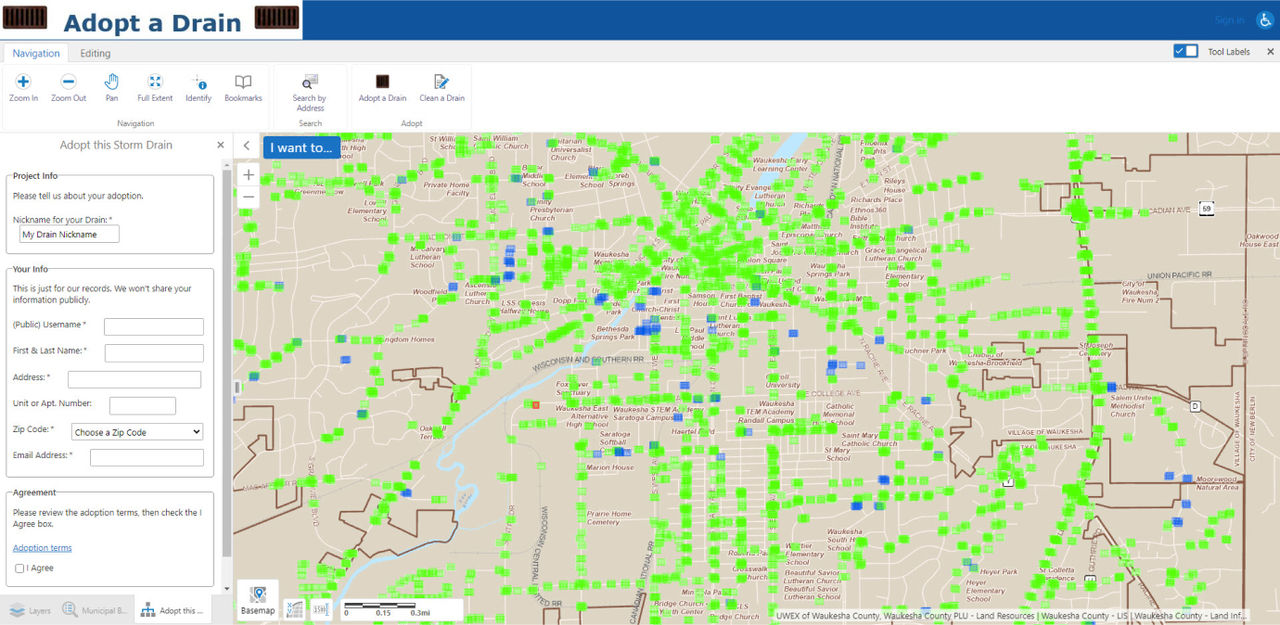 The Adopt a Drain application allows users to interactively adopt drains near their residences. Within the same application, users can log their bimonthly cleaning visits.
The other function of the application is to record a user's drain cleaning visits, including the type and estimated weight of materials removed. These debris statistics help the Land Conservation Division understand the general composition of materials that find their way into local inlets. This data collection is what made this program a little different from standard adoption programs, in which users simply chose a drain and that was where any involvement ended. To make this program even better, the app also has a box that can be checked specifying whether any materials were recycled after being removed from the drain—a win-win!
Jenks also asked if the Land Information Office could provide a dashboard so that the adoption and cleaning statistics could be tracked and easily conveyed to internal staff and the public. Landwehr responded by putting together an ArcGIS Dashboard that presented the data in an easily digestible manner. It includes specifics on collected material types, which provides Land Conservation Division staff with data to support cleanup priorities and target specific education campaigns accordingly.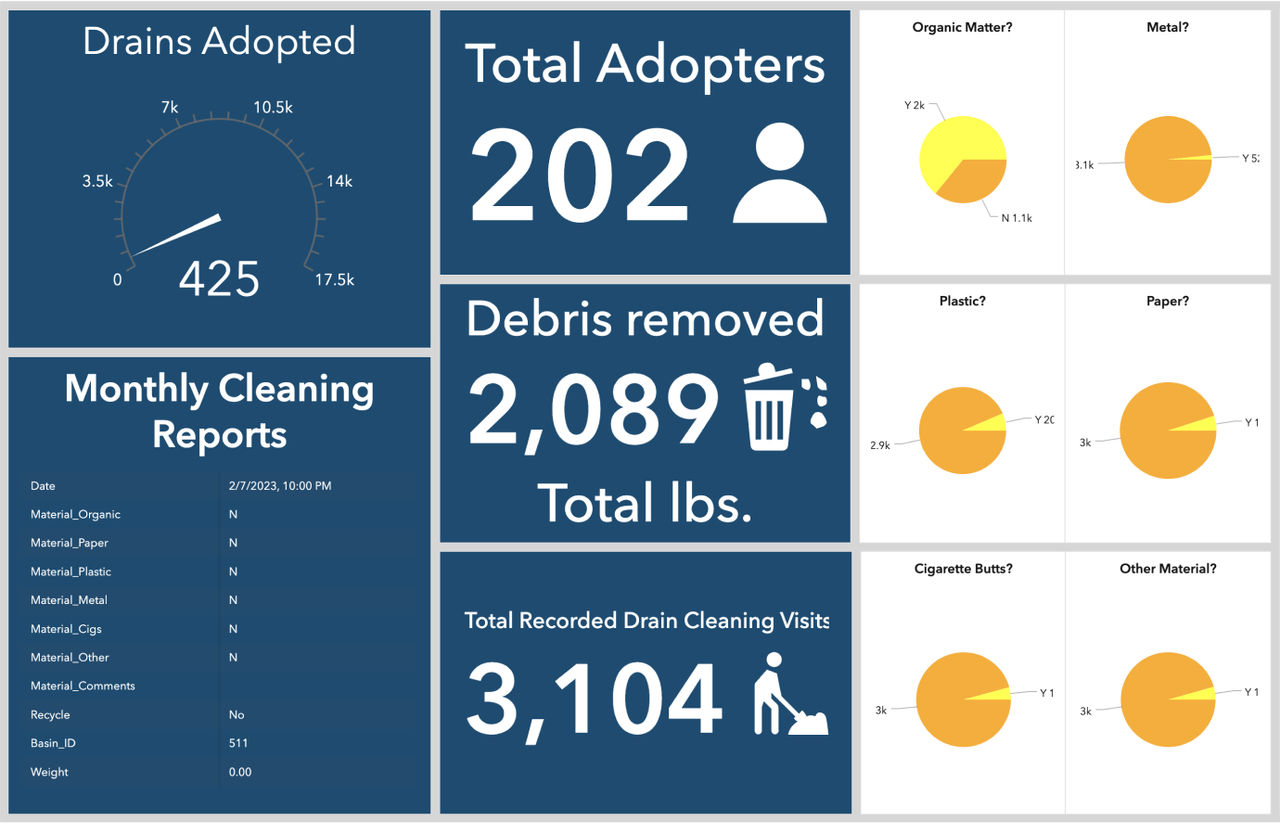 A public-facing dashboard gives a quick overview of drain inspection data.
Adopted Drains = Happy Drains
As of November 2022, 418 drains have been adopted by 195 different residents. Those stewards have paid almost 3,000 visits to clean or inspect their drains and have removed an estimated 1,900 pounds of debris. County staff have received some great feedback from the residents, including Susan, who wrote, "Helping to keep the Fox River clean by removing debris from the drains is very rewarding. I find that if I clean the drains right after either a wind or rainstorm, I am likely to find organic matter that would otherwise go straight into the river. It isn't often that you find something that takes only a few minutes per month with such immediate impact!"
Another resident, Josh, wrote, "Throughout the summer, my nephew Charlie took an interest in helping to clear the drains. Every time he's visited since, he always tells his dad to drive slowly as they enter the neighborhood so that he can scope out the status of the drains."
After the initial success of the pilot project, the geographic extent of the program has broadened each year and now includes five other communities: the cities of Pewaukee and Oconomowoc and the villages of Mukwonago, Pewaukee, and Sussex. Two additional communities are slated to come into the program in 2023. The program is intended to eventually cover the entire urban area of the county. The success of Waukesha County's adopt-a-drain program even caught the attention of Dane County Land Information Office, located in the state capital city of Madison. The office's GIS team sought advice from Waukesha County on the application's functionality and rollout and how it was built. Dane County has since introduced a similar program. Word is catching on that residents will get involved if asked.
As urbanization of Waukesha County continues to spread, efforts to keep its waterways, parks, and nature areas clean need to keep pace. While adopting storm drains might seem insignificant, it is an attempt to empower residents by giving them a small piece of environmental stewardship. It is through programs like this and the county's Recycle Right and Adopt a Trail that small changes can lead to big changes. Over the years, the Land Resources Division has become cognizant that GIS technology can be used as a tool to help keep our natural environment healthy through education, mitigation, and collaboration. GIS is definitely making Waukesha County a better place to live and play.
For more information on the Adopt a Drain application or program, contact Jim Landwehr, LIS supervisor, Waukesha County Department of Parks and Land Use. 
Jim Landwehr, LIS supervisor for Waukesha County, has over 35 years of experience in the GIS and AM/FM mapping industry in both the public and private sectors. He has been working with Esri software for over 20 years and is proud of the Waukesha County Land Information Office's accomplishments, which include winning the Esri Special Achievement in GIS (SAG) Award in 2004 and 2018. Landwehr earned a bachelor's degree in geography and anthropology from the University of Minnesota in 1985. He also enjoys writing and has published four memoirs and five books of poetry.
Explore how other public works agencies use GIS