user story
MassDOT's GIS App Delivers Efficiency, Collaboration on Infrastructure Project Budgeting
User
Massachusetts Department of Transportation (MassDOT)
Challenge
Like most DOTs, MassDOT needed a transparent, collaborative, and expeditious process for prioritizing and budgeting capital projects while accounting for environmental risk and social impact.
Solution
MassDOT developed the Massachusetts Project Intake Tool (MaPIT): a GIS-powered app that standardizes submissions and simplifies decision-making with multiple layers of project data, transparent dashboards, and a built-in scoring system.
Result
The easy-to-use tool provides a data-driven, transparent process that local and regional stakeholders can more easily understand and accept. Improving collaboration, risk management, and project delivery, MaPIT has won awards and inspired other DOTs to create similar solutions.
For capital projects, the work of making strategic project selection and budgeting decisions becomes a complex task. It can be extremely difficult to compare similar projects from different organizations, especially when those organizations use different assumptions and have varying goals for their project submittals. Decision-makers who must prioritize projects need to have confidence they are making sound decisions while guarding against potential future environmental surprises. The process needs to be transparent and collaborative yet achieved in a timely manner.  
To address this multifaceted challenge, the Massachusetts Department of Transportation (MassDOT) developed the Massachusetts Project Intake Tool (MaPIT). The application uses numerous layers within a geographic information system (GIS) from Esri to standardize and rationalize the process and greatly simplify the approach to decision-making. First implemented in early 2017, MaPIT has since won multiple awards and been emulated by other agencies across the US.
Prior to MaPIT, MassDOT's system for helping municipalities and the state initiate projects was, according to Michael Bolduc, a project delivery specialist in the Highway Design section, "a mostly paper exercise in a digital age." Applicants had to fill out a PDF-based form and apply via email. The time required to review proposals was often variable, not least because of the differences between submittals from the urban areas compared to the rural project proposals.  
The forms were comprehensive and asked a series of questions about a range of topics—from environmental issues to more social aspects. But the forms were not data intensive in the sense that there was a lot of leeway in the way agencies would be able to respond. Often, cities and counties relied on consultants to complete the documentation, which was often viewed as somewhat technical and complicated. Nevertheless, information gaps were still common and GIS screening almost nonexistent.
The application's origin also had roots in MassDOT's Environment section, where staff needed to see in one place all the environmental information relating to capital projects. Rather than having to look at dozens of layers individually, they wanted to be able to draw a polygon on an on-screen map and view all environmentally related data within the boundary.
Very quickly, says Bolduc, MaPIT took on greater form. The idea of MaPIT enjoyed a lot of early buy-in from stakeholders who could see the benefits but also wanted other layers of information added besides environmental. A further step, notes Kevin Lopes, director of Geospatial Technology, was to have the form-filling exercise carried out within the app itself, thus achieving direct entry of relevant data.
At the same time, a new secretary of transportation suggested the use of a scoring system to prioritize project funding. The MassDOT team therefore saw an opportunity to update the project forms while also incorporating the prioritization methodology. In many respects, Bolduc continues, MaPIT gained significant traction among stakeholders with the advent of the project scoring system. Combined with the automation of the forms, the new system dramatically reduced the effort and time involved and was greeted enthusiastically.
All this happened relatively quickly. Evolution from an environmental screening tool to what is now MaPIT took just 12 months. During that time, Lopes says, the team was ensuring that the app could meet all required functions including being able to connect with MassDOT's management system, push information into the system, and gain feedback.
Overall funding for the project was from the American Association of State Highway and Transportation Officials (AASHTO) and the Federal Highway Administration's (FHWA) second Strategic Highway Research Program (SHRP2), under the auspices of expediting project delivery.
Managing Risk and Growing Uptake
MaPIT now serves stakeholders ranging from the local to federal. At local levels, the application brought not only greater simplicity but also a greater understanding and acceptance of the prioritization process. The ease of use proved popular in other ways as well. For instance, some consultants still complete the initiation forms on behalf of their clients but no longer charge for the service due to reduced complexity.  
Project delivery is also expedited because of faster initiation combined with early acknowledgment of environmental and other risks. The original goal was to expedite project delivery through the use of innovative technology and more responsive public engagement, and MaPIT succeeds on all scores. The application and its structured approach increase MassDOT's ability to mitigate issues early in the project planning stages and help safeguard funding across a project's life.
From the federal perspective, MaPIT optimizes key strategies to help expedite project delivery, and project risk is better managed. To illustrate this, Bolduc points to the litany of environment-related permits that have to be obtained each time ground is broken on any new project. Before the MaPIT application, staff from MassDOT's environmental team would have to review all the different facets of a project and get permitting in place. Now, with MaPIT, any environmental, safety, or social equity issue is immediately flagged for follow-up at the time of project initiation.  
Use of MaPIT is now standard operating procedure across MassDOT. The app has fundamentally transformed the project initiation and screening process and the agency's interactions with the cities, counties, and metropolitan planning organizations in the state.
The MaPIT application was being developed at the same time as efforts to increase more general GIS awareness within MassDOT. Lopes says he had an ambition to better integrate information within the department and to get people more involved in editing and maintaining agency data. MaPIT's existence has had a symbiotic effect. Exposure across the agency helped advance the understanding of GIS, which has in turn benefited the application. A particular effect of MaPIT has been to encourage other divisions to assess how they can improve their workflows in other areas.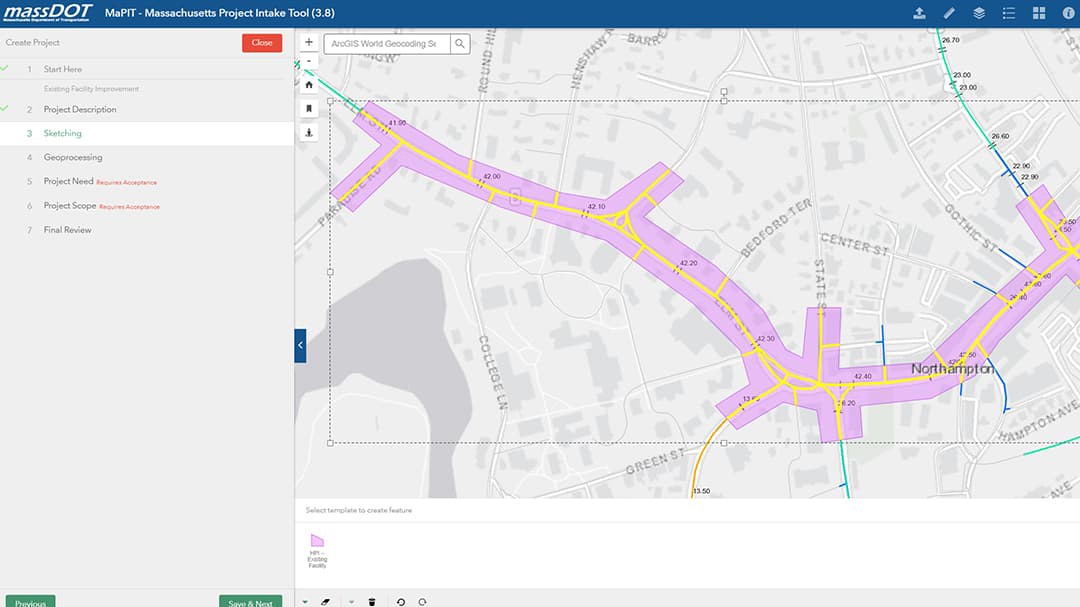 Like many other organizations, MassDOT already had much of the data it needed—the data was just held in different silos. The one thing that was missing—and a big driver of change—Lopes continues, was the creation of a project layer in GIS. Now, with direct connections to project databases and the ability to readily pull out the required information, people can operate more efficiently and with greater accuracy.

In addition to systemizing decision-making, MaPIT helps support an evolving transportation strategy. For instance, MassDOT has for some time pursued policies designed to promote social equity.
Rural areas tend not to benefit as much from federal funding, which can be an issue when looking to realize capital improvements. In Massachusetts, Chapter 90 funding from the state is based on size of population and number of road miles within a jurisdiction. Problems arise, for example, when a major road of strategic importance passes through a small population center. An equity metric within MaPIT's scoring system helps boost a project's visibility and ensure appropriate financial support.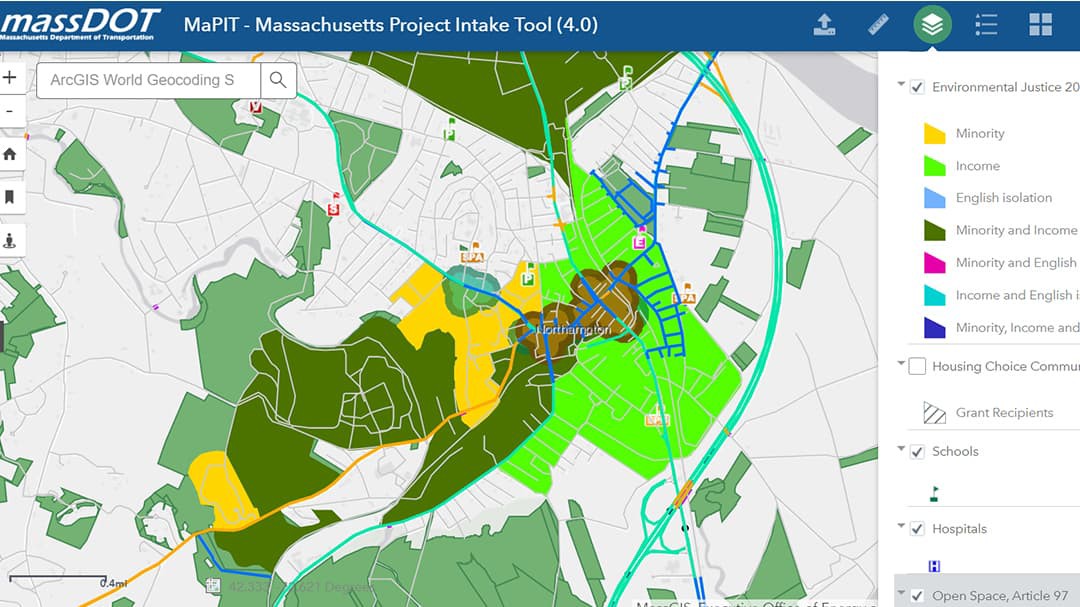 MassDOT also has a Healthy Transportation Policy Directive and a Complete Streets Funding Program, which have some common aims. The former, says Bolduc, looks to install bike lanes and sidewalks "anytime we touch pavement," resulting in a more robust, safer mobility network. The latter looks to take account of all types of mobility, including bike, pedestrian, and mass transit.
MaPIT has facilitated the identification of locations and projects that adhere more closely to these policies and, through the project scoring, provided greater support to projects meeting these criteria. The scoring criteria can reflect changing agency goals, as in the shift from network preservation to mobility and safety gaining greater priority, and in the focus on noncar travel.
The MaPIT application has received numerous national awards for innovation. Lopes and his team have demonstrated the app's capabilities to several other US states in the last few years, leading to similar solutions being adopted by other state DOTs.
An outstanding feature of MaPIT, states Bolduc, is the speed and efficiency with which it evolves. Regular stakeholder meetings are a driver for this, with user suggestions leading to new GIS layers and functionalities.
A next step, Lopes says, is to migrate to Esri's ArcGIS Experience Builder, a web application building product that provides greater flexibility and adaptability. The Massachusetts Bay Transportation Authority's Transit Division is also being onboarded, with workflows currently being developed to support project initiation for public transit projects.
MassDOT has also used MaPIT to open submissions for Safe Routes to School infrastructure projects. The expansion to other MassDOT divisions will continue until all projects are initiated through MaPIT. Workflows are also being optimized to reflect differences in approach—for example, between a bike path and a bridge project.
The current development is to make project scoring interactive so users will get immediate feedback and can help improve projects in near real time. This, explains Bolduc, will enable agencies to see how their actions or choices, if adjusted slightly, might benefit more groups of people or other stakeholders.
Although MaPIT has done much to automate processes, Bolduc stresses the continued need for human-to-human contact. Nevertheless, he says, because of MaPIT, the days of initiating questionable projects have passed. MaPIT has turned the agency's work into a data-driven and transparent process, which has become much more widely accepted.