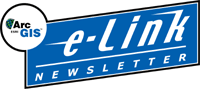 ArcGIS e-Link delivers news and information about Esri's ArcGIS family of software products via e-mail. With ArcGIS e-Link, users have a direct connection to Esri for the latest ArcGIS information. Subscribers get instant news on release status, ArcGIS training information, and ArcGIS user seminars. Best of all, as new Esri product literature, such as white papers, data sheets, object model diagrams, brochures, and flyers, is published, ArcGIS e-Link immediately points subscribers to where the document is located.
There are no set publication dates for ArcGIS e-Link--you get the information as Esri publishes it, eliminating having to wait for regular mail.
To subscribe to ArcGIS e-Link, go to www.esri.com/elink.