Esri 1998--A Year of New Software, Exciting Technology, and Bold Learning Tools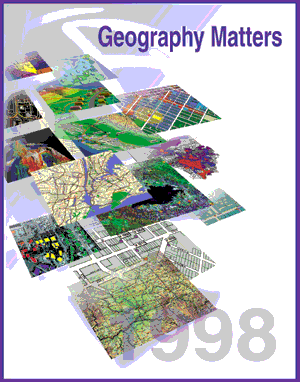 First, we would like to thank you for supporting Esri. Your use of Esri and our software resulted in another successful year with overall Business growth, new software development, and many other contributions to GIS.
Software Product Releases
ArcInfo Version 7.2.1--This update, primarily a maintenance release, included a new "defined layers" interface that provides a common unified access mechanism for the display, query, analysis, and management of data in all standard Esri formats. The ArcInfo Open Development Environment (ODE) was also enhanced for improved performance. Many other new and improved tools were included in this release. www.esri.com/arcinfo
ArcSDE Extension--ArcInfo users can now provide better multiuser access to their data holdings. SDE software's open architecture allows virtually any other software clients to get high-performance, direct-read access to ArcInfo databases without performing complicated conversion and replication procedures. All Esri feature data types are supported through ArcSDE. www.esri.com/arcsde
ArcFM--This ArcInfo-based solution edits, maintains, models, and manages utility data. ArcFM is an Open Development Environment application with a rule-based engine for creating utility objects. ArcFM is founded on technology standards that provide the power and flexibility to develop a fully integrated enterprisewide program in a fraction of the time of traditional applications development. www.esri.com/arcfm
ArcView GIS Version 3.1--The 1998 release of this popular desktop mapping software includes hundreds of new features and enhancements such as an integrated report writer (Seagate's Crystal Reports), new and updated data, and a new utility for SAP R/3 data extraction. A wizard-based approach for advanced map production and geoprocessing made its debut in this introduction. There are also several new and improved extensions-Database Access, CAD Drawing Reader, MGE Reader, and new direct data readers. Esri's Data & Maps 1998, a CD-ROM of U.S. and world data, is included. www.esri.com/arcviewgis
Esri's extension strategy for ArcView GIS carried through in 1998 with the introduction of several application-focused extensions.
ArcView Image Analysis Extension--This extension brings flexible and sophisticated geographic imaging, display, and analysis to ArcView GIS. www.esri.com/imageanalysis
ArcView Tracking Analyst Extension--ArcView Tracking Analyst is a powerful tool for viewing and analyzing tracking and time related data. With ArcView Tracking Analyst you can display, capture, playback, analyze, and trigger events based on time-related information. ArcView Tracking Analyst can be used by any organization whose GIS application requires the processing of time and change related information or requires historical data analysis. www.esri.com/trackinganalyst
ArcView 3D Analyst Extension--This new extension provides a suite of high-quality, easy-to-use tools for creating, visualizing, and analyzing surface and other 3D data. This surface-modeling package is ideal for both the novice and the advanced user. www.esri.com/3danalyst
ArcView StreetMap 2000 Extension--This new software product and data are designed to automatically create attractive local, regional, and even national street maps right out of the box. ArcView StreetMap 2000 provides fully integrated access to the GDT Dynamap/2000 street and landmark database--the most current and comprehensive U.S. street and address information available. www.esri.com/streetmap2000
ArcView Business Analyst--This integrated, wizard-driven software solution was one of four software products at COMDEX/Enterprise 98 to receive the Judges' Choice Award from PC Week magazine. Judged as a software with the ability to make the most positive influence on an entire organization, ArcView Business Analyst is bundled with exciting technology and U.S. data from Dun & Bradstreet, Metromail, Urban Decision Systems, Geographic Data Technology, Qualitative Marketing Software, and Applied GIS. ArcView Business Analyst is sold as an extension or as a stand-alone application. www.esri.com/businessanalyst
BusinessMAP PRO Version 2.0--The latest release of this powerful database mapping software anticipates users' needs for greater simplicity; yet, it has increased functionality and more extensive and integrated Business data. BusinessMAP PRO Version 2.0 comes with two optional extensions. Market Analyzer enhances site analysis with its extensive demographic information. Business Tracker is a database of more than 11 million U.S. Businesses, providing statistics for each Business. www.esri.com/businessmappro
MapObjects Internet Map Server Version 2.0--This 1998 release introduced a wizard-based administration tool to enable users to quickly publish dynamic Internet mapping applications. Included in the new features of Version 2.0 are Web-based data distribution functionality, seamless integration with ArcExplorer, and vector data transfer support. www.esri.com/mapobjectsims
ArcExplorer Version 1.1--The latest version of Esri's lightweight GIS data explorer is available at no cost from the Esri Web site (www.esri.com/arcexplorer). Version 1.1 enhances performance and improves installation on Windows NT platforms. It includes functionality to capitalize on the new server components included with MapObjects Internet Map Server Version 2.0.
Atlas GIS Version 4.0--The Atlas GIS software is an effective, low-cost solution for sales or marketing analysis, establishing trade areas, and creating health care or insurance applications. The new version includes a U.S. street level geocoder and Esri's Data & Maps 1998 CD-ROM. www.esri.com/atlasgis
ArcLogistics Route--A new out-of-the-box desktop solution to complex vehicle routing and scheduling problems, ArcLogistics Route helps Businesses deliver goods and services efficiently. Fully interactive and easy to use, ArcLogistics Route finds customer addresses, assigns customers to vehicles, and determines the optimal stop sequences to minimize costs and honor time windows. www.esri.com/arclogisticsroute
Maplex Version 3.2--The update of this versatile tool for map symbolizing is noteworthy for its ability to work closely with ArcInfo. www.esri.com/maplex
Other Highlights of 1998
User Conference--Once again, San Diego hosted the 1998 Esri User Conference, and it proved to be the biggest ever. More than 8,000 people representing 91 countries attended the eighteenth annual conference that promoted the theme "Geography Matters to All of Us." Esri announced the launch of its Special Achievement in GIS Award at the conference and recognized 87 user sites around the world for outstanding work in GIS in many different sectors.
Year 2000--Esri is helping its users make a smooth transition into 2000. Launched last year, the Year 2000 Website is located at Esri's Web site. It provides users with a list of software compliance levels and relevant Year 2000 support information including useful facts about date support and handling of software. Users can access this regularly updated resource at www.esri.com/y2000.
Esri Press--Esri expanded its list of titles in 1998 with two more books--Serving Maps on the Internet: Geographic Information on the World Wide Web by Christian Harder and Managing Natural Resources with GIS by Laura Lang. More are on the way.
Education--More than 10,000 students worldwide enrolled in Esri's software classes in 1998, with ArcView GIS and MapObjects subjects the most popular. Esri Training and Education continues to offer affordable, independent study in GIS on the Web, and there are major plans to enhance this program.
K-12/GeoChallenge--In 1998, Esri expanded its K-12 efforts through a major cooperative program with the National Geographic Society--creating a nationwide GeoChallenge competition among high school students resulting in a number of cash scholarships.
Business Partner Program--Esri's Business Partner Program currently has more than 900 domestic and international partners, 120 of whom were added in 1998. SAP selected Esri as a development partner last year, and this marked the beginning of a partnership focused on bringing GIS functionality including spatial analysis and visualization to SAP applications. In September, Dr. Hasso Plattner, cofounder and cochairman of SAP, shared his enthusiasm for Esri's software at SAP's SAPPHIRE LA conference, where he demonstrated the integration of Esri's MapObjects and SAP's Business Information Warehouse. Plattner was also one of the keynote speakers at Esri's 1998 User Conference.
Federal Initiative--Last year, Vice President Al Gore outlined a program for livable cities in which GIS is key. His "smart growth" initiatives are designed to support local governments with tools, information, and new computer software. In a letter to Jack Dangermond, president of Esri, Gore commended Esri and its users for leadership in using GIS to meet the challenges of growth and to improve the quality of life.
Local Government Grants--In 1998, Esri initiated the Local Government Start-Up Grant program, which provides grants to local governments in the United States. This program provided local agencies with GIS software, training, data, and data application tools to encourage data sharing among local governments and to foster the development of geographic databases where none currently exist. Toward the end of 1998, Esri formalized its grant program with the National Association of Counties (NACo) in an effort to expand and enhance these efforts.
Conservation GIS--Esri has continued its efforts to work with more than 3,500 nongovernmental organizations around the world to help them in their efforts to apply GIS technology to important problems involving environmental protection. Efforts have included software and hardware grants, Web site support, education, and coordination of organizational efforts.
As GIS enters the new millennium, we will continue to rely on the input of its users and respond with new software, technology, and learning tools to make that journey seamless.