The Magazine for
Esri Software Users
Illinois State Police GIS
Works on Many Levels
By Monica Pratt, ArcUser Editor

It's no accident that traffic fatalities have declined in Cook County since 1996. GIS has helped the Illinois State Police (ISP) Department pursue a vigorous enforcement program that reduced traffic fatalities 42 percent during its first year in operation. The Department found GIS a powerful tool for managing and using data and has employed a many-faceted approach for implementing GIS use throughout the organization.

ISP is the primary enforcement agency for the entire interstate system as well as the Chicago expressways. The Department's 1,700 officers promote highway safety and conduct criminal investigations. Lex Bitner, group leader for the Strategic Information and Analysis (SI&A) group, first introduced ISP to GIS by mapping traffic information rather than providing it in spreadsheets.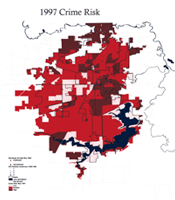 "This information is helping our Chicago district office and our patrol sectors get a better idea of when they need to have their manpower available and where the problem areas are," says Bitner. Map-based traffic information has been both effective and popular. Using maps helps target patrol assignments and make the best use of resources.
Analysts working in the Strategic Analysis and Mapping (SAM) unit, part of SI&A, map information extracted from the State's comprehensive crash databases. The SAM unit began in 1995 with three analysts using ArcView GIS to create maps. Now reorganized, the SI&A numbers 65 and includes 30 analysts. Some analysts are former police or correctional officers and all have a background in criminal justice. All analysts in SI&A are learning to use ArcView GIS with the ArcView Spatial Analyst and ArcView Tracking Analyst extensions. Not only is the group mapping traffic and enforcement data, but it has developed a number of strategies for effectively and economically distributing maps and data.

GIS Customized by District
After the success of the fatality reduction program, the SAM unit wanted a way to distribute this information in map form more widely. Instead of generating thousands of maps, the SAM unit developed a method that lets Department personnel access traffic data interactively. Bitner realized that ArcExplorer provided an easy way for users unfamiliar with GIS to view the data. The Unit took the shapefiles they used for analysis, developed ArcExplorer projects specifically for each of the Department's 21 police districts, and saved the projects and data on CD–ROM. These CD–ROMs were distributed to the patrol lieutenant and master sergeant in charge of each of the districts. "Their data has been brought to life. Now they don't have just a map with points of data, they can actually see the information behind that point," says Bitner. District projects are updated via CD–ROM every month or so as required.

Mapping for the Masses
The Internet offered a less costly and labor intensive way to distribute some types of data to the public and the Department. The Illinois State Police Interactive Crime and Crash Mapping Daily and Monthly Fatality Reports Web site, part of the general ISP Web site, has been up since August 1999. The site uses MapObjects and MapObjects Internet Map Server technology to let visitors access traffic data that is updated daily.
Searches can be made by district, county, city, on a statewide basis, and for interstates. The user can specify information on crashes that are alcohol related, those involving a teen driver, or fatalities that occurred on a particular date, or at a specific time of day, day of the week, or by month or year.
Traffic information is valuable not only to ordinary citizens concerned about traffic safety but also to the media, special interest groups, and other agencies that use this information for research or grant writing. With this application, data is constantly available without burdening the Department's staff.
The newest and most visited part of the ISP site also uses GIS. On November 15, 1999, sex offender data was added to the site. Though searches are geographically based at the city, county, or ZIP Code level, display is textual because many addresses use rural routes and other types of addressing that cannot be readily geocoded. However, this level of detail has definitely answered a need-within the first 24 hours the site was receiving 50 hits a minute.

New GIS Tools
The success of both the ArcExplorer projects for individual districts and the Internet site pointed the way to further expansion of GIS use by the Department. SI&A recently received grant funds to develop an Intranet application that would make more sensitive information such as intelligence data more readily available to appropriate personnel throughout the Department. To safeguard this data, the application will reside behind the Department's firewall. A custom browser with the ability to display and query multiple layers will be developed for more sophisticated analysis.
SI&A has also been involved with two National Institute of Justice (NIJ) programs that have developed GIS applications specifically for law enforcement agencies. SI&A participated in the creation of the Crime Analysis extension, a specialized extension for ArcView GIS, that provides easy-to-use tools for geographic crime analysis, data management, mapping, and reporting. The Crime Analysis extension provides wizards that guide users through the steps needed to complete common tasks.
The Department will shortly begin testing and designing the implementation of another application it helped to develop. The Community Policing Beat Book, a stand-alone application created by Esri under a cooperative agreement with NIJ, was built using MapObjects and Visual Basic. It can be loaded on a laptop to give officers in the field access to maps with demographic, crime, and administrative information.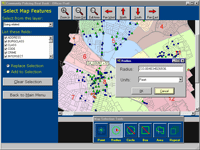 Predefined query functionality lets officers search by street address, intersection, block number, street name, and map feature. The Beat Book can be personalized by the officer and has separate display modes for day and night. ISP officers will use the Beat Book to access the previously created ArcExplorer projects for their district. The night display mode will make it especially useful for surveillance work. Eventually ruggedized laptops may be purchased for use with the Beat Book application.

Data Challenges
The size of the jurisdiction and the volume of incidents that must be tracked by the Department magnifies data issues for SI&A. Says Bitner, "What sets us apart from other law enforcement GIS is that we have such a huge geographic area. I have different problems to deal with than someone who just has to work with data within a county." Tabular data is maintained in Microsoft Access and dBASE databases. The road network data from the Illinois Department of Transportation is used to match crashes and fatalities. Dynamap/2000 from Esri business partner Geographic Data Technology, Inc. (GDT), supplies street layers. Data from cities and counties that have GIS programs is used where available. Integrating data in various projections and working with areas where data is not available makes data management challenging and also means that Bitner can't always get down to the level of geography she would like. Another Esri business partner, GIS Solutions, provides consulting and data conversion services to the Department.

Return on Investment
Now State troopers who must fill out reports can benefit from them. Bitner observed that, with the use of GIS, the crime data process has come full circle. Data collected by troopers in the field is entered in a database, analyzed, and then fed into a number of Department applications that can be used by these same officers. The goal to use current technologies that will benefit other law enforcement entities and community groups as well as ISP operations is being reached through the development of a wide variety of GIS-powered applications. Bitner notes that district personnel have really embraced GIS as a powerful tool to help them do their jobs more effectively.
For more information on the many programs being developed by ISP, please contact


Lex Bitner
Strategic Information and Analysis Group
Illinois State Police
Tel.: 217-557-2800
E-mail: lbitner_isp@yahoo.com