GIS Provides a New View on the Past
By Monica Pratt, ArcUser Editor
As illustrated by case studies in a new Esri Press book, Past Time, Past Place, historical GIS is marrying the discipline of when (history) to the discipline of where (geography). Just as incorporating geography benefits the analysis of current data on crime, flooding, or disease outbreaks, it can also contribute to historical research. By using GIS to reveal patterns in historical data, researchers have developed new perspectives on historical questions. With GIS, historians can combine data sources in a variety of ways, analyze each combination, and generate maps quickly.
Historical maps are sometimes the only source for information such as the location of features built over in succeeding eras. Because cartography is as much art as science, a map--like a painting--can often reveal as much about its creator as its subject. Observing what is emphasized and what is downplayed in a map provides insights into the mapmaker's worldview.
Historical maps, such as this George M. Wheeler map of the Yosemite Valley from the David Rumsey collection, can be draped over a digital elevation model.
One of the more exciting applications of GIS for historical researchers is the ability to map change over time by scanning, georeferencing, reprojecting, scaling, and layering historical maps from different eras and comparing those maps to maps showing the current location of both natural and cultural features. Previously, this type of comparison was limited to what could be discerned by visually inspecting maps that typically differed in both physical dimensions and scale.
GIS also accommodates both qualitative and quantitative approaches to history. Used as an investigative tool, it can visualize statistics and shape lines of inquiry by allowing researchers to test hypotheses concerning the relationship between various characteristics of an area such as population movement, distribution of wealth, and the location of infrastructure.
Historical GIS can also help manage information using a geographic framework. Add the Internet to historical GIS and researchers can integrate maps with other types of related historical materials, such as works of art and historical documents, maintained by other institutions. Online GIS promotes historical research through coordinating efforts and sharing resources for interdisciplinary projects.
While georeferencing a historical map won't make it more accurate, precise coordinates for known features can be captured using GPS and, through the process of rubber sheeting, features common to historical and present day maps can be aligned. Historical maps can also be made more meaningful by draping them over three-dimensional spatial models so that the interplay between the cultural and physical landscape becomes more apparent. Historical GIS not only includes georeferencing historical maps but also mapping information obtained from sources such as census data, soil surveys, and precinct voting records. Analysis of social data with data on natural phenomena has yielded new insights into historical events. Historical maps can also be the basis for systematic survey efforts that locate and preserve historical sites such as battlefields.
In recent years, geospatial data of all kinds has become more accessible. Historical maps and data are no exception to this trend. Through the Geography Network (www.geographynetwork.com), historical maps, datasets, and other resources are readily available to GIS users who want to explore historical uses of GIS. Visitors to the Geography Network can access map services for ArcIMS, map image files, solutions providers, map data files, and links to clearinghouses for historical data. A variety of government agencies, companies, and collectors have made these resources available. The metadata accompanying each listing outlines any use restrictions.
A major contributor of historical data to the Geography Network is the David Rumsey Historical Map Collection (www.davidrumsey.com) Web site. For GIS users, this is a must-see, have-to-bookmark site. When it went live in March 2000, David Rumsey's large private map collection became widely accessible in a way that had not been possible previously. The groundbreaking aspect of the site was not just the use of the Internet to view maps but the ability to search by theme and view maps and other items in the collection together.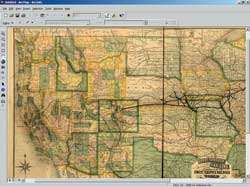 This historical map, illustrating railroad networks, is one of many available from the Geography Network along with historical datasets and map services.
Rumsey, who received an art degree from Yale, went on to a successful career as a builder and real estate developer. He began collecting maps more than 20 years ago and focused his collecting efforts on 19th and 20th century cartography of the Americas. These cartographic materials--maps of all types and sizes, atlases, charts, and globes--illustrate aspects of history, culture, and population. In all, the collection encompasses 150,000 individual cartographic items.
Although Rumsey's first attempt to share his collection was the publication of a print catalogue, technology developing in the late 1990s soon provided the tools Rumsey needed to reach a much larger audience. Scanning technology for generating images with the level of detail needed to re-create the experience of perusing the maps in person, software to manage the collection online, and compression technology that would enable large images to be transmitted over the Internet in an acceptable fashion were soon available.
Rumsey's art background played into his decision to use a camera with a digital scanning back rather than a flatbed scanner to capture his collection. Lighting the items and shooting them on a copystand meant that globes, puzzles, and atlases, not just maps, could be included in the online collection. For maps and atlas pages, the process produces an image that preserves the sense of the object as a separate artifact and portrays the texture of the support material. Using a scanning back that captures the maps at a very high resolution--300 pixels per inch--generates images with a level of detail that withstands high magnification without bitmapping and transmits all the information the map originally contained. The process generates images that average 100 MB in size but can be as large as nearly two gigabytes.
Rumsey collaborated with Luna Imaging, Inc., an innovative software developer, in creating a solution for making the collection available on the Internet in a new and exciting way. This platform has been adopted by a number of libraries, museums, universities, and foundations. The emergence of a compression technology that would allow others to view these often very large images online supplied the final tool needed to Rumsey's ambitious project online.
However, innovation at David Rumsey Historical Map Collection Web site has continued with the introduction of GIS capability to the site. Historical maps and geospatial datasets for San Francisco (1851 through 1926) and Boston (1776 through 1897) are available from the site and can be viewed using one of the two GIS browsers developed specifically for the site by Esri business partner Telmorphic, Inc. The Professional Browser is suitable for visitors familiar with GIS. The Basic Browser is designed for those unfamiliar with GIS. This solution uses ArcIMS for server-side functionality and geospatial data, provided by the MassGIS and Esri, that compliments the historical maps.
Using the GIS Browser, current geospatial data--layers for roads, lakes, parks, state boundaries, digital orthophotographs, topographic maps, digital elevation data, and satellite imagery--can be viewed with historical maps. Using the blend, fade, merge, overlay, and swipe functions available through the custom GIS browsers, current conditions can be compared to historical ones. Visitors to the site can create, save, and print these custom maps. Customized map layers that contain georeferencing may also be downloaded as new images for incorporation in GIS applications. Plans to enhance the site include adding historic maps for Washington, New York, Los Angeles, Chicago, Denver, and Seattle. Rumsey's site won a 2002 Webby Award for technical achievement.
Experience historical GIS first-hand by visiting the David Rumsey Historical Map Collection (www.davidrumsey.com) Web site or download map images, services, datasets, and other historical data from the Geography Network to use with Esri GIS software. Learn more about historical applications of GIS by reading Past Time, Past Place, available from the Esri Store at www.esri.com/shop.