Managing Health Programs Using GIS

By Bal Ram Bhui, CORE, and Kabindra Joshi, CARE Nepal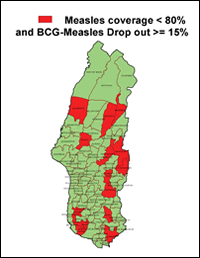 GIS can show how a health service center relates to the population it serves.
The Child Survival Collaborations and Resources (CORE) Group, Inc., is a network of more than 35 nongovernment U.S. organizations that operate globally. The CORE Group Nepal is a consortium of five organizations—Adventist Development and Relief Agency International (ADRA); CARE; PLAN; Save the Children U.S.; and World Vision, Inc.
The CORE Group Nepal is implementing a collaborative health project in Nepal. Through its consortium member organization, the CORE Group Nepal is working in six Nepalese districts: Jhapa, Bardiya, Dhanusa, Mahottari, Dang, and Rupandehi. In these districts, the CORE Group is primarily helping with polio eradication and child health programs. The collection of GIS data, and the use of GIS for planning, monitoring, and improving decision making for health services, as well as the training of nongovernmental organization (NGO) and government staff in the use of GIS are key features of this program.
Effectively Managing Programs
GIS use was adopted because it helps program managers monitor performance and prioritize program areas for intervention activities. Using spreadsheet programs, such as Microsoft Excel, for viewing extensive tabular data can make it difficult to analyze data and draw valid conclusions.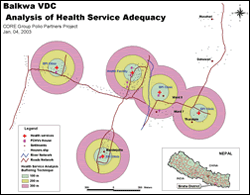 Generating buffers around each health clinic lets managers identify any portions of the population that are inadequately served.
With GIS, managers can easily map different health areas, compare the performance of each, and determine if any geographic patterns exist. For example, the Mahottari district has 77 health areas. Viewing data on these areas in Excel would require a health program manager to spend significant amounts of time and energy to understand the health service coverage and geographic distribution of services in these areas. Managers using GIS can easily evaluate both the performance and distribution of services through a map. Time series maps can show whether health in an area has improved, remained constant, or deteriorated for a given time period.
When allocating scarce resources, health program managers often need to prioritize areas to make the best decision. GIS permits interactive queries of information contained in maps, tables, and graphs and the creation of thematic maps that let managers clearly visualize large amounts of attribute data. This is extremely helpful in formulating strategies to address problems and achieving success.
Mapping Health Services
GIS, coupled with GPS, can be used to map and assess health services. Paper maps sketched by health workers for routing services and planning immunization campaigns do not show the relative positions of populations and health service centers to scale. GIS and GPS can be used to develop social and health service maps that are geographically scaled and positioned.
With the help of a local health worker, a trained staff member on a motorbike can use a handheld GPS unit to draw paths and capture the geographic positions of points that locate roads, health services centers, and population in a day or two. Only an additional half day computer work is required to develop a GIS map.
GIS can show how a health service center relates to the population it serves. Overlaying a clinic location with demographic layer and generating buffers around each health clinic lets managers identify any portions of the population that are inadequately served.
Worthwhile Investment
The benefits of GIS have outweighed the initial cost of bringing it into the organization. The computer systems already used by the organizations for business applications were sufficient for GIS work, and training is now available in Kathmandu. CORE plans to offer GIS training to its partners' staff. Any reasonably computer literate staff member can learn to use GIS-it does not require a computer expert. In Nepal, digital maps of district and village development committees are available at little or no cost.
GIS and maps are valuable in program management. These tools provide an excellent means of analyzing epidemiological data and revealing trends, dependencies, and relationships that would otherwise remain hidden in tabular data. GIS is a tool to help program managers make decisions. Program managers do not work for GIS, GIS works for program managers and supervisors. For more information, contact
Bal Ram Bhui, Country Coordinator
CORE Group Nepal
Polio Eradication Nepal
Chakupat, Lalitpur, Nepal
E-mail: corenep@healthnet.org.np
or
Kabindra Joshi, GIS Officer
CARE International Nepal
Krishna Galli, Lalitpur, Nepal
E-mail: kabindra@carenepal.org