Health Care Management Organizations Divvy Up Territories

By Ross H. Capaccio, röös design + consulting
In 2003, New York state health care management associations began divvying up the state's geography to better serve professionals who manage the business affairs of the state's health care organizations.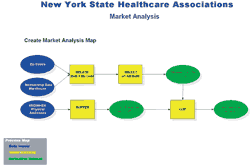 Market analysis data model
Each of the five health care associations had its own unique history and membership base, and each operated independently. The largest association, based on total membership, is the Healthcare Executives Coordinating Council (HECC). HECC covers the lower Hudson River basin metropolitan region, which includes the Bronx, Brooklyn, Queens, and Long Island.
The four other associations—the Hudson Valley Health Executives Association (HVHEA), Metropolitan Health Administrators Association (MHAA), Woman's Healthcare Network (WHN), and Healthcare Executives Club (HEC)—have smaller membership bases but serve much larger geographic regions. These organizations had studied the feasibility of consolidating service territories to form three newly reconstituted groups in 2002.
Enhanced Regional Coordination
Change is a slow, painful process that usually comes at a price. Consequently, it is usually put off until some outside force acts as the catalyst for change. In this case, market forces and unproductive competition between groups provided the impetus. Because their service territories overlapped, the state's 1,700 health care affiliates were competing for limited resources.
The task of consolidating territories and eliminating overlapping areas was made less arduous by the American College of Healthcare Executives (ACHE). ACHE's regents are regional representatives elected by its membership. While New York state associations were forging new partnerships, ACHE's New York regent was busy implementing the Partners for Success program, part of the strategic plan for unifying independent organizations across the United States and Canada. The ultimate goal of this plan was the branding of these organizations as independently chartered chapters of ACHE.
Market Analysis
ACHE's corporate GIS supported the process of territory conflict resolution. This process began with a market analysis based on membership data collected from each group. A market analysis data model was developed to illustrate how the data management, geoprocessing, and mapping could be performed using GIS.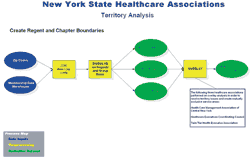 Territory analysis data model
Membership totals were mapped out at the zip code level to provide a better understanding of where members live in relation to adjacent service territories and existing HEG and WHEN locations. A travel time analysis was conducted in ArcMap. The members' home locations were mapped, and buffers of 25, 50, 75, and 100 miles were overlaid and the distance to the closest HEG and WHEN location measured for each member's home.
The maps generated from the data model were made available to group leaders over the Internet. They became the basis for numerous conference calls between New York state chapter leaders, the ACHE regent, and ACHE staff in the corporate office. These maps clearly showed the overlapping territories so chapter leaders were better able to quickly make decisions regarding whether a particular group was willing to add or drop a zip code or county from its service area to eliminate an overlap. Because all stakeholders were viewing the same map at the same time on their computer screens during these conference calls, quick decisions could be made and territory disputes often resolved.
Territory Analysis
Maps depicting model output
A second data model was developed to illustrate to stakeholders the methodology that would be used to realign territories. The resulting maps showed new territory boundaries for new chapters and ACHE regent boundaries. Throughout this process, independent associations worked closely with ACHE's New York regent to become chartered chapters of ACHE. The new map also showed how ACHE's regent boundaries had changed. This new arrangement would make it easier for members to attend programs and attain credentialing or recertification.
Conclusion
The face of health care management is evolving in response to changes in markets and legislation at both the state and national levels. In New York State, organizations that manage the business affairs of health care organizations acted proactively. By using GIS support provided by ACHE, these organizations kept the consolidation project on schedule and produced map products and analysis that far exceeded initial expectations. For more information on this project, contact
Ross Capaccio, president, röös design + consulting
Tel.: 847-635-4752
E-mail: rcapaccio@roosdesign-consulting.com
About the Author
Ross Capaccio is a GIS professional with more than 15 years' experience in architecting and implementing complex, comprehensive GIS initiatives. He has managed technical and nontechnical teams that have delivered multiple projects simultaneously and is experienced in delivering solutions to governments, public health organizations, and private industry. He has authored white papers and presentations for GIS professional organizations and has been a guest speaker at universities and at the Urban and Regional Information Systems Association Project Management Forum. Capaccio holds a master's degree in urban planning from Northeastern Illinois University.