Mapping the Spatial Distribution of Language

By Ariel Rivero, Gabriela Llull, and Gustavo D. Merlo, Universidad Nacional de San Juan, Argentina
Cuyo's Linguistic and Ethnographical Atlas (AleCuyo) project study area includes the provinces of San Juan, Mendoza, San Luis, and La Rioja and covers more than 400,000 square kilometers.
Linguistic geography, also known as geolinguistics or dialectal geography, is a research method used by several linguistic disciplines. It places linguistic phenomena in spatial context to analyze the possible relationships between language and the geocultural environment. Phonetic, morphological, syntactical, and semantical data-collected by means of questionnaires-are displayed on maps. Different maps are drawn for each problem or aspect of the language under study. A collection of these maps is called a linguistic atlas.
The French scholar Jules Gilliéron, who published the Atlas Linguistique de la France, is credited with the creation of linguistic geography. [Atlas Linguistique de la France, coauthored by Edmond Edmont, was originally published in multiple volumes between 1902 and 1915 and contains more than 2,500 maps that illustrate the variation in sounds and words throughout France.]
The success of his method resulted in the construction of many linguistic atlases in the United States, Great Britain, Switzerland, Sweden, Norway, Finland, Ireland, Germany, Italy, and Corsica. In the Spanish speaking world, linguistic atlases have been created for regions of Spain (Aragon, Navarra, La Rioja, and Castilla-La Mancha) and countries (Colombia and Mexico).
AleCuyo Project
In 1994, the Institute of Linguistics and Philology-Universidad Nacional de San Juan (INILFI Manuel Alvar) started the Cuyo's Linguistic and Ethnographical Atlas (AleCuyo) project to evaluate linguistic aspects of a study area in Argentina. The area under study-the New Cuyo-includes the provinces of San Juan, Mendoza, San Luis, and La Rioja and covers an area of more than 400,000 square kilometers. Ninety-seven of the most populous locations in this region were selected and a survey, consisting of 467 questions, was given. Survey questions were based on the following subjects:
Water--Because the area has an arid or semiarid climate, any water resource, river, stream, or water storage system becomes a space organizing element and a focal point for settlers.
Grape growing--This industry is considered a historical and cultural legacy that was brought to the area by European immigrants and which has great economical importance to the region.
Swine raising--Pigs contribute to the economy in rural or semirural areas and are associated with cultural values.
Working With GIS
Traditionally, survey results were collected in a form book that contained handwritten entries for words listed by phonetical and lexical criteria. These entries were eventually mapped by a cartographer. However, the introduction of GIS in 1996 changed these methods radically. After initial success using ArcView 1.0 and ArcExplorer, the INILFI began using ArcView 3.1 in 1999.
Phonetical pictures are very important in linguistic geography. The phonetical transcription of a language requires a set of symbols different from those used in everyday written language. It requires a font with TrueType font phonetic characters that can be included in ArcView tables and displayed in a project view. SIL International (formerly known as Summer Institute of Linguistics) provides researchers with fonts for phonetic representation. These fonts can be downloaded from the SIL International Web site (www.sil.org). With these fonts, phonetic data can be included in tables using ASCII codes and data can be labeled using phonetic fonts.
Using Scripts and Extensions in ArcView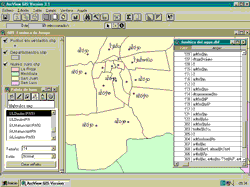 The phonetical transcriptions were correctly displayed in tables and annotation using a TrueType phonetic font obtained from SIL International.
Scripts and extensions downloaded from the Esri Web site provided solutions to several problems encountered during the project. Copy View, an Avenue script written by Fred J. Calef III that copies an existing view to a new view with a new name, was used to simplify the reproduction of maps with the same characteristics. For this project, 150 maps were needed for each subject area. To make map reading easier, each survey site was assigned a three-figure number. The Load and Save Graphic Text Labels extension provided by Esri was used to add labels for each location surveyed and display labels in the same position on every map generated.
During the survey, which was conducted between 1996 and 2000, audio recordings were accumulated. The pronunciation of words used in context was captured. These recordings were used to compare and contrast the phonetic transcription of the linguist with recordings to make the most accurate transcription possible. In addition, the recordings collected ethnographic and anthropological information for a study to be published after the completion of the AleCuyo atlas. The Generic Hotlink script written by Ruth Bowers was used to hyperlink WAV and MP3 audio files to survey sites. The hyperlinked phonetic pictures provide not only the transcription of a word but also an audio fragment illustrating the word in context.
The project also required extensive hyperlinking of images and text. To put all the information together, each survey site was hyperlinked to images, some in CAD format, that illustrated words and described the semantics of words. Text files containing the definitions of words were used with ethnographical and/or historic-geographical notes.
Future Projects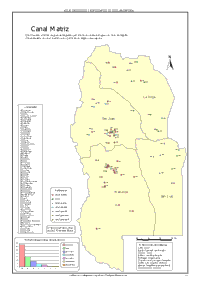 An example of a map made for the project.
The success of GIS in the AleCuyo project resulted in a project that is creating a linguistic and anthropological atlas of Argentina using the same methods. This project, which will include multimedia material, such as video clips, music, and images, is being carried out by researchers of the Universities of Buenos Aires, Santa Fe, Tucumán, Córdoba, Mendoza, and San Juan and will be distributed on CD-ROM.
Conclusion
GIS has provided a methodology for a multidisciplinary project that included the work of linguists, geographers, phoneticians, and computer experts at INILFI. This is believed to be the first use of GIS for a linguistic geography project. ArcView has improved traditional ways of working in linguistic geography through enhancing data processing, presentation, and the explanation of the information relating to the study. Researchers at INILFI are working to implement ArcView for projects in toponomy, sociolinguistics, and lexicography.
For further information, please contact
Gustavo Daniel Merlo
INILFI Manuel Alvar
Mitre 317 (oeste) C.P. 5400
San Juan, Argentina
E-mail: inilfi@ffha.unsj.edu.ar or gdmerlo@ciudad.com.ar