Business Plan in Your Hand
Free BAO for iOS app accesses demographic reports and maps anywhere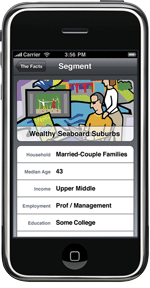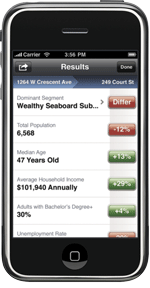 This article as a PDF.
A new, free application for the Apple iPhone makes marketing data and analysis tools instantly available to answer business questions that are location based.
Business Analyst Online for iOS (BAO for iOS) delivers on-demand reports and maps that give a detailed, comprehensive view of the people who live in an area. The data this application accesses goes beyond census data. Updated demographics created by Esri's team of demographers, statisticians, and economists provide information on populations, lifestyles, and buying behaviors.
Although this application was developed with the needs of the real estate industry in mind, this revealing information allows all types of business users to find the best locations for stores, identify customers, and assess the demand for products/services in an area. With the BAO for iOS app, this information is available from an iPhone, iPad, or iPod touch.
BAO for iOS gives a demographic and market snapshot of a location that includes population, age, income, education, homeownership, and consumer spending. The app makes it easy to compare the demographic and market data for two locations or a single location compared to national averages. It also helps evaluate a location based on user-supplied criteria.
Business plans can be created based on the information from these analyses. Besides describing the location proposed for a business and the product or service it will offer, business plans include market segment/identification that is based on the prevailing characteristics in the area related to age, family status, household income, and education level. Psychographics, or psychographic influences on consumer behavior, include lifestyles, interests, and activities. Information on all these factors can be found using the BAO for iOS app.
Subscribers to Esri Business Analyst Online (BAO) will soon be able to access the full set of BAO reports and maps through BAO for iOS. A subscription to BAO allows users to access even more data, such as market potential, retail marketplace, and consumer spending, along with additional analytic functionality. For more information and to download the app, visit www.esri.com/baoforios.