"Putting technology on the front lines for brokers" is the rallying cry of RealtiCorp Commercial Investment Fund. This unique commercial real estate firm combines the best of new and old real estate practices to provide value-added services to chain operators or multisite users (MSUs) such as The Home Depot, Target, Hampton Inn, office developers, or multifamily developers. While many real estate firms must reengineer operating procedures to take advantage of the power of GIS, RealtiCorp was designed expressly with the use of GIS in mind.
MSUs and institutional investors have reacted favorably to this mix of old and new. RealtiCorp is the only large-scale commercial real estate using a "high-tech, high-touch" GIS-based approach on a systematic basis. It has paid off handsomely. RealtiCorp, which was founded in 1995, has grown from $40 million in transactions in 1996 to over $200 million in 1998. More than 50 employees staff seven offices in South Carolina, Georgia, Florida, Virginia, Texas, and Alabama. There are plans to expand nationwide.
GIS for Decision Support
The company's founder, Dan Bruce, created a computerized site selection system back in 1971. RealtiCorp represents the evolution of Bruce's ideas. Unlike more typical GIS real estate applications that focus on marketing and presentation uses, this GIS application is primarily a decision support tool.
"He [Bruce] was using a computer about the size of an apartment room to make decisions [in the 1970s]. The whole concept of tracking expanding users was waiting for the right time and circumstances. It all came together in 1995," says Douglas A. Baumgartner, director of Research and Investment, who worked with Bruce to design the GIS-driven operation. Baumgartner possesses an academic background strong in both GIS and real estate with a bachelor's degree in Urban Development from the University of Western Ontario and two master's degrees, one in GIS specializing in retail location theory from the University of South Carolina, and the other in real estate and land development from Texas A&M University.
"The first six months were spent laying out groundwork to make GIS do what Dan wanted it to do. After that we hit the ground running with offices in Atlanta and Greenville," says Baumgartner. Growth and flexibility were factored into the design of the organization so that very little lead time is needed to open up offices in new areas when good opportunities are identified. The company makes extensive use of the Internet utilizing frame relay and T1 connections to transmit information immediately to regional offices. The firm has operated primarily in the southeastern portion of the United States.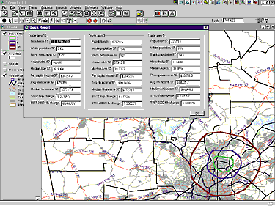 RealtiCorp is built on four interlocking components: the Research and Investment, Sales and Marketing, and Technology Departments and the regional offices. Sales and marketing staff work with past and potential MSU clients to identify client requirements and impending needs. The Technology Department constantly develops new ways to utilize information technology to spot and manage opportunities. The Research and Investment Department uses ArcView GIS and ArcView Spatial Analyst to analyze data and determine areas of high suitability that can be referred to regional offices for further development.
A network of regional offices provide local savvy and locate promising deals on either a to-order basis or by seizing an opportunity they discover. Regional offices validate property characteristics for MSU requirements and monitor the progress of ongoing deals.
Getting to Know Clients
RealtiCorp uses GIS to get know their customers better than the customers know themselves. Their research department uses ArcView GIS proactively for decision support. These robust applications analyze risk and returns on commercial real estate investments. RealtiCorp chose ArcView GIS because they were looking for an enterprisewide solution that offered flexibility in terms of customization of the interface in using data in various formats from public and private sources. The lower start-up costs associated with a desktop application and the ability to make ArcView GIS work with Word were also attractive to the company. Analysts use ArcView GIS to track expanding MSUs and research their specific locational requirements. This information is overlaid with the firm's base GIS to locate areas of high suitability.
The data that drive the application come from a variety of sources. Commercial data for demographics and street networks are combined with data from city and county governments and other public sector source information. RealtiCorp has created and maintains valuable business point location data.
Lotus Notes ties the company's departments together. As areas of high suitability are located, that information gets forwarded to broker partners using Lotus Notes. These local representatives are given information on promising areas and the specific site requirements for clients. Brokers visit properties to qualify the physical characteristics of the property. RealtiCorp plans to bring the power of GIS out of the back room and make it more accessible to brokers through developing more intuitive applications and is exploring the use of MapObjects to supply low-tech users with real estate information.
Information Is Key
Accurate and timely information is RealtiCorp's most important product. Once the ideal site for an MSU client has been identified, RealtiCorp uses its own investment funds to control the property. Clients are approached only after the property is in hand. The company provides potential clients with a customized information package that clearly demonstrates how a property can benefit the client. In preparing the package, every possible question is anticipated. The package includes not only an in-depth analysis of the customer's operations but competitors' operations as well. With this information, clients can evaluate market potential, plan for expansion, and establish efficient distribution systems.
Though RealtiCorp uses ArcView GIS to create trade areas based on the classic one-, three-, and five-mile rings because clients are familiar with this type of analysis, they also create gravity, polygon, and drive-time based trade areas. This comprehensive study of the opportunities available at the proposed site includes maps of competitors, site and vicinity, and aerial photos. "It's the part of our operations that is the most visible to our users and we've gotten a lot of good feedback from users," says Baumgartner.
MSU clients vary in the type and extent of analysis they use to locate new facilities from clients who base expansion on sophisticated customer profiling to clients who are new to this type of analysis. RealtiCorp tailors its services to the client and can help the MSU determine what type of population/location profile will be successful for them. ArcView Spatial Analyst is used to easily find concentrations of certain types of locational factors such as doctors or shopping centers.
Occasionally a site with a good location is larger than the client can use. GIS is used to determine the best way to develop that land for sale. The company monitors promising areas for clients looking for opportunities and helps clients assess the threat from competitors. "We are the matchmakers between what the buyers want and the sellers have. GIS provides a better bridge between the buyer and seller," says Baumgartner.
For additional information, please contact
Doug Baumgartner
RealtiCorp
252 South Pleasantburg Dr.
Greenville, South Carolina 29607-2547
Tel.: 864-271-4700, ext. 1025
Fax: 864-421-0740
E-mail: dougb@realticorp.com