GIS Educational Community Gathers in San Diego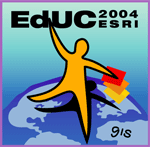 As the 2004 Education User Conference (EdUC) commenced, the blue shirts scattered throughout the Marriott Hotel in San Diego, California, symbolized the collaborative teaching effort the conference emphasized. The shirts were worn by the students, teachers, and community leaders who were members of the 15 National 4-H Technology Leadership Teams attending the conference. The United States Department of Agriculture's program helps 4-H members improve the sustainability of their hometowns by using GIS to better understand the links between the social, economic, and environmental aspects of their communities.
EdUC, held in conjunction with the Esri International User Conference, ran from August 7 to 10. Mike Phoenix, Esri education program leader, announced that this year's event was the most well attended of the four EdUC conferences. The 800 attendees represented all 50 of the United States as well as 35 countries and territories. The conference attracted educators, researchers, librarians, museum staff, and others in education who exchanged their ideas and experiences with GIS. Phoenix urged educators and those interested in education to "take the time to get to know each other in order to build a stronger network of resources and ideas."
Following Phoenix's opening statements, Esri Higher Education Manager Ann Johnson detailed new software products and enhancements in ArcGIS 9. She emphasized the growing number of educational disciplines using GIS. Some of these disciplines, such as religion, are not typically associated with technology.
Students, teachers, and community leaders who are members of the 15 National 4-H Technology Leadership Teams attended the Education User conference.
Focusing on GIS education programs and GIS as a career, George Dailey, Esri K-12 education manager, told the audience about growing opportunities in the GIS industry. Referencing recent findings by the U.S. Department of Labor and Education, he noted that the geospatial industry is "hot."
The keynote presentation was made by Sandra Henderson, a science educator from the University Corporation for Atmospheric Research (UCAR). Henderson has bachelor's and master's degrees in geography and a doctorate in science education from Oregon State University. She is involved in a variety of projects that include an earth and space sciences education program sponsored by UCAR. Called Windows to the Universe, it provides a user-friendly online learning experience for the public. Through UCAR, Henderson also works on classroom activities and leads professional development efforts for teachers. Henderson's keynote challenged and encouraged the audience to engage in hands-on, inquiry-based learning.
After Henderson displayed statistics on the lack of earth science education in many schools, she described this as the difference between vision and practice and that these statistics highlighted opportunities to change the way students learn about earth and space science.
In closing, Henderson opened the discussion to the floor and asked, "How do we, as a community of geoscience educators, identify and address the challenges before us?" This led to a lively discussion by attendees followed by the last slide in Henderson's presentation. It quoted Margaret Mead, "Never doubt that a small group of thoughtful, committed citizens can change the world. Indeed it is the only thing that ever has."
Conference paper sessions and discussions followed tracks that included designing curriculum and degree programs, GIS for administration and planning, GIS in libraries and museums, projects and partnerships, teacher education, and teaching with GIS. Computer labs offered training that ranged from designing a geodatabase to teaching world geography using the Esri text, Mapping Our World-GIS Lessons for Educators. EdUC also hosted 30 exhibitors offering educational products, programs, and support.
The conference provided an opportunity for GIS educators to learn what those in other disciplines are doing. "It was so exciting to hear about the projects under way," said Charlie Fitzpatrick, Esri K-12 education manager. "Researchers are collecting more evidence that, using GIS, students can do important schoolwork while developing key skills and helping the community. Districts are engaging GIS more broadly, across grade levels and in administration. Faced with workforce issues, content standards, and decreasing resources, more instructors and administrators recognize they can use GIS to target multiple needs."