GIS Professionals Take ArcGIS Home
Jill Oliver hopes her new online and mobile mapping application, which she created using GIS software from Esri's new ArcGIS for Home Use program, will keep off-road-vehicle (ORV) enthusiasts who ride in and around Seattle, Washington, safer in the future.
The application, which works on mobile devices, such as smartphones, could also give government agencies that maintain ORV parks a tool for sharing the most up-to-date information available about trail conditions with riders and community groups that volunteer to help care for the park.
Oliver, a GIS analyst who works for the environmental science and engineering firm Anchor QEA, worked with her friend Mike Masson to develop a mapping application of the Walker Valley Off-Road Vehicle Park near Mount Vernon, Washington. She signed up for ArcGIS for Home Use after attending the 2011 Esri International User Conference (Esri UC), where Esri introduced the program that offers ArcGIS software for noncommercial personal use at a nominal fee. So far, more than 1,000 people have taken advantage of the program, putting ArcGIS to use for a wide variety of projects.
Oliver, who enjoys riding dual-sport motorcycles in her free time and is concerned about riding within her skill level, initially set out to create a map for personal use only. But she quickly realized she could share the mapping application with other riders to help them better navigate the trails and be safer, even as the money budgeted for the care and maintenance of the park are being reduced.
Many states are slashing funding or closing state parks altogether in an effort to cut costs. CBS News reported that Washington State has nearly a $5 billion budget deficit, and the state's lawmakers have defunded all 118 of the state's parks in 2011. The budget cuts have resulted in a number of trail closures, making safe trail navigation more important. Nearly a dozen people are killed in off-highway vehicle accidents every year in Washington State, according to the US Consumer Product Safety Commission.
Using the the World Topographic basemap available from ArcGIS Online, Oliver created a map in ArcGIS for Desktop that depicts the locations, difficulty levels, and conditions of the trails where she often rides. Oliver's map is designed to serve the needs of the ORV community by giving quick access to information about the trails in Walker Valley through mobile devices with Internet connections, such as iPads, iPhones, and Droids. By accessing her Walker Valley ORV Trails map on ArcGIS Online, people can get information about slopes, soils, trail difficulty, hydrology, and geology; they can even view photos of the trails. She believes the mapping application may be able to assist state park officials by improving park maintenance and reducing search-and-rescue operations.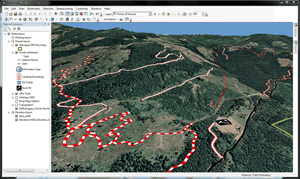 "Trails can be hard to find, and sometimes you don't know the difficulty of the trail until it's too late, and you're in serious trouble," Oliver said. "This lack of information concerning trail situations is a real problem for the ORV community. I also know from firsthand experience the off-road community is often quick to respond to an environmental problem because we understand that protecting trails and keeping them in good condition are essential if we are going to be allowed to enjoy the park in the future."
Since the map is available via ArcGIS Online, users are able to make comments on her map, such as "Trail in need of repair" or "Ride is extremely difficult." Users can also promote the map using Facebook and Twitter.
Oliver has been in contact with the Washington State Department of Natural Resources. Officials there are currently reviewing her map to see if it could help them maintain the park more efficiently, helping lower costs.
The ArcGIS for Home Use program gives Oliver and others the opportunity to put their mapping skills to good use doing volunteer work, improving their communities, and finding other meaningful ways to realize last year's Esri UC theme, Understanding Our World.
Ryan Hunsicker of Riverside, California, signed up for the program so he could spend his free time learning to use ArcGIS software. "I saw this as an amazing opportunity, so I jumped on it right away," said Hunsicker, who serves on the board of the California Land Surveyors Association and uses the software available in ArcGIS for Home Use to sharpen his GIS skills. The more he knows, the better he can explain to the city planners he works with how they can reduce costs.
According to Hunsicker, land surveyors are tasked with the job of explaining difficult design concepts that can be hard for public officials to understand. Mistakes made by city planners can cost taxpayers millions. Hunsicker believes that GIS is the key to better decision making by government officials.
Sam Lammie of West Virginia, a US federal government employee for over 25 years, has been using GIS since the mid-1980s. An environmental professional who is actively involved with many recreational, land-use, and environmental projects, Lammie has found perhaps the most personal way to give back after he acquired ArcGIS for Home Use. He said he downloaded ArcGIS software to share his love of mapmaking: "I really enjoy making maps with my daughter."