Create Web Mapping Applications Easily with ArcGIS Viewer for Silverlight
ArcGIS Viewer for Silverlight is a new, ready-to-deploy, robust Internet application that's perfect for organizations that use ArcGIS for Server to manage and share geospatial information on the web. Using it, you can build your own custom web mapping application in minutes. No programming required.
In local government for example, a law enforcement agency could provide the public with maps that reveal crime trends and patterns in the community and its neighborhoods. Election data and results could be posted online on a map, helping people examine where candidates and initiatives are gaining or losing votes. In addition to maps for the public, the viewer could be used to develop web mapping applications for internal use, such as a data viewer for a water utility.
With a comprehensive suite of core GIS functionality, ArcGIS Viewer for Silverlight is the next-generation configurable web client viewer for ArcGIS for Server and ArcGIS Online services. It runs on Windows operating systems and requires the Microsoft Silverlight browser plug-in.
The Silverlight Viewer, built on ArcGIS API for Silverlight, includes an application builder, which enables users to configure and deploy custom web mapping applications that can work with their own ArcGIS for Server services plus data content from the web. The user-friendly interface in the application builder provides any organization with a simple means to get started quickly. The application builder includes a what you see is what you get (WYSIWYG) preview. This makes the process of creating new web mapping applications very easy and ideal for nondevelopers and novice web application creators alike because there is no need to write a single line of code or edit configuration files. Custom web clients generated from the application builder can be used immediately, out of the box.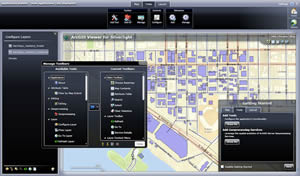 Organizations of all sizes that wish to share mapped information can use the viewer to create and deploy custom web mapping applications. It is especially valuable for organizations with a staff that has limited web developer expertise and limited time and resources. The application builder that comes with the viewer will empower them by making it easy and quick to configure and deploy web applications to meet business-specific needs and requirements.
ArcGIS Viewer for Silverlight provides your organization with access to Esri's extensive collection of basemaps through ArcGIS for Server and ArcGIS Online map services. This allows you to get your projects started quickly using maps in the style that best meets your needs. Additionally, the viewer allows you to add map layers of your existing data onto basemaps and apply personalized titles, logos, layouts, and color themes. This lends the benefit of creating useful maps with the customized look and feel of your organization. The application builder is designed to leverage the capabilities offered by ArcGIS for Server (e.g., web maps, feature services, and web editing), so geoservices and maps created with that technology can readily be applied to applications created with the viewer.
Included with ArcGIS Viewer for Silverlight is an extensibility kit, which developers can use to customize the application. They can create add-ins that can be used in a plug and play approach to extend the viewer's capabilities. This provides business partners, consultants, and developers with a site starter template that enables them to quickly and easily create web client applications for custom application solution development.
Download ArcGIS Viewer for Silverlight. Esri provides comprehensive help documentation, code samples, and a support forum.