ArcGIS Viewer for Microsoft Silverlight Now Available for Download
March 21, 2011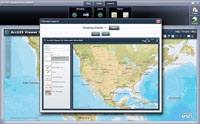 Redlands, California—Esri's new ArcGIS Viewer for Microsoft Silverlight can now be downloaded at no cost from the Esri Beta Community site. The viewer is a ready-to-use, configurable web mapping application built on ArcGIS API for Silverlight/WPF.
Users can easily configure ArcGIS Viewer for Microsoft Silverlight without writing a single line of code or editing configuration files. The download includes an application builder tool for making and previewing changes to the viewer data content, tools, and layout. The viewer is designed so that users can customize the look and feel of applications, add and configure tools, and extend the viewer framework with custom add-ins.
"ArcGIS Viewer for Microsoft Silverlight is ideal for nondevelopers and novice web application creators," says Derek Law, product manager for the viewer. "Users will appreciate the simple and intuitive approach that the application builder provides to create new, customized, and fully functional web client applications."
ArcGIS Viewer for Microsoft Silverlight supports existing business workflows that require mapping visualization, editing, and analysis. It also simplifies access to ArcGIS Online and ArcGIS Server services and accelerates web mapping application deployment.
Developers can create custom add-ins, which are modular units of code for extending the viewer with new capabilities. The common Silverlight/WPF API framework allows custom add-ins to be used with ArcGIS Mapping for SharePoint.
# # #
Press Information:
Matthew DeMeritt, Esri
Tel.: 909-793-2853, extension 1-2930
E-mail (press only): press@esri.com
General Information: info@esri.com