Esri and SCGIS Announce Winners of Conservation Mapping Contest
Green Turtle Nesting Sites Map Awarded Grand Prize
June 21, 2011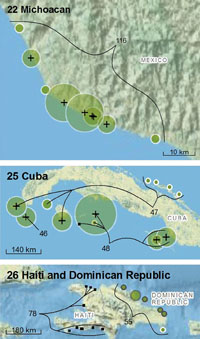 Redlands, California—Andrew DiMatteo, cartographer at the State of the World's Sea Turtles (SWOT) project and associate in research at Duke University, is the grand prize winner in the International Conservation Mapping Competition. DiMatteo's map, Worldwide Green Turtle Nesting Sites 2011, displays 1,167 green sea turtle nesting sites using data from more than 200 data contributors and published sources.
"The SWOT Worldwide Green Turtle Nesting Sites map allows scientists from around the world to contribute findings and collaborate on solutions for the conservation of green sea turtles and their habitats," says Charles Convis, Esri Conservation Program coordinator.
Sponsored by Esri and the Society for Conservation GIS (SCGIS), the competition was created to acknowledge those involved in conservation initiatives. A grand prize of $5,000 was awarded, and winners of each of the five first-place categories received $1,000.
First-place winners include the following:
Most Innovative—Brad Stratton, The Nature Conservancy, United States—The Land Protection History of The Nature Conservancy in New York
Greatest Social Impact—Christopher Walter, Cascade Land Conservancy, United States—Urban Forest Restoration Sites
Best Use of Science (shared first place)—Karin Bodtker, Living Oceans Society, Canada—Sea Lice on Juvenile Pink and Chum Salmon in BC; Adam Dixon, World Wildlife Fund, United States—Planning for Conservation in the Ruvuma Landscape
Best Traditional Cartography—Larry Orman, GreenInfo Network, United States—What We've Accomplished in Martis Valley
Best Interactive Web Map—Andrew Cottam, World Conservation Monitoring Centre, United Kingdom—African Pygmy Goose
To see the award-winning maps and related essays, visit esri.com/scgmaps.
# # #
About SCGIS
The Society for Conservation GIS assists conservationists worldwide in using GIS through communication, networking, scholarships, and training. Membership is open to any individual seeking assistance in the achievement of personal or organizational conservation goals. For more information, visit www.scgis.org.
Press Information:
Jim Baumann, Esri
Tel.: 909-793-2853, extension 1-1807
E-mail (press only): press@esri.com
General Information: info@esri.com