Workbook Details Steps in Completing Full-Scale GIS Analysis
June 30, 2011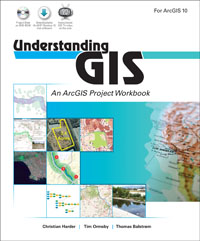 Redlands, California—A new book from Esri Press, Understanding GIS: An ArcGIS Project Workbook, explains the methods, tools, and processes needed to apply full-scale GIS analysis to a spatially based problem. Readers are guided through a hypothetical project of selecting a suitable location for a park near the Los Angeles River in California.
"This book provides the starting data and guidance you need to perform a complete GIS analysis including how to explore the study area, evaluate the data, and build a database; process, edit, and analyze the data; model outcomes; map your findings; and share your results on interactive web maps," said Christian Harder, who coauthored the book with Tim Ormsby and Thomas Balstrøm.
Understanding GIS: An ArcGIS Project Workbook contains valuable learning materials including
Self-paced tutorials
ArcGIS Desktop 10 software
Access to the online Understanding GIS Resource Center
The premise for the project presented in the book parallels the recent history of the Los Angeles River. In 2005, Los Angeles mayor Antonio Villaraigosa announced the Los Angeles River Revitalization Master Plan, which details the redevelopment of the waterway into wildlife and recreation area pockets from its current state as a flood control channel.
Understanding GIS: An ArcGIS Project Workbook (ISBN: 978-1-58948-242-5, 378 pages, US$79.95) is available at online retailers worldwide, at esri.com/esripress, or by calling 1-800-447-9778. Outside the United States, visit esri.com/esripressorders for complete ordering options or visit esri.com/distributors to contact your local Esri distributor. Interested retailers can contact Esri Press book distributor Ingram Publisher Services.
# # #
About Esri Press
Esri Press publishes books on GIS, cartography, and related topics. The complete selection of GIS titles from Esri Press can be found on the web at esri.com/esripress.
Press Information:
Jim Baumann, Esri
Tel.: 909-793-2853, extension 1-1807
E-mail (press only): press@esri.com
General Information: info@esri.com