New Edition of Map Use Available from Esri Press
Cartographic Textbook Now Includes Map Interpretation Section
October 18, 2011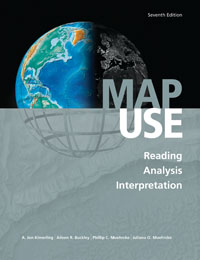 Redlands, California—The seventh edition of Map Use: Reading, Analysis, Interpretation, a standard reference for GIS students and professionals since 1978, is now available from Esri Press. This full-color textbook provides readers with the knowledge to effectively interpret modern cartography.
A. Jon Kimerling, Aileen R. Buckley, Phillip C. Muehrcke, and Juliana O. Muehrcke authored this edition of the book. In part one, "Map Reading," they discuss the geographic data underlying a map and the importance of map accuracy. Part two, "Map Analysis," describes how to analyze spatial structures and relationships in the mapped environment. In the newly added part three, "Map Interpretation," they place emphasis on understanding environmental maps throughout four chapters:
Interpreting the Lithosphere
Interpreting the Atmosphere and Biosphere
Interpreting the Human Landscape
Maps and Reality
"The map interpreter's challenge is to search out those underlying meanings, to piece together the fragments of mapped information and come up with a picture of vibrant, ever-changing reality," state the authors. "Once you meet that challenge and discover the rewards of interpretation, you will look at maps in a new way, picking out intriguing patterns and asking yourself, Why?"
"I've been a fan of Map Use since my first undergraduate cartography course at the University of Wisconsin in 1984," says David DiBiase, Esri director of education for industry solutions. "The book is one of the top 10 indispensable geospatial texts I recommend to students and colleagues. This new edition only strengthens its key position in geospatial literature."
A related DVD is available by request to college faculty and instructors from the Esri Press website. The DVD includes PowerPoint slides, exercises, and answer keys for all 22 chapters.
Map Use: Reading, Analysis, Interpretation, Seventh Edition (ISBN: 978-1-58948-279-1, 610 pages, US$99.95), is available at online retailers worldwide, at esri.com/esripress, or by calling 1-800-447-9778. Outside the United States, visit esri.com/esripressorders for complete ordering options, or visit esri.com/distributors to contact your local Esri distributor. Interested retailers can contact Esri Press book distributor Ingram Publisher Services.
# # #
About Esri Press
Esri Press publishes books on GIS, cartography, and related topics. The complete selection of GIS titles from Esri Press can be found on the web at esri.com/esripress.
Press Information:
Jim Baumann, Esri
Tel.: 909-793-2853, extension 1-1807
E-mail (press only): press@esri.com
General Information: info@esri.com