Direct Relief Innovates with Solutions from Esri and SAP
Drucker Institute Acknowledges GIS-Based Global Logistics Workflow
January 17, 2012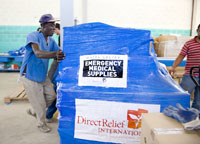 Redlands, California—Nonprofit Direct Relief International uses leading-edge technology from Esri and SAP AG to simplify operations that provide medical supplies to underserved populations. As a result, the Drucker Institute has awarded its $100,000 first-place prize for the 2011 Peter F. Drucker Award for Nonprofit Innovation to the organization.
"When a nongovernment organization can, at a moment's notice, accept medicines and supplies from major pharmaceuticals, deliver them to an area struck by a disaster, report exactly the location where the resources were received, and provide drill-down visibility at the click of a mouse, it's a beautiful thing," said Bob Courteau, president, SAP North America. "When that organization has fewer than 60 people, it is an incredible testament to the operational efficiency and effectiveness of Direct Relief International. We are proud to be working with Direct Relief and Esri to create solutions that are helping to positively impact communities in need and save lives."
The organization has built a commercial-grade IT system that enables a more precise, targeted, and efficient flow of donated medical supplies to nonprofit health care facilities in more than 70 countries, including the United States. The award recognizes the Santa Barbara, California-based humanitarian organization's implementation, which improves inventory management, warehousing, ordering, and distribution of goods.
"Using solutions from Esri and SAP, we were able to create a common platform for knowledge and understanding that renders complex issues much more rapidly comprehensible than I had thought possible," said Andrew Schroeder, director of research and analysis for Direct Relief.
Built with assistance from researchers at the University of California, Santa Barbara, the system integrates Esri's ArcGIS® technology with SAP® solutions—including SAP ERP, SAP Customer Relationship Management (SAP CRM), SAP BusinessObjects™ solutions, and the SAP NetWeaver® platform—which Direct Relief uses to track inventory. This combination makes it possible to take detailed assistance data from the SAP solutions and map it using the ArcGIS location-based interface.
"Direct Relief has created a successful model for all organizations interested in creating a healthy business as well as being strong global citizens," said Jack Dangermond, president of Esri. "Using geography as the medium, Direct Relief understands exactly what is going on in the areas they serve and makes sound decisions that improve the lives of people all around the world. What they are accomplishing with the limited resources they have available is exemplary and something that we can all strive to achieve."
The Peter F. Drucker Award for Nonprofit Innovation is given each fall to three U.S.-based nonprofit organizations in recognition of existing programs that have made a difference in the lives of the people they serve. The award has been given annually since 1991 and is accompanied by two runner-up prizes of $7,500 and $5,000. The program is generously supported by the Coca-Cola Foundation.
For more information on Esri's nonprofit program, visit esri.com/nonprofit.
For more information on SAP's corporate social responsibility program, visit www.sap.com/about-sap/csr/.
# # #
About Direct Relief International
Direct Relief International is California's largest medical relief organization, active in all 50 states and 70 countries. It works with more than 1,000 health clinics across the U.S. to assist in emergencies and an ongoing basis, providing them with free medications for people in need. The organization has been among the world's largest medical suppliers in Haiti after the 2010 earthquake, has top charity ratings, including four-star and "top-notch" rating from Charity Navigator, and a 100% fundraising efficiency rating from Forbes magazine. For more information, please visit www.DirectRelief.org.
# # #
SAP Forward-Looking Statement
Any statements contained in this document that are not historical facts are forward-looking statements as defined in the US Private Securities Litigation Reform Act of 1995. Words such as "anticipate," "believe," "estimate," "expect," "forecast," "intend," "may," "plan," "project," "predict," "should," and "will," and similar expressions as they relate to SAP, are intended to identify such forward-looking statements. SAP undertakes no obligation to publicly update or revise any forward-looking statements. All forward-looking statements are subject to various risks and uncertainties that could cause actual results to differ materially from expectations. The factors that could affect SAP's future financial results are discussed more fully in SAP's filings with the US Securities and Exchange Commission (SEC), including SAP's most recent annual report on Form 20-F filed with the SEC. Readers are cautioned not to place undue reliance on these forward-looking statements, which speak only as of their dates.
Press Information:
Karen Richardson, Esri
Tel.: 909-793-2853, extension 1-3491
E-mail (press only): press@esri.com
General Information: info@esri.com