ArcGIS 10.1 Simplifies Sharing of Geographic Information
New Tools and Infrastructure Extend the Reach of GIS throughout Organizations
June 11, 2012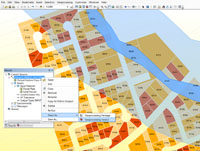 Redlands, California— ArcGIS 10.1, the highly anticipated update to ArcGIS, is now available. The new release puts mapping and geospatial analytics into the hands of more people than ever—even those with no geographic information system (GIS) expertise. ArcGIS is a complete system for designing and managing solutions with geographic knowledge.
ArcGIS 10.1 further integrates desktops and servers, as well as mobile and web applications. Users can author maps, models, and analytics and deliver any GIS resource, including imagery, geodata, and tools, as a web service. With the introduction of ArcGIS Online for organizations, a cloud-based, collaborative content management system, geographic information is easier to share within and outside an organization.
Hundreds of Desktop Improvements
Many of the improvements in the new release of ArcGIS make it easier to create and share content, while others improve a user's ability to visualize patterns and trends in complex data. Highlights include the following capabilities:
Edit any aspect or component of a map, including feature-level metadata
Use new spatial analysis tools, such as spatial autocorrelation, to predict outcomes and explain geographic information better
Find new tools that simplify all aspects of working with large collections of imagery and raster data in ArcGIS
View lidar Log ASCII Standard files as point clouds, surfaces, and rasters
Fast, Dependable Services
ArcGIS for Server, the primary engine for powering geospatial infrastructure, allows users to turn any location-based resource into a fast, dependable service that can be used in web, desktop, and mobile applications. ArcGIS for Server has the following advantages:
Available on physical, virtualized, and cloud infrastructures or any combinations thereof
A native 64-bit application that runs on Windows and Linux
Much quicker and easier to install
More versatile and secure
Support for a Spectrum of Mobile Platforms
ArcGIS 10.1 supports a spectrum of mobile platforms—both with open software developer kits (SDKs) that are customizable for developers and end-user applications that can be downloaded from application stores and marketplaces. These applications can be used to access intelligent web maps and share data.
Easy-to-Deploy Applications
Esri continues to support multiple platforms and APIs for application development. The new ArcGIS Runtime SDKs for WPF and Java, which will become available within the next month, allow developers to build applications that are fast and easy to deploy and have a small footprint.
For more information about ArcGIS 10.1, visit esri.com/whatsnew.
# # #
Press Information:
Matthew DeMeritt, Esri
Tel.: 909-793-2853, extension 1-2930
E-mail (press only): press@esri.com
General Information: info@esri.com