Improved Support for Landsat Imagery in ArcGIS 10.1
GIS Users Can Manipulate and Analyze Esri's Landsat Imagery Services for Better Use with Geospatial Data
August 15, 2012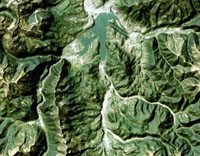 Redlands, California—To assist scientists and land and resources managers in evaluating the earth's changing landscape, Esri announced today that it has further improved support for Landsat imagery, including simplified workflows for ArcGIS 10.1 for Desktop and improvements in the World Landsat Services on ArcGIS Online. In addition, Esri and the Department of the Interior (DOI) worked closely to make all Landsat Global Land Survey (GLS) imagery, including the latest—GLS2010—available through dynamic, multispectral, multitemporal image services on ArcGIS Online.
"Technology barriers are coming down," said Rachel Headley, PhD, Landsat project, United States Geological Survey (USGS) Earth Resources Observation and Science (EROS). "We are now enabling entirely new communities to share and enjoy the views of earth that Landsat has documented for more than four decades."
Landsat 7, the current earth observation satellite, produces 30-meter-resolution, calibrated, multispectral imagery in 185 x 185-kilometer scenes. The imagery is free for use by everyone and has become a rich data resource for agriculture, forestry, natural resources exploration, and many other industries.
The existing Landsat image services were refined by adding the GLS 2010 dataset and improving the visual quality with radiometric enhancement. Ten services were added including the following:
A single service end point that combines 26 separate image services products
A service that returns tasseled cap transforms
A 15-meter panchromatic image
Services for better visualization such as a natural color combined with hillshading
"By combining Landsat imagery with a mashup of multiple data sources available through ArcGIS Online, such as bathymetric, world elevation services, and DeLorme datasets, as well as user-defined content, users can better understand the spatial relationship and interaction of ecosystems and urban development," said Lawrie Jordan, Esri's director of imagery. "ArcGIS allows people to analyze and use imagery for more than just an image backdrop to their GIS. It has become an integral part of their analysis of GIS data."
Esri has also updated the easy-to-use web-based Landsat ChangeMatters viewer for visualizing, analyzing, and detecting change using these image services. For more information on Esri's support for Landsat imagery, visit esri.com/landsat.
# # #
Press Information:
Karen Richardson, Esri
Tel.: 909-793-2853, extension 1-3491
E-mail (press only): press@esri.com
General Information: info@esri.com