The latest release of ArcGIS technology, which includes ArcGIS Pro 2.5 and ArcGIS Enterprise 10.8, offers powerful new features in mapping, visualization, analytics, and more.
ArcGIS Pro
ArcGIS Pro 2.5 brings users new tools and capabilities to optimize their workflows. More than 60 of these enhancements came straight from user requests, and many are ArcMap equivalencies.
When it comes to mapping and visualization, ArcGIS Pro 2.5 has updated color management settings to ensure that colors render consistently across devices. It also has an overprint capability for symbol layers to prevent registration errors in printing, and now maps can be exported to the Adobe Illustrator Exchange (AIX) file format so users can add graphics and finish their maps in Adobe Illustrator. There are also a few new map projections.
For analysis, this latest update integrates Python notebooks into ArcGIS Pro to improve data science workflows, and users can now schedule analytical tools to run later or in a recurring pattern. There are new workflows for business analytics tasks, such as site evaluation and target marketing, and users will notice better performance in ArcGIS Pro 2.5, especially when working on large projects.
ArcGIS Pro 2.5 helps users better manage their data as well. Users can now automate metadata workflows. With geodatabase replication workflows, they can create and manage data replicas and sync changes using traditional versioning. Building information modeling (BIM) file workspaces can now be turned into geodatabase feature datasets. The map authoring experience for ArcGIS Indoors Web has been simplified, too.
Updates have been made to the following ArcGIS Pro extensions as well.
ArcGIS Image Analyst
The most recent release of ArcGIS Image Analyst includes more comprehensive support for image analysis with expanded deep learning, new raster functions, and improved full-motion video (FMV). Users can now natively train deep learning models using geoprocessing tools in ArcGIS Pro. Image Analyst has 10 new raster functions that enable analysts to design and run targeted workflows for distance modeling, hydrologic modeling, and multidimensional analysis. It's also easier to manage and use FMV with embedded geospatial metadata, and the video player now has enhanced streaming.
ArcGIS for Maritime
The new maritime ribbon in ArcGIS Pro 2.5 contains new tools that make it easier for maritime users to create and edit complex features. The S-100 Attribute Editor simplifies how users edit complex attributes, too. The Association Manager makes it easier to create and manage relationships among multiple feature and information types. And the Display Scale control further simplifies editing by enabling users to set minimum and maximum scales for newly created features.
Drone2Map for ArcGIS
New features in Drone2Map for ArcGIS include improvements to elevation models that allow users to publish their own custom surfaces, such as bare ground digital terrain models (DTM) or top surface digital surface models (DSM), in ArcGIS Online or ArcGIS Enterprise. Users can add their own elevation surfaces to ensure that all 3D views incorporate the most authoritative elevation surface information. The camera model editor has also been improved. It now allows users to edit and store camera models in the database, ensuring that the same parameters are kept throughout processing.
ArcGIS Data Reviewer
ArcGIS Data Reviewer has new capabilities for automating quality control workflows. Users can configure several automated validation checks, which are used to identify features that don't meet data quality requirements, as attribute rules. These checks include those that assess a feature's integrity, attribution, or spatial relationship with other features. By leveraging validation services in ArcGIS Server 10.8, features that fail validation can be reviewed and corrected using ArcGIS Pro 2.5 or through custom web apps.
Esri Production Mapping and Esri Defense Mapping
For the Esri Production Mapping and Esri Defense Mapping extensions, the latest release of ArcGIS Pro introduces new production workflows to help with data editing, quality control, and cartography. New tools have been added to the Workflow toolset, and the Data Management toolset has a new Extract Data By Feature tool, which helps users take data from a particular area of interest.
ArcGIS Enterprise
ArcGIS Enterprise 10.8 introduces several features and capabilities to help users make the most of their GIS infrastructure. These include updates to ArcGIS Enterprise Sites; new administrative settings in the Enterprise portal; more options for publishing data; and new apps, such as ArcGIS Mission.
A read-only setting for ArcGIS Enterprise now allows administrators to do system maintenance and upgrades while preserving data. Administrators can configure an information banner for the header and footer of the Enterprise portal to display important information to users. An access notice can now prompt users to accept terms and notices before they do anything on the site. The new ArcGIS Vector Tile Style Editor helps customize the look and feel of vector tiles, and hosted feature layers now render faster and take less time to publish when users have a lot of hosted layers. New webhooks also trigger events when someone's user type or role changes.
Many groups, including administrative groups, have new enhancements, such as being able to hide the list of group members on the Members tab and restrict members from leaving a group. There are also two new user type extensions available in ArcGIS Enterprise: the Utility Network Service user type extension and the Parcel Fabric Service user type extension.
It's worth noting that ArcGIS Enterprise 10.8 is a short-term support release. ArcGIS Enterprise 10.8.1, planned for release later in 2020, will be a long-term support release for users who want several years of support and updates.
ArcGIS Mission
This situational awareness and mission-management software solution, released with ArcGIS Enterprise 10.8, provides organizations with a comprehensive understanding of operating environments. Team members can track, monitor, and coordinate movements via location sharing and peer-to-peer communication. ArcGIS Mission also gives supervisors the ability to assign teams, designate maps, and share documents for mission operations.
ArcGIS Notebook Server
In ArcGIS Enterprise 10.8, ArcGIS Notebook Server—a complete data science platform—offers notable developments, enhancements, tools, and bug fixes. The new ArcGIS Notebook Server Manager can be used to manage common administrative tasks. In the notebook editor, users can collapse sections of ArcGIS Notebooks, enabling easier navigation. And the new Execute Notebook operation in the ArcGIS Notebook Server Administrator directory lets users automatically execute all the code cells in a notebook at once.
ArcGIS GeoEvent Server
For ArcGIS GeoEvent Server, recent updates focus on usability and functionality. Users can now create and add new input and output connectors and edit their properties directly in the service designer for ArcGIS GeoEvent Manager. The service designer also gives users the ability to edit key GeoEvent Server settings, such as GeoEvent Definitions, GeoFences, and Data Stores. GeoEvent Sampler, a utility embedded in the service designer, lets users sample and view geoevents as either delimited text or prettified JSON. Also, input and output connectors are now in a stopped state by default, giving users more control over when to start data inputs and processing.
ArcGIS GeoAnalytics Server
Users of ArcGIS GeoAnalytics Server have more analytics capabilities and broader flexibility for storing big data. With the new Find Dwell Locations tool, users can analyze where people, vehicles, or assets remained still for a certain amount of time. The Find Point Clusters tool lets users discover clusters of points based on their spatiotemporal distribution. In addition to being able to write analysis results to big data file shares like the Hadoop Distributed File System (HDFS), Amazon Simple Storage Service (Amazon S3), and Microsoft Azure Data Lake, users can now also write them to Microsoft Azure Blob containers.
ArcGIS Image Server
The ArcGIS Image Server 10.8 release includes broader support for data formats and sensor types, improved image hosting and analysis capabilities, and enhanced deep learning capabilities. These updates help users leverage more data formats, such as images taken by Sentinel-3 and Sentinel-5 observation satellites. Improved image hosting allows organizations to host more complex image data. And users can take advantage of building footprints and color correction processing that was previously only available with ArcGIS Pro. At 10.8, deep learning tools now support image space, allowing users to apply deep learning to oblique imagery.
ArcGIS for INSPIRE
In the latest release of ArcGIS for INSPIRE, Esri added the biogeographic regions data theme and the Elevation Vector Elements application schema for the elevation data theme. ArcGIS for INSPIRE Geoportal Server also now supports creating and updating metadata according to INSPIRE Metadata Technical Guidance 2.0.
ArcGIS Apps
When it comes to ArcGIS apps, there are a lot of new things to get excited about, including a new app and updates that improve user experience and enhance workflows.
ArcGIS Experience Builder
ArcGIS Experience Builder helps users transform their data into compelling web apps and web pages without having to write a single line of code. In the app, users can customize layouts and design elements, choose the tools they need to interact with 2D and 3D content, and build responsive apps that run on any device.
ArcGIS Insights
In ArcGIS Insights, Esri's app for advanced analytics, workbooks have a cleaner, simpler user interface with more screen real estate. On desktop deployments, users now get unlimited data-only connections (as long as there's one primary ArcGIS Online or ArcGIS Enterprise connection) and can connect to a single ArcGIS Online account and multiple ArcGIS Enterprise accounts. Insights also now supports coded value domains and subtypes. With a new one-click Export Data option, it's easier than ever to share analytical datasets with other people or apps. It's also now easier to add, remove, and reorder fields with improved summary tables.
Collector for ArcGIS
Collector for ArcGIS now has one of the most often-requested capabilities: feature snapping. Available currently for iOS and soon Android, this allows users to snap to existing point features or vertices (for both lines and polygons) when using the map to create a new feature or update the location of an existing one. Bulk form updating is another enhancement that allows users to update a form entry for multiple assets or observations at the same time. When using maps offline, users can now create irregular offline areas (polygons) so they only carry the map areas they need. Additionally, users can sign in with a bar code or QR Code that enables quick access to the organization's Enterprise portal.
ArcGIS QuickCapture
The ArcGIS QuickCapture designer has several new features to help users more easily create projects. App designers can configure dialog boxes that fieldworkers use to enter extra information in the app, without losing the fluid, big-button experience. It's also now possible to configure buttons that make it either required or optional for fieldworkers to include a photo. Additionally, a new continuous mode allows users to capture feature data in a continuous stream, as they move around, rather than point by point.
Explorer for ArcGIS
In addition to being available in iOS and Android, Explorer for ArcGIS is now available in Microsoft Windows. This new version gives users more ways to take maps offline, the ability to use raster imagery directly within mobile map packages, refresh layers more often to boost situational awareness, and keep data secure with public key infrastructure (PKI) authentication.
ArcGIS StoryMaps
ArcGIS StoryMaps has surpassed the functionality of classic story map templates. In addition, users can now convert their story maps into printable PDFs and share them with a group. There's also a new user type, Storyteller, for anyone in an organization who only wants to build stories using ArcGIS StoryMaps.
ArcGIS Hub
ArcGIS Hub is now in the app switcher and no longer requires an administrator to enable an organization's open data. This means that any ArcGIS Online member who has a Creator user type and a Publisher role can quickly get started building sites and pages with ArcGIS Hub Basic. Users can now add 3D web scenes to sites and pages using the map card to show things like proposed developments and underground utilities. There are also easier ways for administrators to configure their hub's sign-in experience. And users can add a trusted logo, a community support contact, and/or custom terms and conditions to their sign-in pages. Additionally, the Supporting Teams feature is a new way to collaborate privately with target groups in ArcGIS Hub.
Navigator for ArcGIS
Recent updates to Navigator for ArcGIS focus on drivers. Dispatchers can now share route layers directly with drivers in the app, which ensures that routes don't get compromised if drivers lose connectivity. Drivers can pause multistop routes without canceling their trips entirely. They can also fully interact with features and assets on maps and see complete attribute information, including media and attachments.
Tracker for ArcGIS
In Tracker for ArcGIS, the Track Viewer web app is now embedded in ArcGIS Enterprise. Once an administrator enables location tracking in the enterprise organization, users who are authorized to track views—typically managers and supervisors—can access Track Viewer through the app switcher.
Workforce for ArcGIS
The most recent release of Workforce for ArcGIS focuses on the web app. Users, who are generally supervisors, can now install it with ArcGIS Enterprise instead of having to do a separate installation.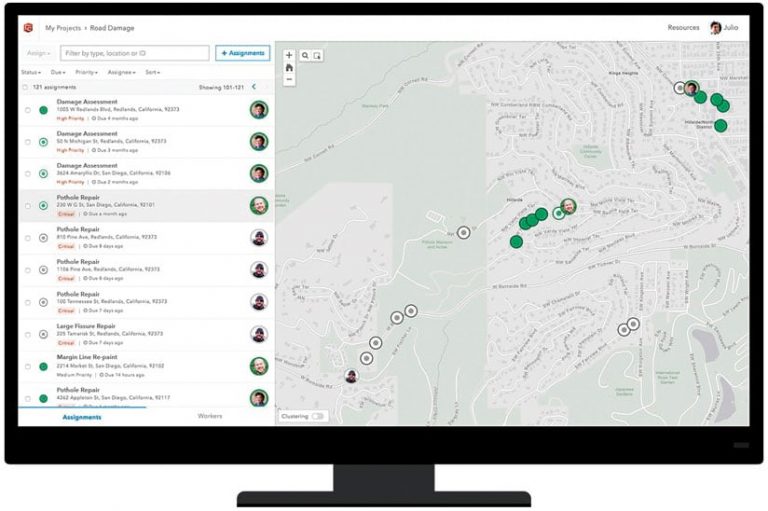 Esri Redistricting
The Esri Redistricting web app has several new features for the 2020 Census cycle. These include improved workflows for creating redistricting plans, a new streamlined Themes function that allows for demographic overlays, and support for dual monitors and pop-out windows. Esri Redistricting also now lets users create plans for multiple counties at once, as well as for smaller areas within a county, state, or region.
ArcGIS Excalibur
The latest release of ArcGIS Excalibur, a premium web app that simplifies image exploration, includes broader support for image services, more viewing and editing options within projects, and an improved read-only user experience in the portal. Two new tools, Swipe and Flicker, also make it easier for users to engage in comparison or change-detection workflows.
ArcGIS Earth
ArcGIS Earth, a free, lightweight, easy-to-use app for immersive 3D experiences, now lets users edit KML, including ground overlays, screen overlays, and network links. Users can take content entirely offline with mobile scene packages. ArcGIS Earth also supports a new workflow that uses QR Codes to quickly share data from the desktop app to ArcGIS Earth on a mobile device.