The Patricia and Phillip Frost Art Museum at Florida International University (FIU) in Miami, Florida, is a 46,000-square-foot facility that houses 6,500 works of art. With a focus on contemporary art from the United States and international regions such as the Caribbean, the museum's curatorial team, led by chief curator Amy Galpin, organizes 10–12 exhibits each year to provide the community with free access to world-class art.
As part of its collection, the Frost Art Museum has what's known as Sculpture Park, which consists of about 30 sculptures scattered around FIU's 344-acre main campus. To help students and visitors navigate the sprawling Sculpture Park and learn more about the works of art, Galpin recently worked with Diana Ter-Ghazaryan, who, at the time, was a research associate at FIU Libraries' GIS Center, to develop a virtual guide.
Ter-Ghazaryan, now an associate professor at the Spatial Sciences Institute at the University of Southern California, worked with a student assistant, Dan Frome, to collect data about the sculptures. They then used ArcGIS Experience Builder to transform the data into an interactive web app.
"Leaning into the art and leaning into the visual component of this project were easily accomplished with Experience Builder," Ter-Ghazaryan said. "It allowed us to build a customized site with strong visuals without being developers."
A Geography Lesson Yields a Solution
The FIU Sculpture Park app was inspired by GeoMuse, an app resulting from collaboration between Ter-Ghazaryan and her colleague Lien Tran when they were both at the University of Miami.
While working in the University of Miami's Department of Geography, Ter-Ghazaryan had students collect the latitudes and longitudes of sculptures on campus for a lesson in using GPS. As her students completed the assignment, Ter-Ghazaryan realized that the university's printed maps of the on-campus museum's sculptures were out-of-date. To help people explore this sculpture collection virtually, Ter-Ghazaryan and Tran, who is now an assistant professor at DePaul University, applied for internal funding and assembled a group of students to build GeoMuse, an interactive web app.
The success of GeoMuse inspired Ter-Ghazaryan to propose a similar project to Galpin at FIU. Galpin was enthusiastic about the proposal because, she said, there was no central way for students and visitors to explore the outdoor collection of the Frost Art Museum's sculptures. There also wasn't much information available about the public art on campus.
"I definitely value the significance [of the digital space] and its opportunity to reach larger audiences," said Galpin. "This was an opportunity to create a map that people could use to find out more about the work on campus."
A Quick, Intuitive Experience
For the GeoMuse app, Ter-Ghazaryan and her students worked with a developer to create a custom-built solution. At FIU, she wanted something that would be easy to deploy and maintain. So Ter-Ghazaryan and Frome, who is now a GIS specialist for Miami-Dade County, decided to use ArcGIS Experience Builder, an app builder that supports flexible layouts, content, and widgets.
Frome said he knew that Experience Builder was the right choice for this project because the FIU app needed to have a strong visual component to showcase the art while also displaying descriptions of the work.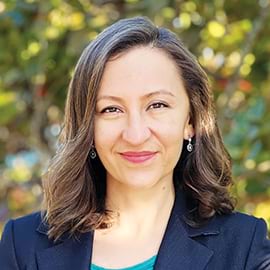 Leaning into the art and leaning into the visual component of this project were easily accomplished with Experience Builder. It allowed us to build a customized site with strong visuals without being developers.
---
Associate professor, University of Southern California
Diana Ter-Ghazaryan
"[We wanted] something that [we] could customize to make as simple for everybody as possible but [that would also] look good and be intuitive," Frome said. Additionally, the duo wanted whoever was going to build the app to be able to do so "without…spending a year learning how to be a web developer," he added.
For both Ter-Ghazaryan and Frome, who ended up creating the app themselves, using Experience Builder was intuitive. They built the app pretty quickly.
"It was a lot of jumping in and tinkering around," said Frome. "[The app] kind of came together [with us] just learning about different widgets and different tools and how to implement them…and learning what various functions would be helpful."
A Smooth Development Process
Ter-Ghazaryan and Frome began the development process by getting a spreadsheet from Galpin that listed all the works she wanted to be included in the app, along with their locations. Frome then walked the FIU campus to collect the latitude and longitude of each sculpture, using ArcGIS Survey123 on his smartphone. He also took photos of the artwork.
Once all the information was gathered, Ter-Ghazaryan and Frome used Experience Builder to create a custom web app that functions on mobile and desktop devices. They experimented with different displays and buttons to ensure that the two versions were consistent and worked well.
Throughout the data collection and app setup process, Ter-Ghazaryan and Frome had check-in meetings with Galpin and the museum team to update them on progress and ensure that they were creatively on the right track.
"The visual component of this is really the most important. Being able to see things, being able to take a good picture and have [the app] display…all that kind of stuff is really what made [Experience Builder] the obvious choice for us," Frome said. "[We were] able to have something workable finished quickly without coding it from scratch."
Ter-Ghazaryan appreciated that Experience Builder allowed her and Frome to easily work within the cloud and connect different systems. Frome said he had to travel for several weeks during the project and yet was able to continue working on the app, which was helpful.
"The connection of Experience Builder to Survey123 and the seamless connection through ArcGIS Online made it really easy and quick for us to be able to collect the data [and] bring it right in and then just deploy that web map right [in] Experience Builder," said Ter-Ghazaryan. "I think that was a really important benefit of working on the cloud platform."
The final web app includes the location of each sculpture, a photo of it, and curatorial information such as the artist's name and the year the piece was produced. A map is available as well to help users with navigation.
A New Way for People to Engage with Art
With the goal of engaging the student community and the public, FIU launched the virtual Sculpture Park web app in the summer of 2021. Galpin thinks that being able to read descriptive text about each work and view large images of the sculptures are important features of the app. She also likes that it offers different views of the map, contributing to a user-friendly experience.
Ter-Ghazaryan pointed out that while museums often have video tours or 360-degree videos of their collections, they don't typically use maps or locations as the basis for exploring art. She thinks that FIU's Sculpture Park app provides a great way to spotlight the Frost Art Museum's outdoor sculpture collection and connect the physical and virtual realms. Moreover, Galpin stresses that the app will bring more attention to the creative works in the museum.
"I see this map as a holistic way in which we are realizing our mission and caring for the art in our collection and offering opportunities for the public to engage with it in different ways," she said.