The Esri Disaster Response Program Supports Frontline Efforts in Confronting COVID-19
Organizations that need GIS technical support, software, data, and solutions to respond to the coronavirus disease 2019 (COVID-19) pandemic can contact the Esri Disaster Response Program (DRP). It's available 24/7.
Requests for assistance have come in from all over the world—from small communities, multinational organizations, and global companies alike. "This pandemic is affecting all of us, and I'm grateful we can offer assistance to those working on the front lines," said Ryan Lanclos, director of public safety solutions and the DRP at Esri.
Esri president Jack Dangermond talked about the DRP in a video message to members of the global GIS community. In the video, he underscored the availability of software, training resources, and technical support for organizations that are stepping up during the pandemic.
"Our big job is to help you be the heroes that you are," he said. (To learn about some of the GIS applications organizations have built to respond to the COVID-19 pandemic, watch the video from Dangermond called GIS in this Time of Crisis.
Requests for Assistance Rise
Soon after COVID-19 was detected in mainland China, requests for assistance began to pour in to the DRP as organizations started to map the spread of the disease, analyze COVID-19 data, and mitigate the impact of what would become a pandemic.
The program is a free service that Esri offers as part of its corporate citizenship. The program is designed to help customers who need additional GIS capabilities as they respond to disasters such as hurricanes, floods, tornados, epidemics, and pandemics. Esri established the DRP shortly after the 1994 Northridge earthquake in Southern California as the company formalized its emergency response efforts.
More than 100 of Esri's technical specialists are currently staffing the DRP to support customers involved in the COVID-19 response. The DRP resolves technical support issues, provides additional software when necessary, points customers to available data, and helps configure solutions to address common workflows for crisis response. Primary requests for product support include ArcGIS Online, ArcGIS Hub, ArcGIS Dashboards, ArcGIS Desktop, ArcGIS mobile applications, and configurable web apps.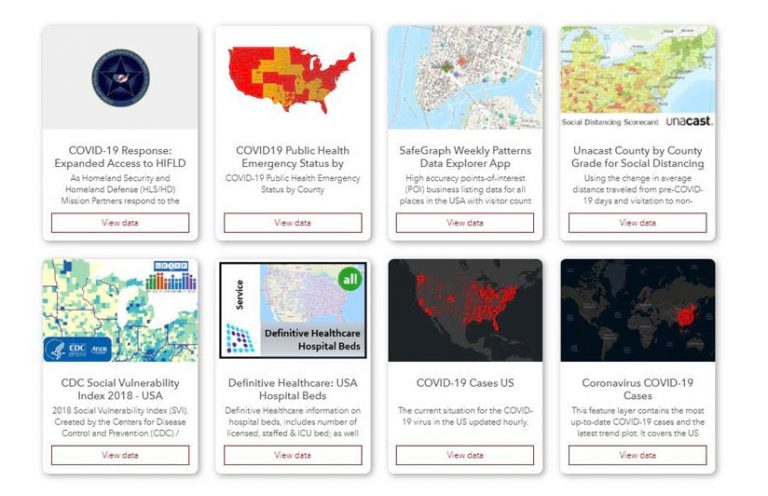 COVID-19 GIS Hub Is Launched
Esri's COVID-19 GIS Hub is a strategic part of the DRP's response efforts. The Hub provides extensive resources for those seeking information about the virus or who want to set up their own landing page for COVID-19 response efforts. It includes map templates, datasets, and applications that have been built through Esri's partnership with the public health and DRP communities.
Examples of applications, datasets, and dashboards from around the world include open data on hospital beds, a social distancing explorer, and a mapping application from the American Red Cross that displays public health emergency restrictions by county across the United States.
In addition, the COVID-19 GIS Hub features a Request GIS assistance button that directs people to a form to fill out to get help from support staff.
The COVID-19 GIS Hub—created using the ArcGIS Hub cloud-based engagement platform that's available with an ArcGIS Online subscription—is continually monitored for performance by a dedicated operations team. The team maintains the system's reliability and scalability to meet demand during times of high usage. DRP team members also work with Esri's international distributors and various organizations and agencies throughout the world to identify resources that can be added to the COVID-19 GIS Hub.
The Hub's collection of data is extensive and continues to grow as new datasets are added. Included are data from ArcGIS Living Atlas of the World, as well as world demographics, world population density, world traffic service, and current weather and wind station data. Datasets specific to health care and social services include Definitive Healthcare's Hospital Database, the Centers for Disease Control and Prevention's Social Vulnerability Index, and the US Department of Housing and Urban Development's Continuum of Care Program grantee areas.
In addition to the resources available on the COVID-19 GIS Hub, Esri's ArcGIS solutions team has released a suite of tools that customers can apply to their own local COVID-19 hub to enhance its capabilities, such as providing impact status reporting and streamlining the ability to find critical facilities. Visit the additional resources page to find tools, solutions templates, best practices, white papers, and other information from Esri and the GIS community on using GIS to better understand COVID-19.
Many public information dashboards on COVID-19 have been created too, including those from Johns Hopkins University, the University of Virginia, and the Italian Department of Civil Protection.
"The systems developed by our customers are seeing unprecedented and exponentially increasing requests," says Paul Ross, Esri senior product manager for ArcGIS Online. "For example, the Johns Hopkins University dashboard alone is currently seeing over 3 million views per hour."
Using graphics and maps, the COVID-19 dashboard from Johns Hopkins University displays near real-time data on the numbers of and trends in cases and deaths in each affected country. The dashboard also shows the numbers of deaths, hospitalizations, and tests for the disease in each state in the United States.
"This overall system usage is mainly due to the authoritative sources for coronavirus information that our users have made available through their [own] hub sites and applications and the system's capability to share information through dashboards, apps, and maps," Ross said.
As the Pandemic Expands, So Do DRP's Services and Systems
Esri also launched a COVID-19 microsite to help organizations around the world find the resources they need to support their efforts to combat COVID-19.
"It provides useful information for getting started, such as links for creating an ArcGIS Hub site, access to no-cost resources, and a directory of global dashboards organized by region," Lanclos said.
The microsite can be quickly translated into any of a long list of languages to provide greater international support as well as links to the COVID-19 GIS Hub, where additional resources are available.