Having just attended yet another successful GEOINT Symposium, I'm taking the time to reflect on this year's trends. For those unfamiliar, the GEOINT Symposium has been the premier event in the United States for geospatial intelligence professionals since 2004. This year's theme was "The Foundation of Intelligence," which was particularly appropriate given the many ways we've seen imagery used this year to inform efforts around growing global conflicts, climate concerns, and new infrastructure aspirations. Having attended GEOINT about 10 times now, I was also inspired by the influx of new minds and fresh perspectives that were engaged in discussion this year. There was a palpable buzz of innovation, with many examples of proven strategies and modern technologies combining and working together. Many of the discussions in which I participated revolved around accessibility of imagery content, analysis, and data sharing.  
See Places and Situations in Richer Detail 
As many have noticed, the sheer number of satellite companies, or imagery content providers, has been growing steadily over the past decade. So, it wasn't surprising that there was such a strong presence this year at the conference as well—from more established players like MAXAR and Airbus to promising new start-ups like Albedo, Xplore, and Umbra Space.  
Last year, Esri's Director of Global Business Development, Richard Cooke, noted in his post-GEOINT blog an emerging new wave of larger satellites with higher resolutions. This promise has since been delivered. The imagery shared by some of the more established content providers at GEOINT was simply exquisite. The Pléiades Neo constellation by Airbus now boasts four 30 cm resolution satellites in orbit, upping the game for both resolution and higher temporal frequency.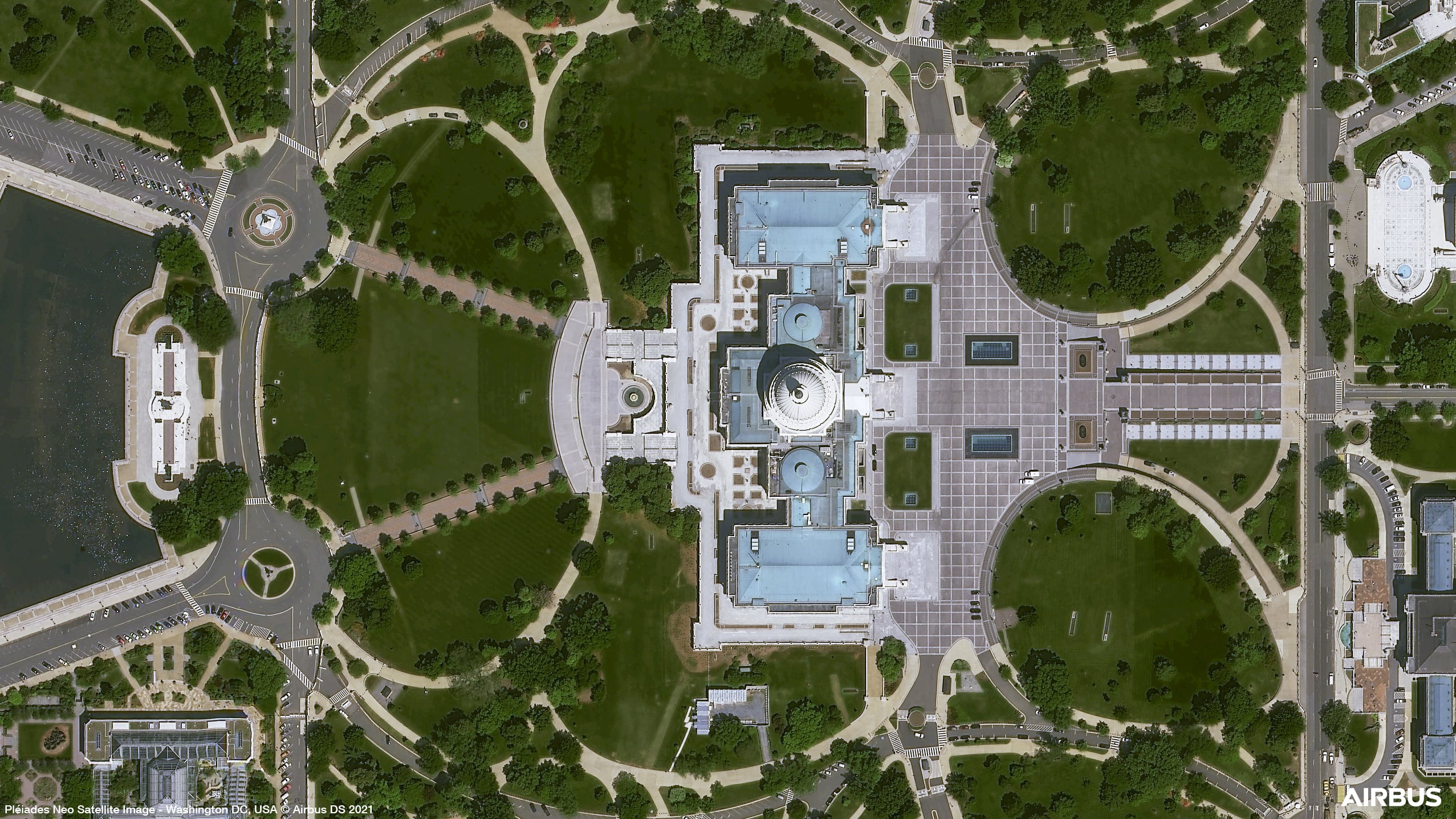 Going beyond the traditional top-down view, we're also seeing very good image quality from off–nadir collections. This is vital for assessing or monitoring conditions from afar as the angled perspective allows for faster repeat imaging and additional details on ground items that might otherwise have been obscured. Traditionally analysts have had to sacrifice resolution when using this imagery, but looking at an example like the one below, we can see that's no longer the case.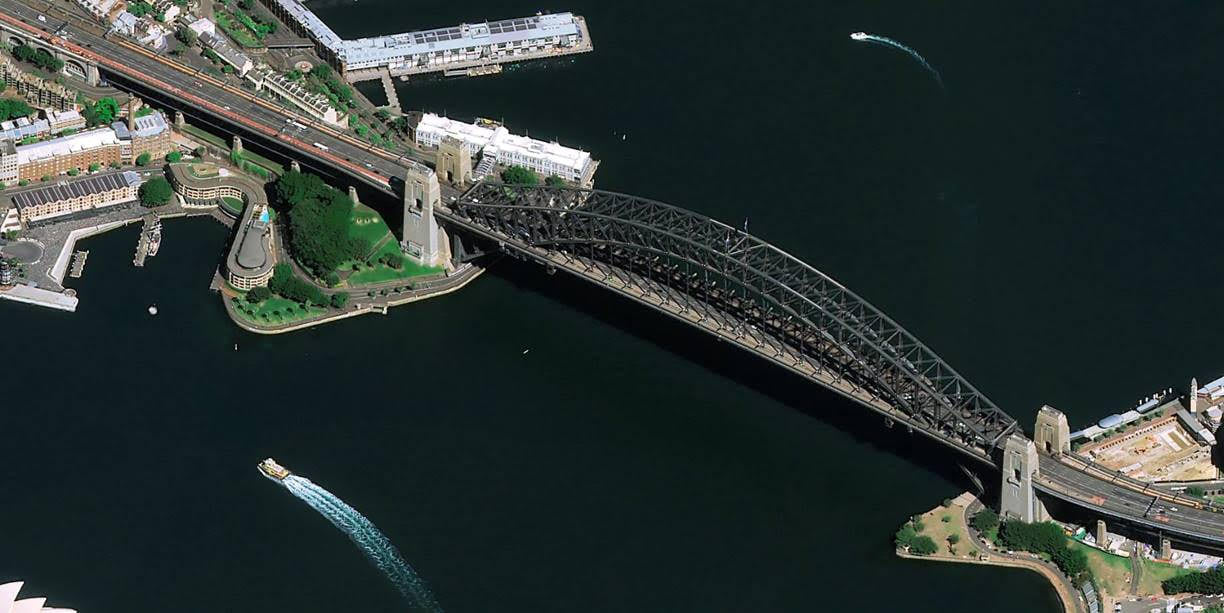 I'm personally very excited by this leap in quality as it opens the floodgates of possibility for analysts everywhere—not just in the national government space. I'm especially excited for what this means for geographic information systems (GIS) analysts though. Paired with GIS technology, the value of imagery expands exponentially. Imagery layered with other spatial data gives a holistic, realistic picture of the landscape, Earth's systems, and human activity.  
For those who may have missed it, Esri and Airbus announced our partnership back in March to integrate Airbus' imagery directly into ArcGIS Online. I was also approached by other commercial imagery providers at the conference that are either in the process or want to do this as well. Together, both the established and newer imagery providers are making imagery more accessible than ever.  
Monitor Conditions and Detect Change Quickly 
Beyond the resolution trends, we are now also seeing what I'll coin as the "on-demand" tasking trend. This is made possible by some of the larger constellations available now. Previously, analysts had to rely on archives of imagery from previous collection activities, hoping they'd find imagery that was applicable to their use case or spend more than archived imagery and wait weeks to request specific areas of interest from a satellite. However, some imagery providers are looking to change this workflow by offering automated real-time tasking. Imagine being in your workspace, selecting an area, paying a few hundred dollars, and having a fresh satellite photo in only an hour. This capability is no longer just a dream, it is quickly being made a reality. 
Much of my work through the years has been with government departments, working to help them make better decisions using geospatial data. On-demand commercial imagery like this could be a game changer, especially for those focused on safety, transparency, and resource allocation. Having real-time access to imagery provides unparalleled insights into what's actually happening on the ground.  
Create a Common Operating Picture 
Lastly, another big shift I saw this year was on working within a secured cloud. While government has always required work to be on-premises, decision-makers are seeing the power of cloud capabilities to support a common operating picture and the sharing of intelligence cross-departmentally. This increased volume of data requires human processes that can not only handle but take advantage of this growing influx. This was one main reason why Esri expanded our imagery offering last July, bringing image management and analysis capabilities to the cloud so our customers can easily host, analyze, and stream imagery and raster collections.  
Conclusion 
Amidst all the conversation on rapidly increasing and accessible data, automated and powerful analysis, and a new focus on sharing capabilities, I am excited to put these new trends into practice. This summer, Esri's imagery team and professionals in the imagery and remote sensing community will be coming together in person for the Imagery Summit @ Esri UC on July 10, 2022. View the agenda here. Register now before prices go up on May 27. There is also a discounted rate available to government professionals.