Sites, a website builder included in ArcGIS Hub, allows you to create engaging and informative sites and pages for sharing open data, connecting with your community, and informing everyone of projects, initiatives, and events. Recent updates to this feature help you to liven up the look and feel of your layouts with new ways to add pictures and videos and display related content including apps, dashboards, web maps, pages, other sites, and datasets.
1. New ways to upload images
Quickly upload images to any image, banner, or row card by dragging and dropping an image file (just make sure it's less than 3 MB and is a JPG, JPEG, or PNG) or by copying and pasting an image URL.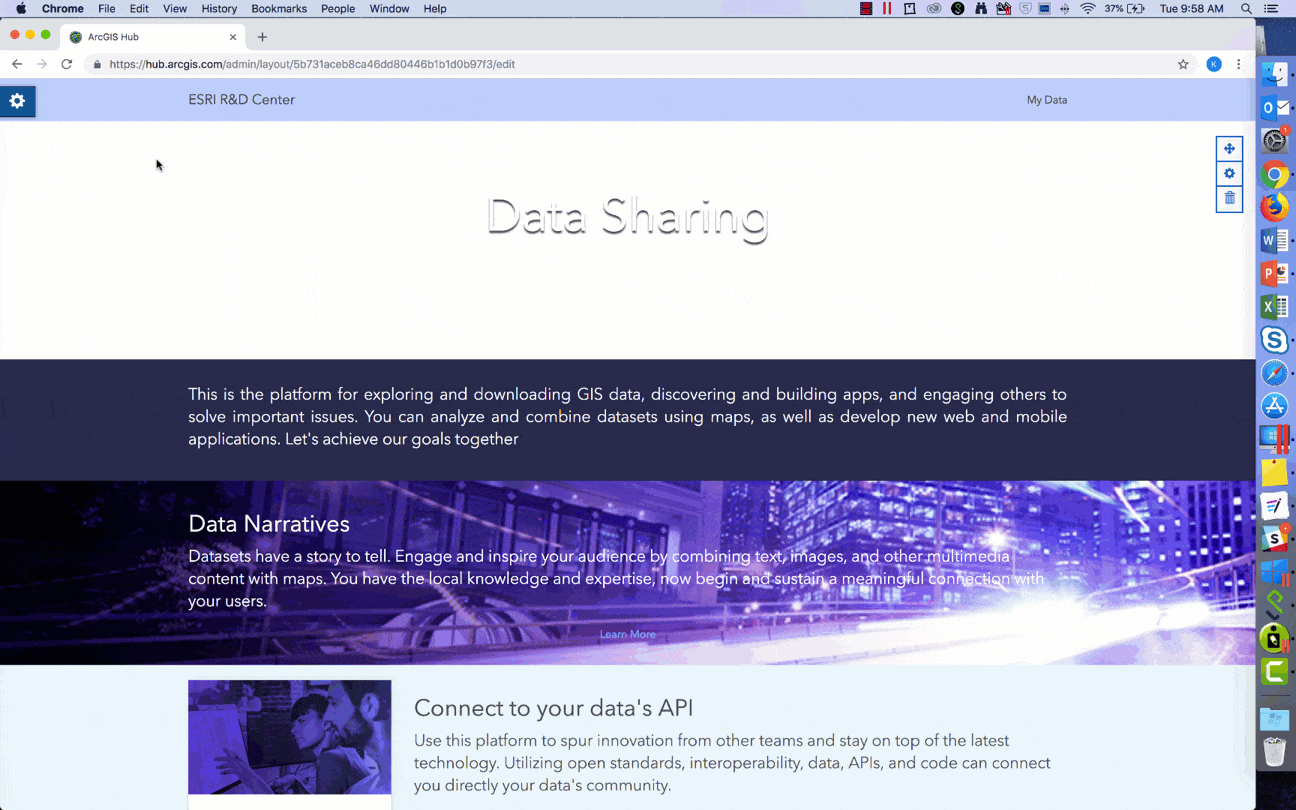 2. New image editing tools
Edit your images by using any of the following new editing tools to customize image display (Note: images provided by URL can't be cropped or zoomed).
Crop and Zoom
Click the crop button in the bottom right corner of the image. Then, adjust the size and position of your frame, and use the zoom slider to focus only on what you want. Click done to crop out all the rest.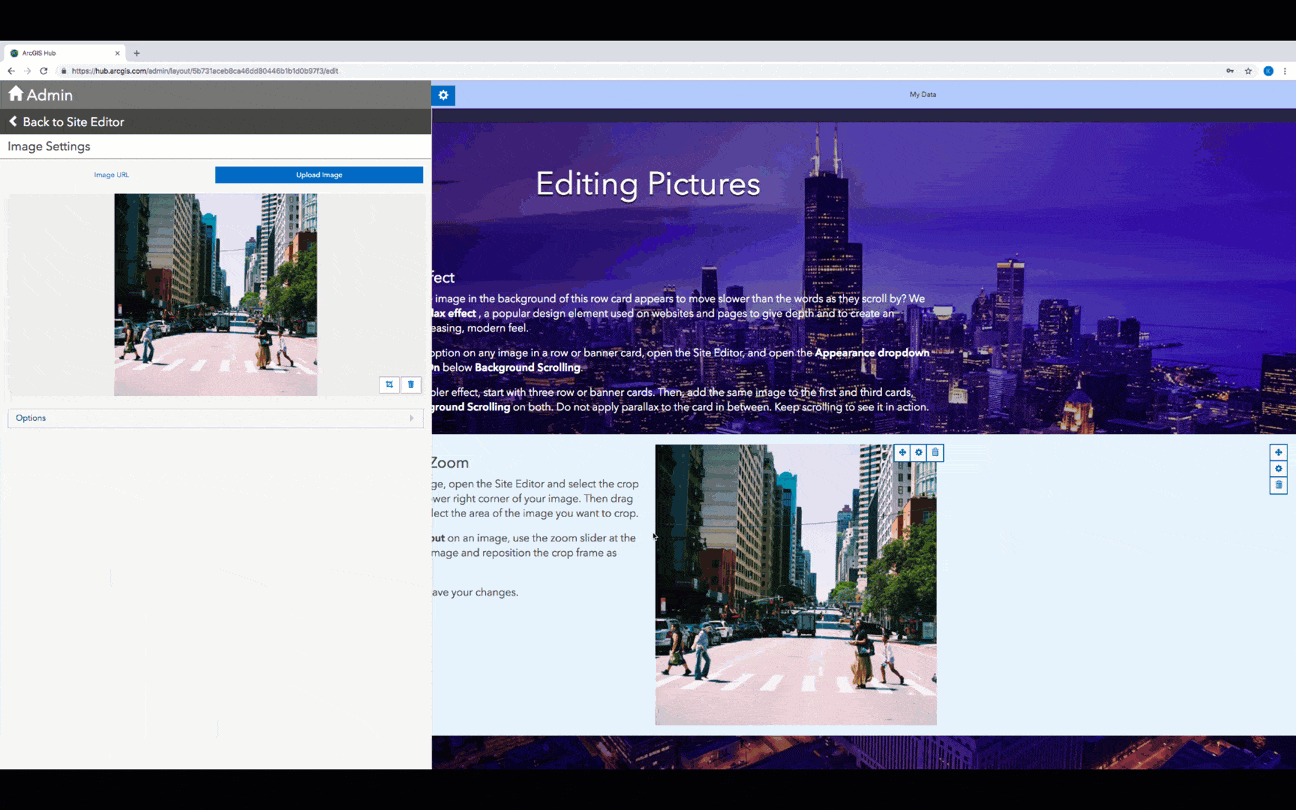 Focal point
No matter what size screen someone is using to view your site or page, focal point keeps the focus where you want it.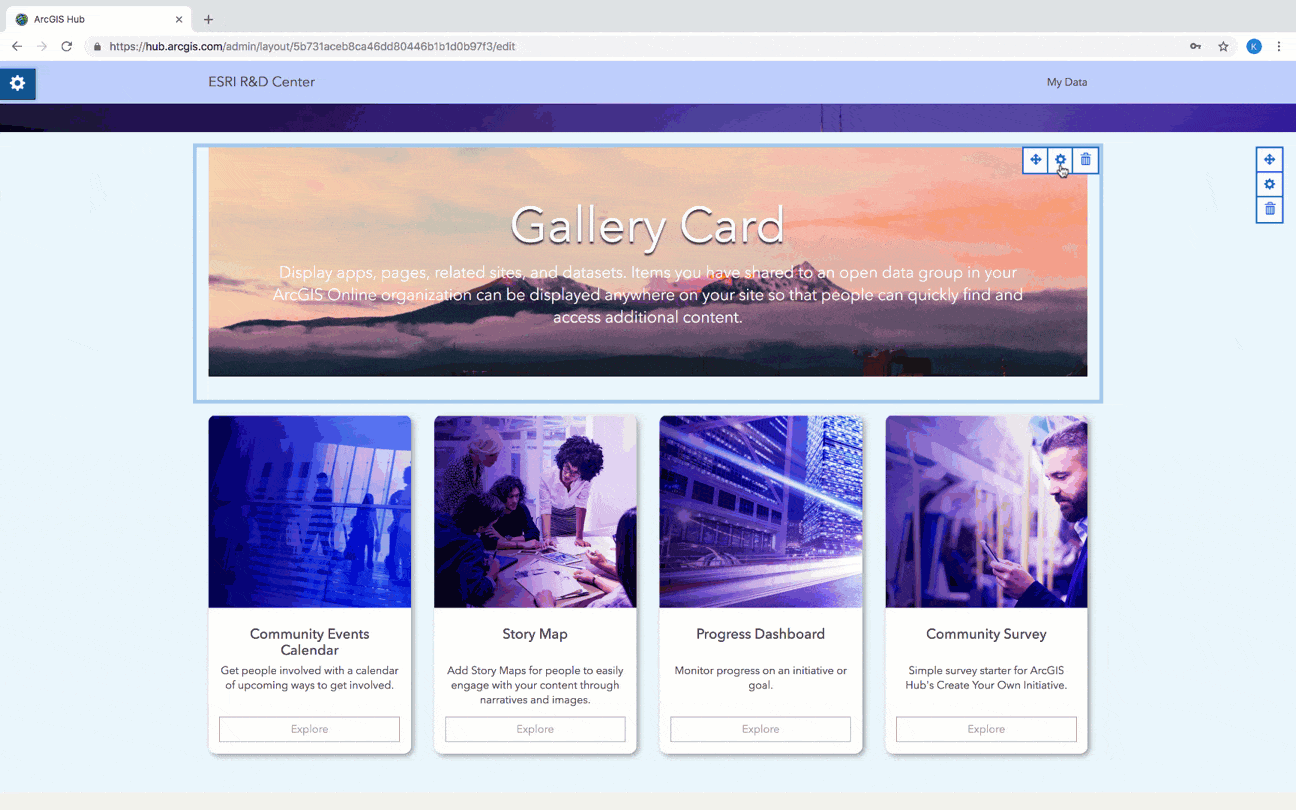 Background color transparency
No need to choose between a background color or image for your row cards. Now you can add both. Open your row card's settings, choose a Background Color, then click the Appearance dropdown menu and adjust color Transparency.
For example, the image below shows how to make text stand out with a black background color and 30 percent transparency.

Fixed Background (Parallax effect)
Give your sites and pages depth by choosing Fixed Background for images used on banner and row cards. This effect, known as the Parallax effect, keeps images in place while the rest of your content scrolls by. It's a quick and easy way to give your site a new, modern look and feel. Click here for an example.
3. New media card
Add videos by dragging and dropping the new media card anywhere there's a row card. Then, just copy and paste a link to a Facebook, Vimeo, or YouTube video.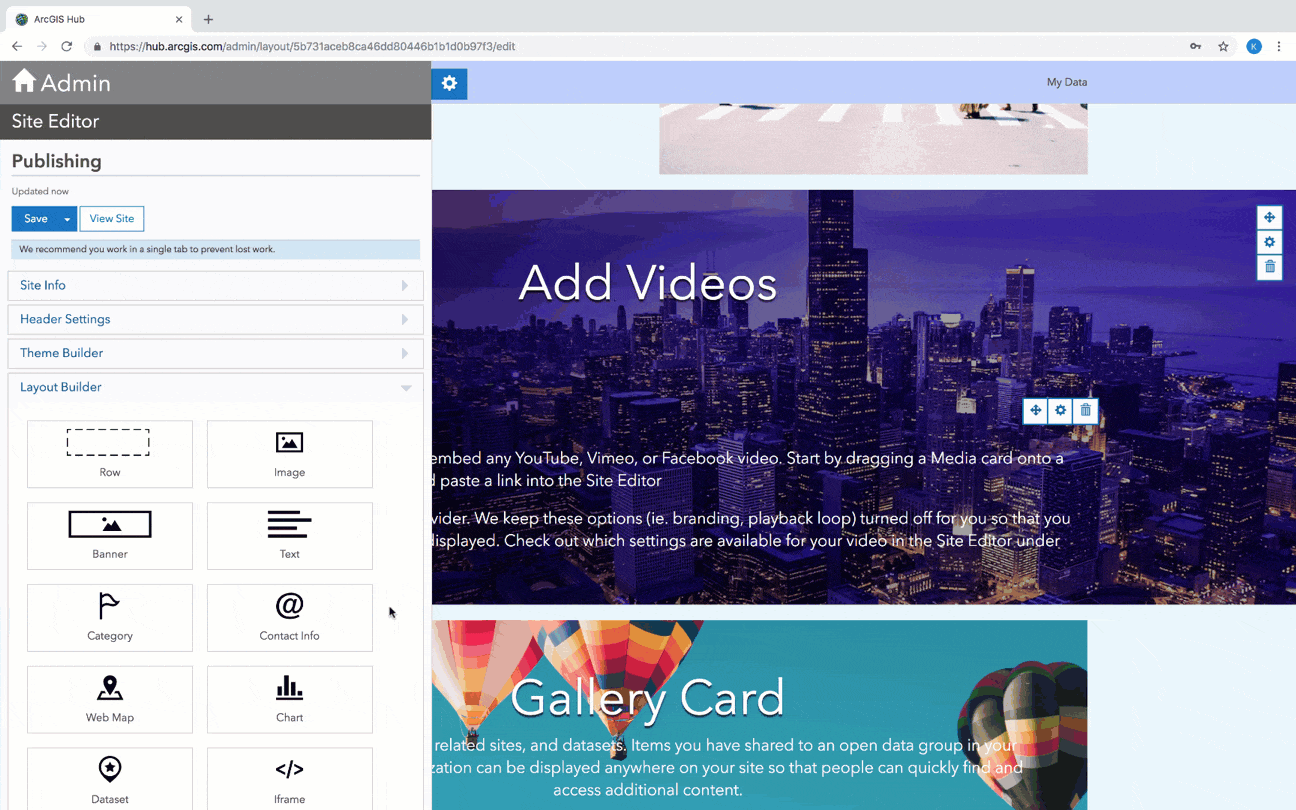 Options to display title, branding, or set playback loops vary by video provider. These settings are automatically turned off so that you can decide how your video is displayed.
Plan to use this link on other sites and pages? Click the new clipboard button next to Video URL to save your link for use elsewhere in the app. To save you even more time, we also copy any additional settings you've turned on.
4. Updates to the gallery card
The gallery card is a great way to display datasets, additional sites and pages, and apps, web maps, and dashboards. Updates to this card ensure that no matter the number of items you're showing, whether one or sixteen, we ensure that they're displayed the best way possible with content that resizes in real-time.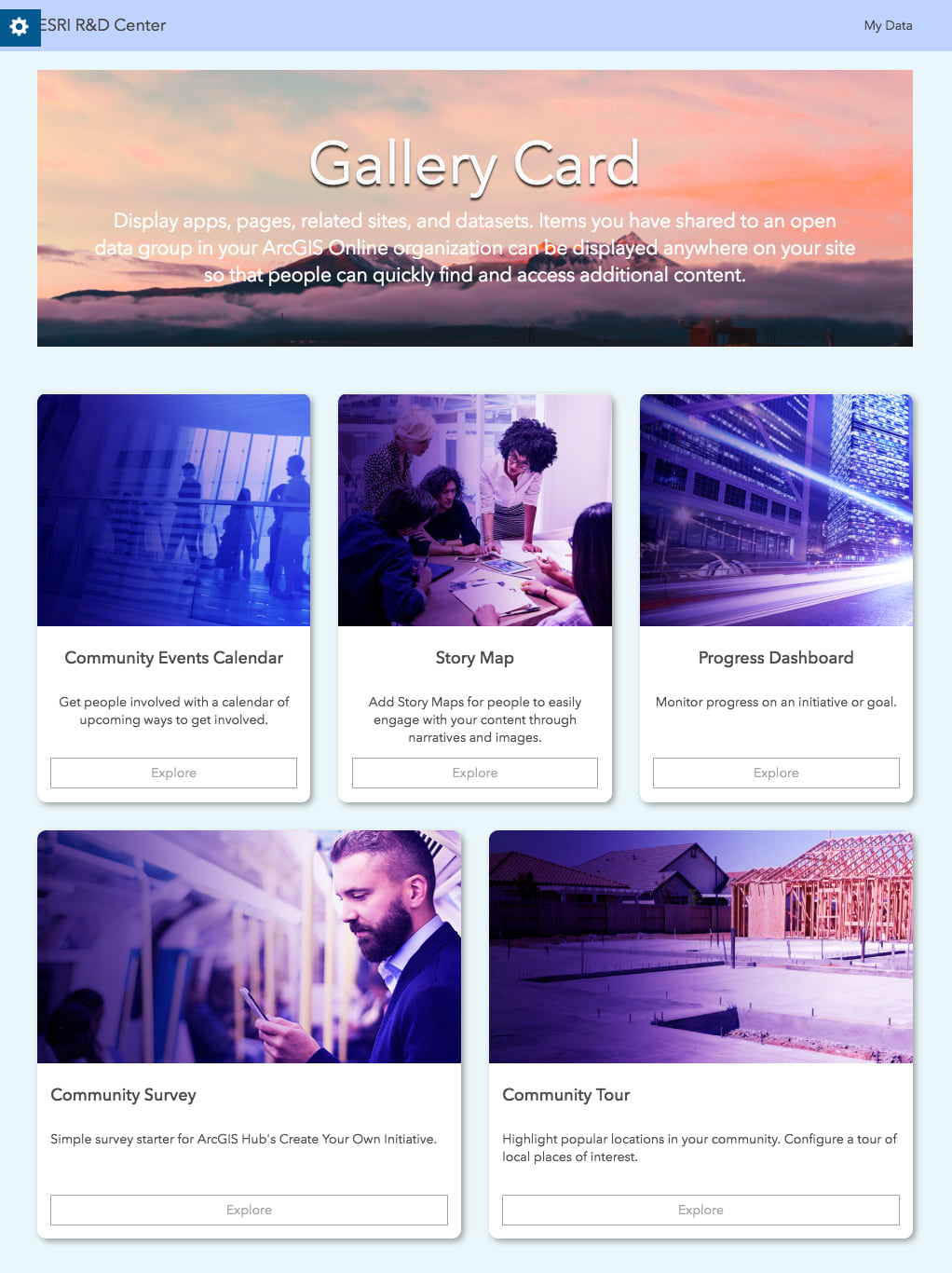 All you have to do is choose your style with new options to round corners and apply drop shadow to enhance visual display and clarity (particularly for mobile viewers).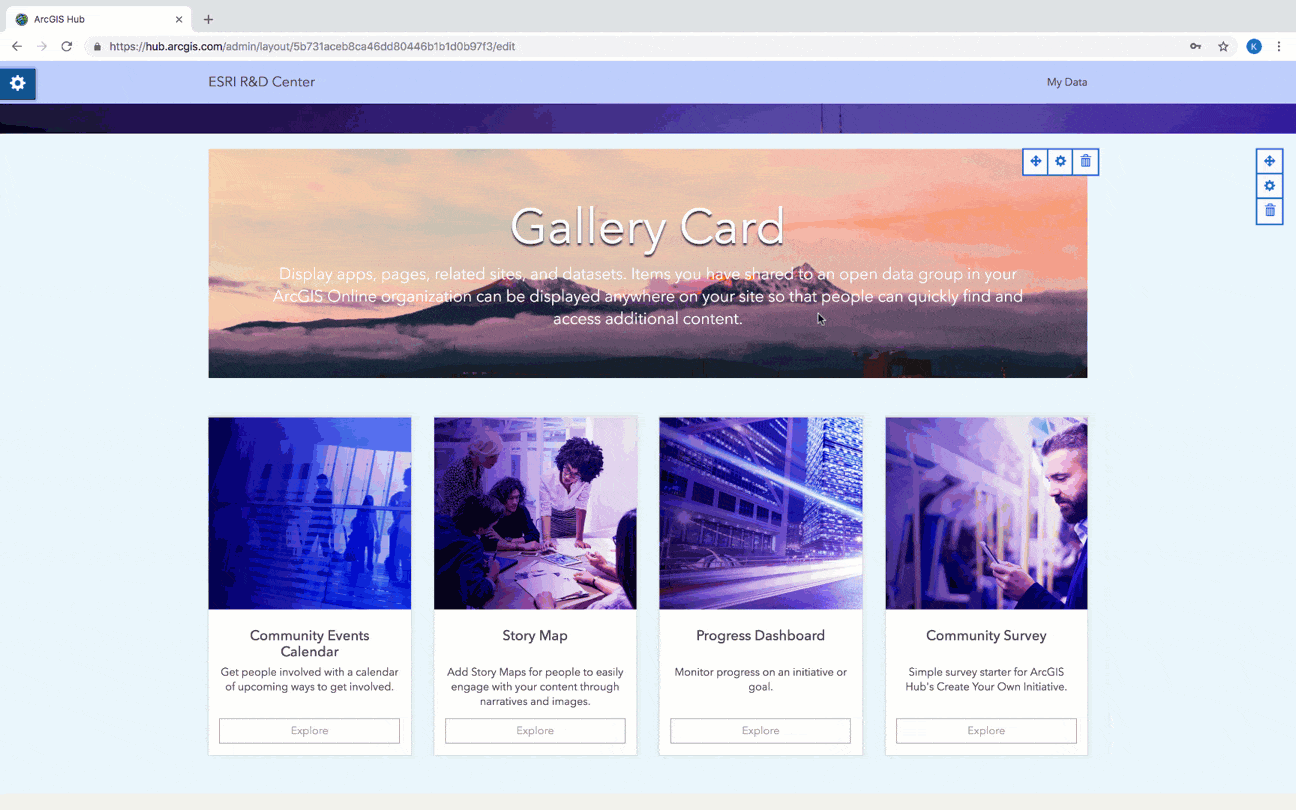 Get started
If you're already using ArcGIS Hub, check out these feature enhancements by creating a new site or freshening up an existing one. Or, if you're new to Hub, get started by flipping the switch on open data, a capability you already have if your organization has a subscription to ArcGIS Online. Feel free to reach out to us on GeoNet with any questions or feedback.
Commenting is not enabled for this article.