ArcGIS Mission is an Esri product that meets a wide range of organizational needs.  From daily operations to large-scale event management, ArcGIS Mission provides a constant flow of information between command entities and field personnel. Through position tracking, chat services, customizable reports, and dispatch and tasking capabilities, every mission member is in sync. Additionally, ArcGIS Mission can leverage all resources and power of the ArcGIS Enterprise to keep all mission members connected and informed.
Let's take a closer look at some of the exciting new features in ArcGIS Mission 11.2.
Old Missions Are Still Usable
At 11.2, we provide the capability to upgrade missions created in earlier versions of ArcGIS Mission. This feature allows a mission created in version 11.0 and later to be upgraded to the current version where it can continue to be used. Upgrading is limited to administrators only and can be initiated in one of two ways: single mission upgrade and batch mission upgrade. A single mission upgrade can be performed through the portal's REST service API. A batch upgrade can be performed through the Administrator Settings within ArcGIS Mission. Selecting the Mission Data Health Check in Mission admin settings displays the total missions that need to be upgraded. Selecting upgrade will initiate the process, iterating through all previously created missions, and providing the upgrade status upon completion.  It is highly advisable that an administrator perform this action immediately after upgrading the mission server.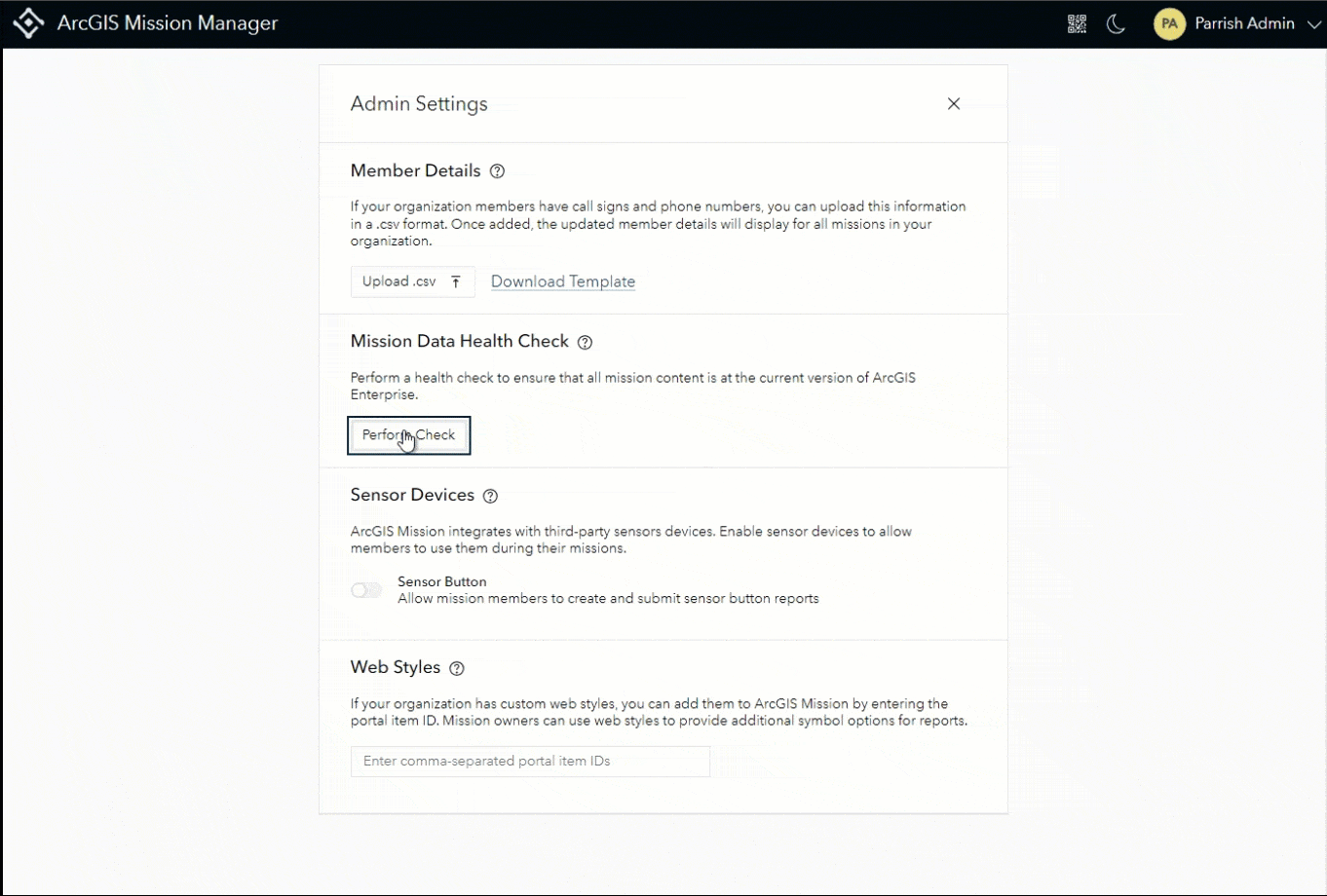 Mission Templates Speed Up Mission Creation
Many organizations have recurring events that are similar in nature if not carbon copies. To alleviate the burden of creating the exact same mission from a blank palette, we are introducing mission templates. To create a template, mission owners or administrators have a couple of options: Create a template from an existing mission or create a new template from a form of accessible options. When creating a template, with either workflow, all map layers, reports, and materials will be included with the newly created template. Due to the ever-changing flux of personnel and/or teams in an organization, these items will not be carried over with any templates upon creation. Once the templates have been created, they can be reconstituted into a new mission through a mission creator or administrator's "My Templates" section located in a user's mission settings.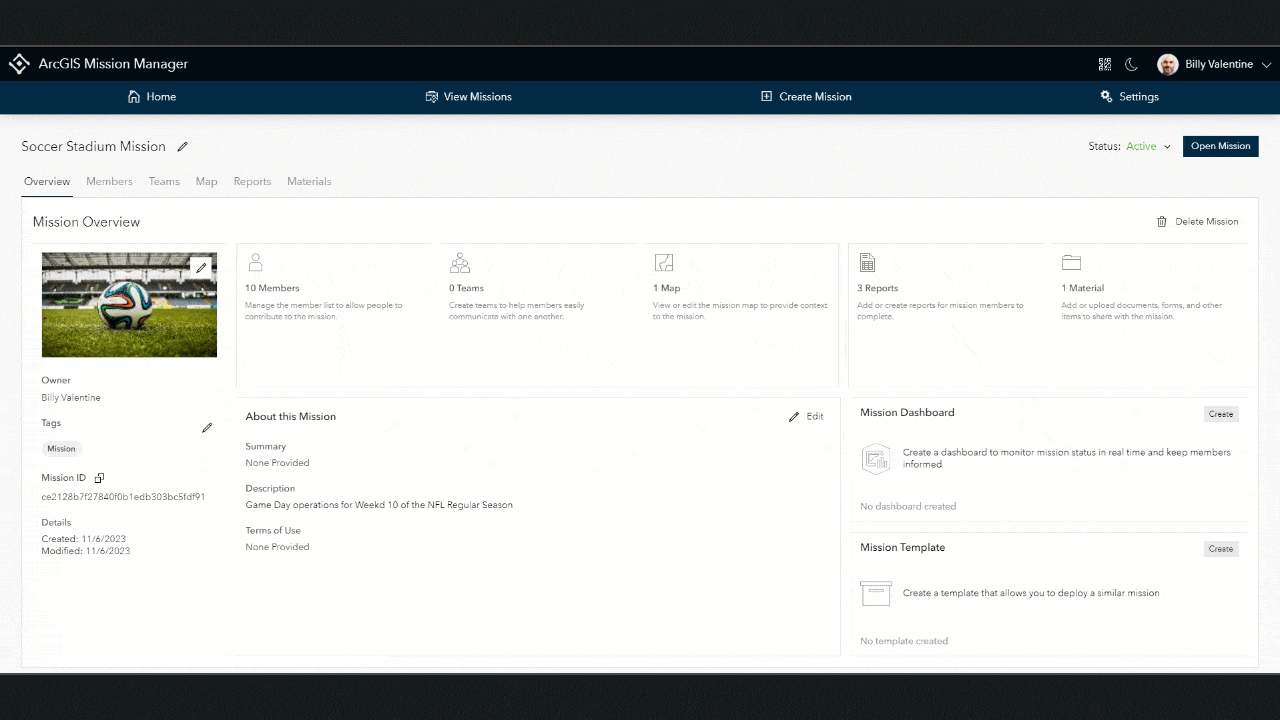 Customize Missions to Meet Your Needs
ArcGIS Mission is built with the capabilities of chatting, location tracking, reports, and tasking. However, not every mission needs all these capabilities to operate. At this release, we provide the ability for mission owners to create a mission with the capabilities that they need to accomplish their mission. When creating a mission, navigating to the bottom of the mission details section displays "Additional Options". This area contains toggles to enable or disable reports and tasks when a new mission is created. By default, every mission will contain location tracking and chatting. These actions are applied to the Responder application; only the enabled capabilities will be available in the mission.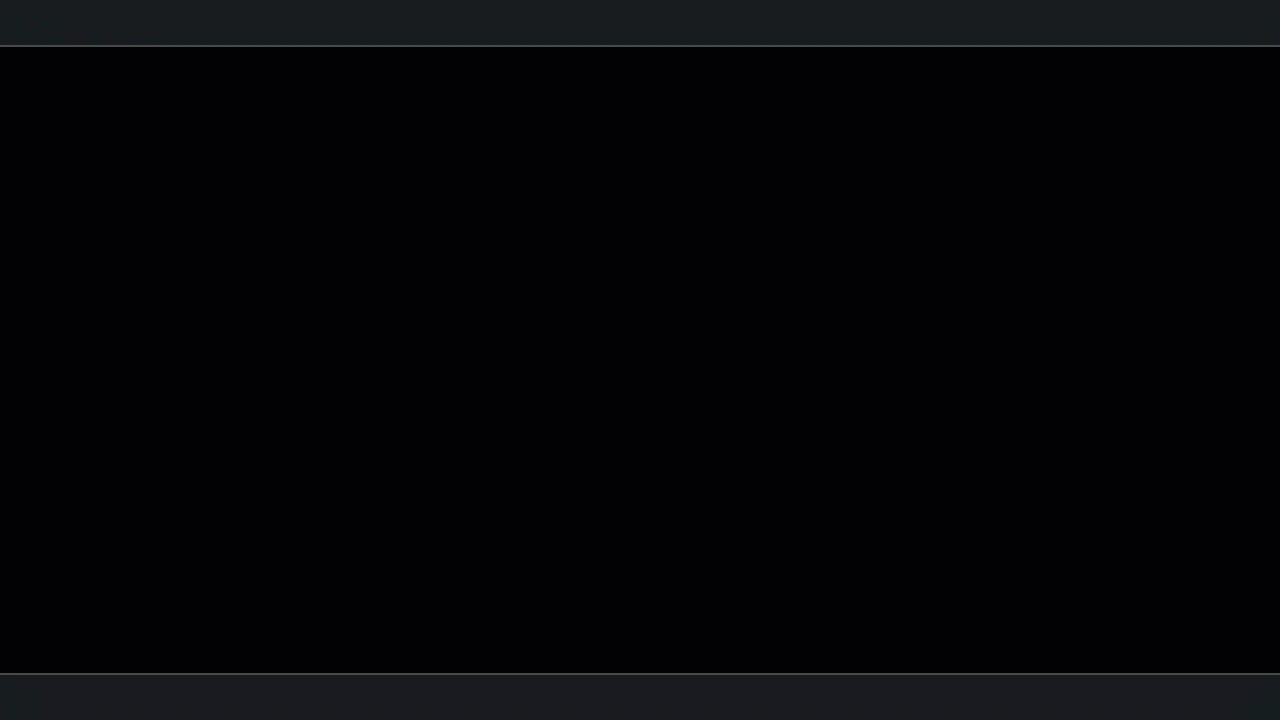 One Responder App to Rule Them All
Multiple application releases in both the Apple App Store and Google Play Stores can be confusing when looking for the responder version that matches your organization's portal. At this release, we are introducing "ArcGIS Mission Responder," a backward-compatible responder application that will work with ArcGIS Mission versions 11.0, 11.1, and 11.2. This app will be updated as features and enhancements become available in the future and eliminate the need for specific apps per release. Backward compatibility will also extend responder-only enhancements to previous versions of ArcGIS Mission. The current versions of the ArcGIS Responder 11.0 and 11.1, will stay active in the app stores until they reach the end of life support, at which time they will be removed.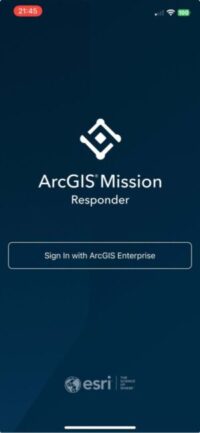 Hear Ye, Hear Ye… Broadcast Messaging is Available
Communicating important messages to all mission members is a necessity to ensure that everyone is in sync. In the past, the only method to convey important messages was to send a chat to a team consisting of all members of a mission. In the new release of ArcGIS Mission, we are introducing broadcast messaging. Broadcast messages are created from the Mission Manager web application and, when submitted, are broadcast to the entire system to reach all managers and responders alike. These messages are read-only, which allows mission members to focus on the content of the message and not focus on the responses that can sometimes follow a typical chat. These messages are retained in the system should they need to be referenced in the future or accessed by newly added members to a mission.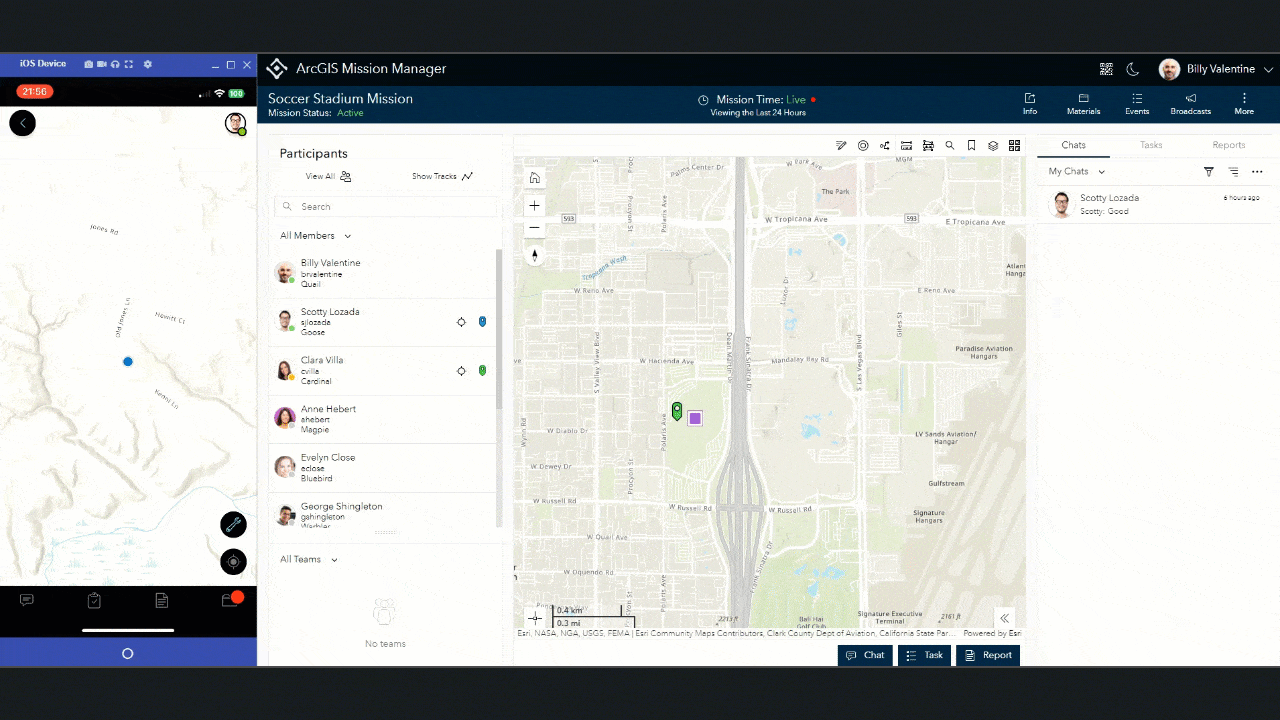 Assign Tasks to Mission Members … No Command Post Necessary
One of the most exciting features to come alive in this release is the ability to extend the mission lead role to Mission Responders with the appropriate role and user type. Once an individual is designated as a mission lead, they can assign tasks from their responder device. This offers organizations greater flexibility to empower on-scene leaders to manage responders in their span of control. As a mission lead, individuals can still receive and complete tasks from other mission leads. Additionally, we have added filtering and sorting within the tasking section of Responder to allow all responders to sort and filter tasks based on different criteria.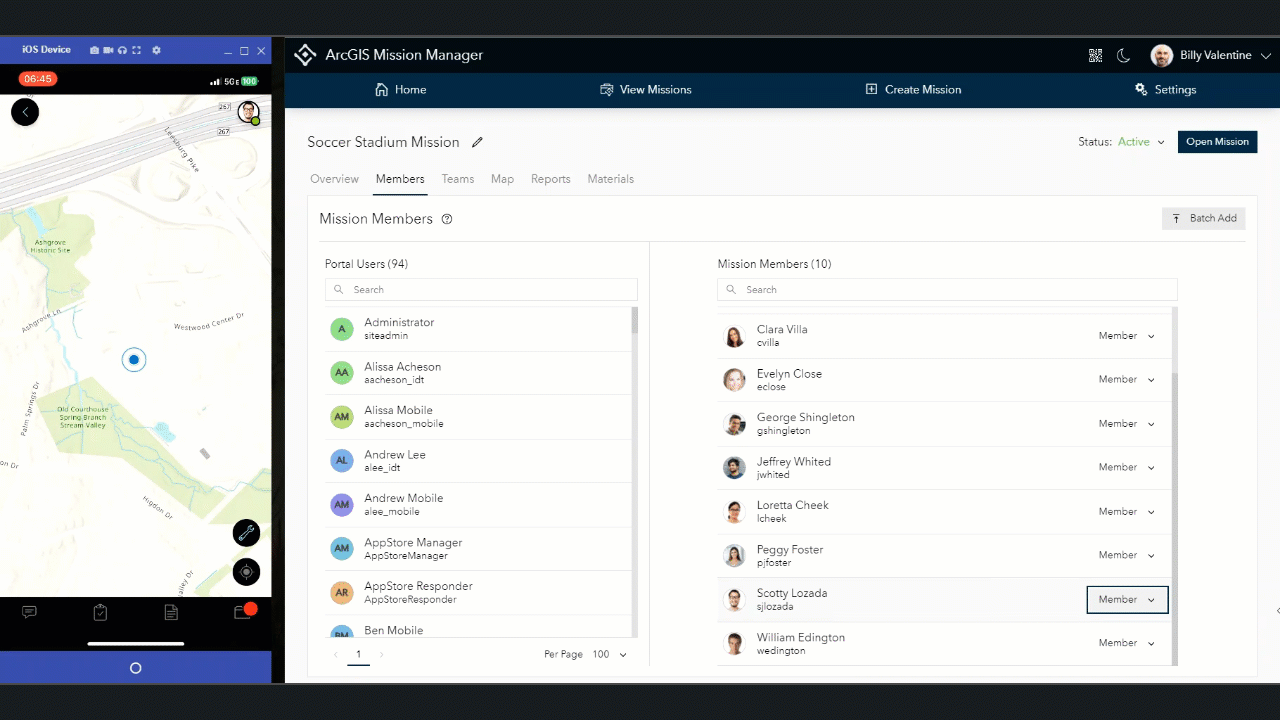 Other Enhancements and Features in this Release
Mission support for OGC Layers that allow WFS, WMS, and WMTS layers.
Mission map extent is now based on the last zoom level.
Responder devices now have navigation support.
Responder devices can determine the notifications they want to receive.
Portal classification bar support.