Your organization home page is the place visitors and organization members will start. How your home page looks will create first impressions – not just about you as a GIS organization, but also about the quality and veracity of the maps and apps people will find there.
People do judge books by their cover, so it's important to have a professional looking, aesthetic, and well-organized home site, whether you're exposing it only within your organization, or to a more public audience.
The home page can also deliver helpful resources and content for organization members and public visitors. You can configure a modern and professional-looking home page that reflects your organization's branding and mission and showcases the maps, scenes, apps, and layers that are most important to your community.
In this post we'll take a closer look at how to build your organization's home page and create a great destination.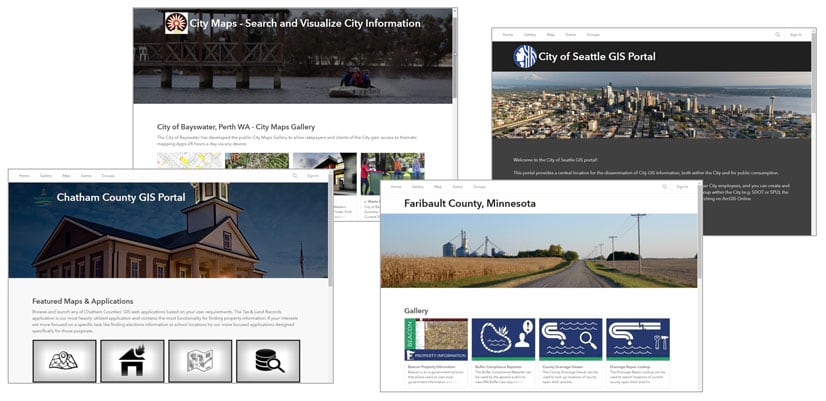 Getting started
The organization administrator, or those with home page editing privileges, can edit the organization home page and modify it at any time. Those with sufficient privileges will see the Edit home page button on the organization home after signing in.

The editor can also be launched from the Home page tab in your organization settings.
Home page editor overview
After you have launched the editor, you will see the home page contents showing:
a – a list of sections that define the contents of the home page
b – a preview of current settings
c – viewing options that show how your home page will look on different devices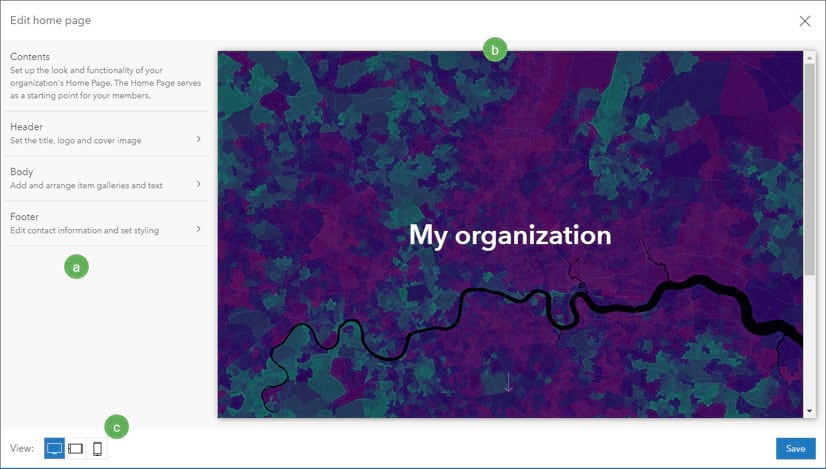 The home page contains these sections:
Header – Configure the title and add a logo and cover image.
Body – Add and arrange item galleries and text.
Footer – Edit your contact information.
Click the desired section to configure it.
Configure the header
The home page header can include any of the following elements: a cover image, an organization title, and an organization logo. These configurations are found in the header panel as shown below:
a – Show or edit the organization title and change the text color.
b – Show or change the organization logo.
c – Set a cover image from stock covers included in the editor, or choose your own custom cover.
d – Click Layout Options for more configuration choices.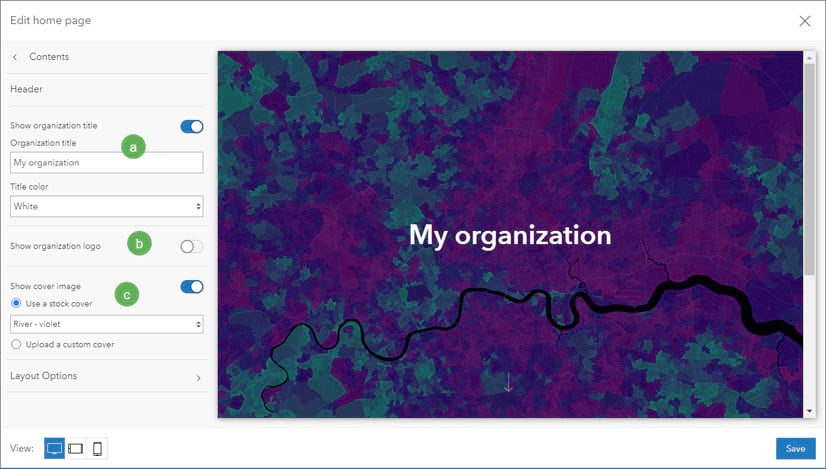 In  Layout Options you can:
a – Set the height of your cover image.
b – Adjust the focal point. The image will be centered at this location on all screen sizes.
c – Set the overlay opacity to make your header text pop when placing a title over the image.
d – Choose the placement and alignment of your title and logo.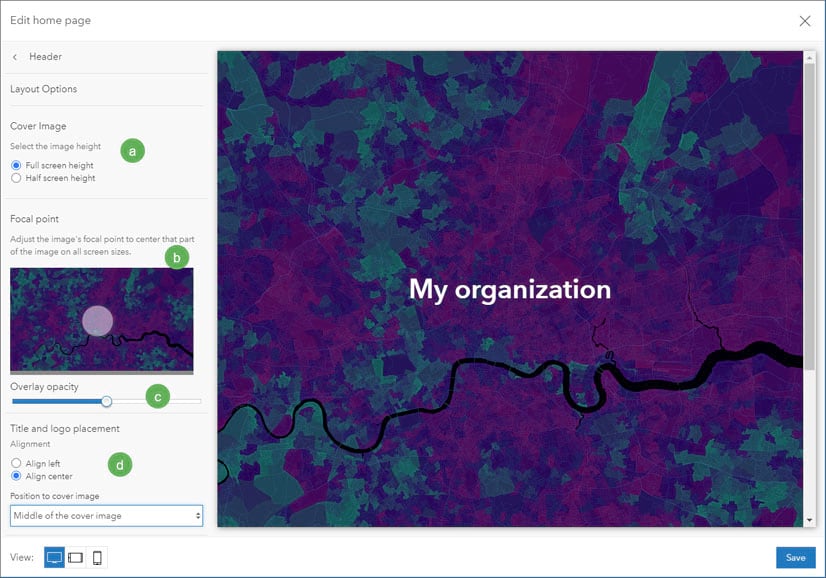 Configure the body
The body of your home page contains two types of elements: text blocks and item galleries. You can add up to 5 text blocks and 5 item galleries.
Use text blocks to configure headlines and other text-based content about your organization. Configure item galleries to showcase maps, scenes, apps, and other content items.
When you configure an item gallery, you specify a group that contains the items you want to display. This allows you to configure custom galleries to display different content for different audiences. For example, an organization that allows anonymous access may want some items to be visible only to organization members and hidden from nonmember visitors to the site.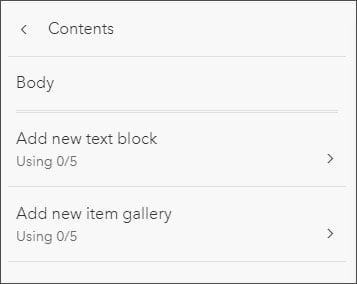 Add a text block
Text blocks allow you to put descriptive information on your home page consisting of a headline and descriptive text, both of which you can turn on or off. Text block settings are:
a – Headline above the body copy text. This can be turned on or off.
b – The body text that appears below the headline. This can be turned on or off.
c – Alignment of the headline and body text.
d – The background color of the text block: black, light gray, dark gray, white.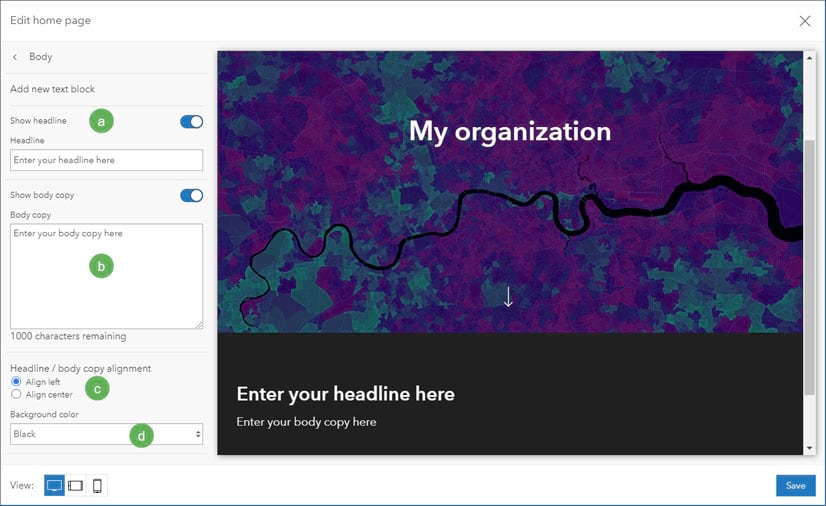 Add an item gallery
Use item galleries to showcase content on your home page. Each item gallery references a particular group within your organization. You can add up to five galleries, and can configure the information shown on the cards.
If a group can be viewed publicly, anyone who can see your home page will see the item gallery. Only organization members will see item galleries configured with groups viewable only to the organization.
The items displayed in an item gallery can vary depending on sharing settings. Thus, by carefully configuring group visibility and item sharing you can control what visitors to your home page can see.
Item gallery settings:
a – The group whose content is used to populate the item gallery.
b – The title and summary displayed above the gallery. Both can be toggled off or on.
c – Alignment of the title and summary text.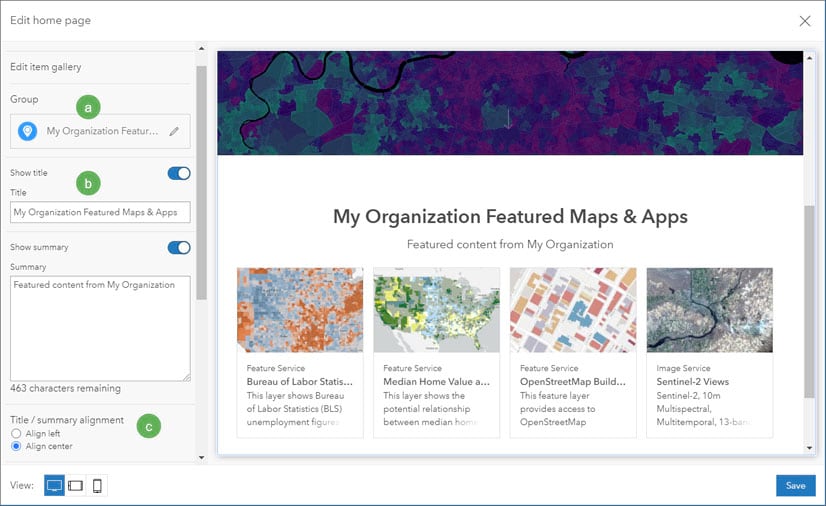 You can adjust settings that control how the gallery appears. You can set the number of items that are shown, the sort order, and the background color. In addition you can configure the item cards by toggling the thumbnail, item type, title, and summary.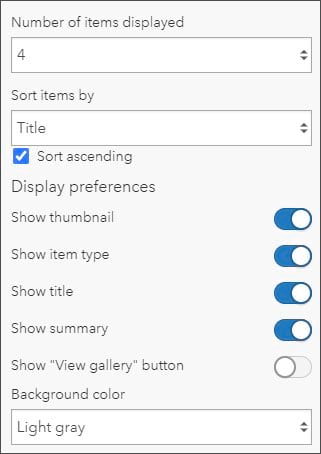 Configure the footer
The footer appears at the bottom of the home page. By default, the footer contains three preconfigured links, including a Contact Esri link. You can also configure a custom contact link for your organization, as well as choose a background color for the footer.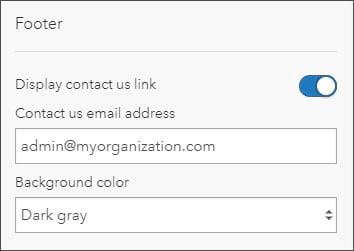 Tips and best practices
Here's a few tips and best practices to consider when crafting a professional looking home page.
Experiment with color and style
Harmonize the look and feel of the entire home page, from banner graphics, to background colors of sections, to item thumbnails if shown in a gallery. It's easy to make changes and see how things look.
Avoid  text and logos in your header image
The entire home page is designed to be responsive to look great on any device. Burning text and other graphic elements directly into banner images might lead to undesirable results when viewed at different sizes and on different devices.
Keep text blocks short and to the point
Provide enough information to be useful, but avoid adding too much text.
Consider streamlining your item galleries
You might not need to show all the information for items in your item galleries. For example, the item type might not be needed, or the item summary. You can clean-up the look of your site by seeing what you can remove instead of adding unneeded information.
Use great thumbnails
If using thumbnails in item galleries, avoid blurry images or the use off small, non-contrast text. Don't duplicate the title or item type in the thumbnail. Keep thumbnails simple.
Add a contact
Consider adding a contact us email link in the footer section of your site.
More information
For more information, see:
This post was originally published on June 20, 2012, and has been updated.
Commenting is not enabled for this article.