It has been a busy time for BIM and CAD advances in ArcGIS. Esri's continued focus on the integration of BIM and CAD with GIS have created some exciting results to share with you. The divisions between GIS, BIM, and CAD workflows continue to fade. As a result, we are beginning to see some great opportunities emerge. Ultimately, these advances help with project collaboration, critical stakeholder engagements, and innovative project delivery solutions.
Direct Read of IFC BIM Models
At the release of ArcGIS Pro 2.8 in May 2021, Esri introduced some new capabilities for CAD and BIM integration. As a result, ArcGIS Pro can now directly read BIM files in IFC format. This expands the current BIM integrations that include Autodesk Revit (.rvt) and Autodesk Civil 3D (.dwg) files as sources. The result is more BIM content in ArcGIS workflows.
Industry Foundation Classes (IFC) is a standard for openBIM data exchange. It is used for transferring model data between software systems. This widely used schema helps designers share BIM content from any source that supports the standard. Many types of BIM software vendors export to IFC. Adding this capability brings a powerful method to share data between those applications, directly with ArcGIS. Currently, ArcGIS Pro supports Building IFC 2×3 and 4x and will expand as future standards are adopted.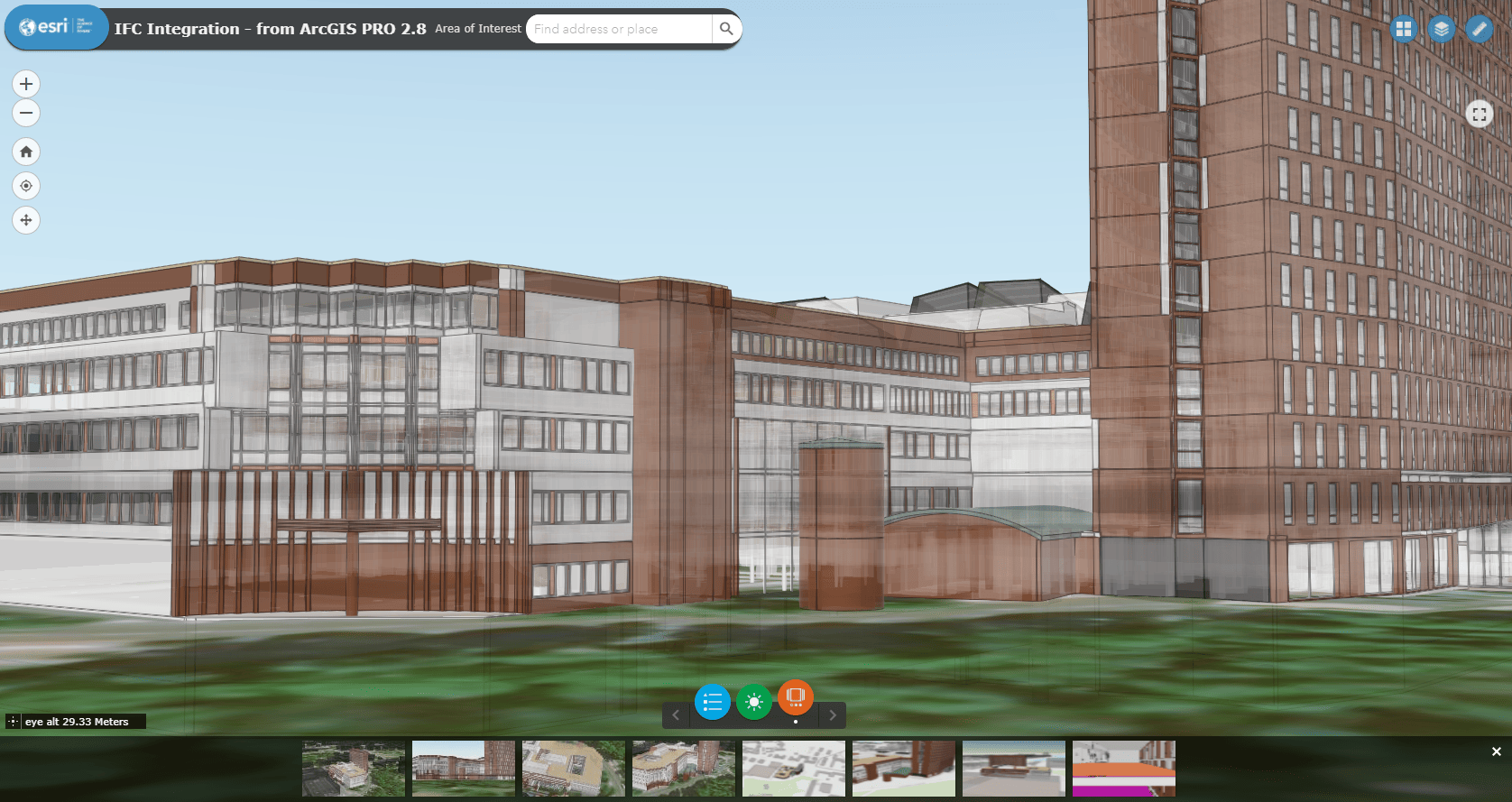 New BIM format, same workflows
If you've used Revit files in ArcGIS, this new direct IFC integration will be very familiar. This new ability uses all the same BIM workflows as using Revit files. The best news is there is nothing new to learn. These workflows include the following:
Direct read and conversion into a building layer.
Convert to geodatabase and I3S building scene layer.
IFC file can be accessed through ArcGIS Pro BIM Cloud Connection to BIM360 or the Autodesk Construction Cloud.
Attributes and BIM categories are preserved during the process.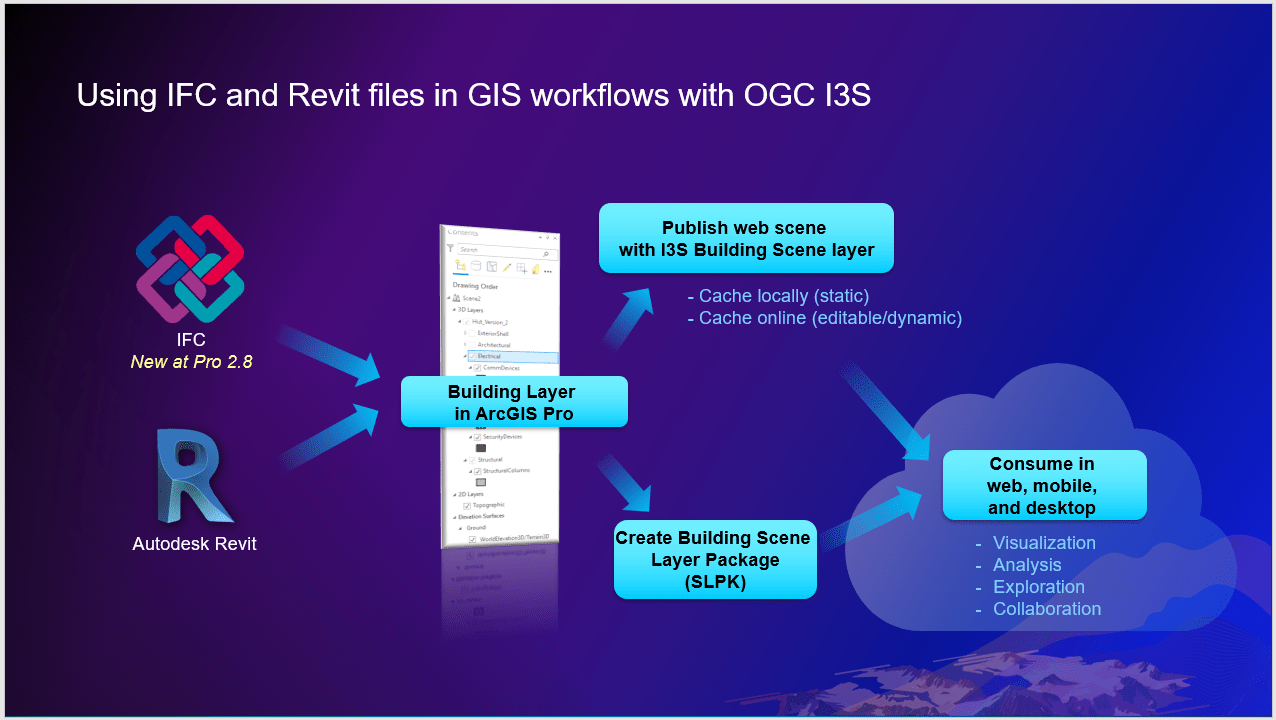 The foundation for digital twins
Bringing an IFC or Revit BIM model into ArcGIS Pro empowers GIS professionals, who can incorporate and share the BIM in context with other project and geospatial data. Bringing the model into ArcGIS allows it to become part of the overall project delivery strategy. The model can be directly viewed in context with all other project data, including geospatial data, construction inspections, safety issues, environmental inspections, reality capture data, and so much more. This is the foundation for building a digital twin to help manage the success of the project.
Publishing BIM content to ArcGIS Online (or ArcGIS Enterprise) helps get the data into the hands of all project teams. Creating out-of-the-box end-user web mapping applications with Experience Builder or Web AppBuilder changes the game for project delivery. This is to say, BIM and CAD advances in ArcGIS allow this highly technical content to be leveraged by nontechnical users for greater stakeholder insight and collaboration. See the example below: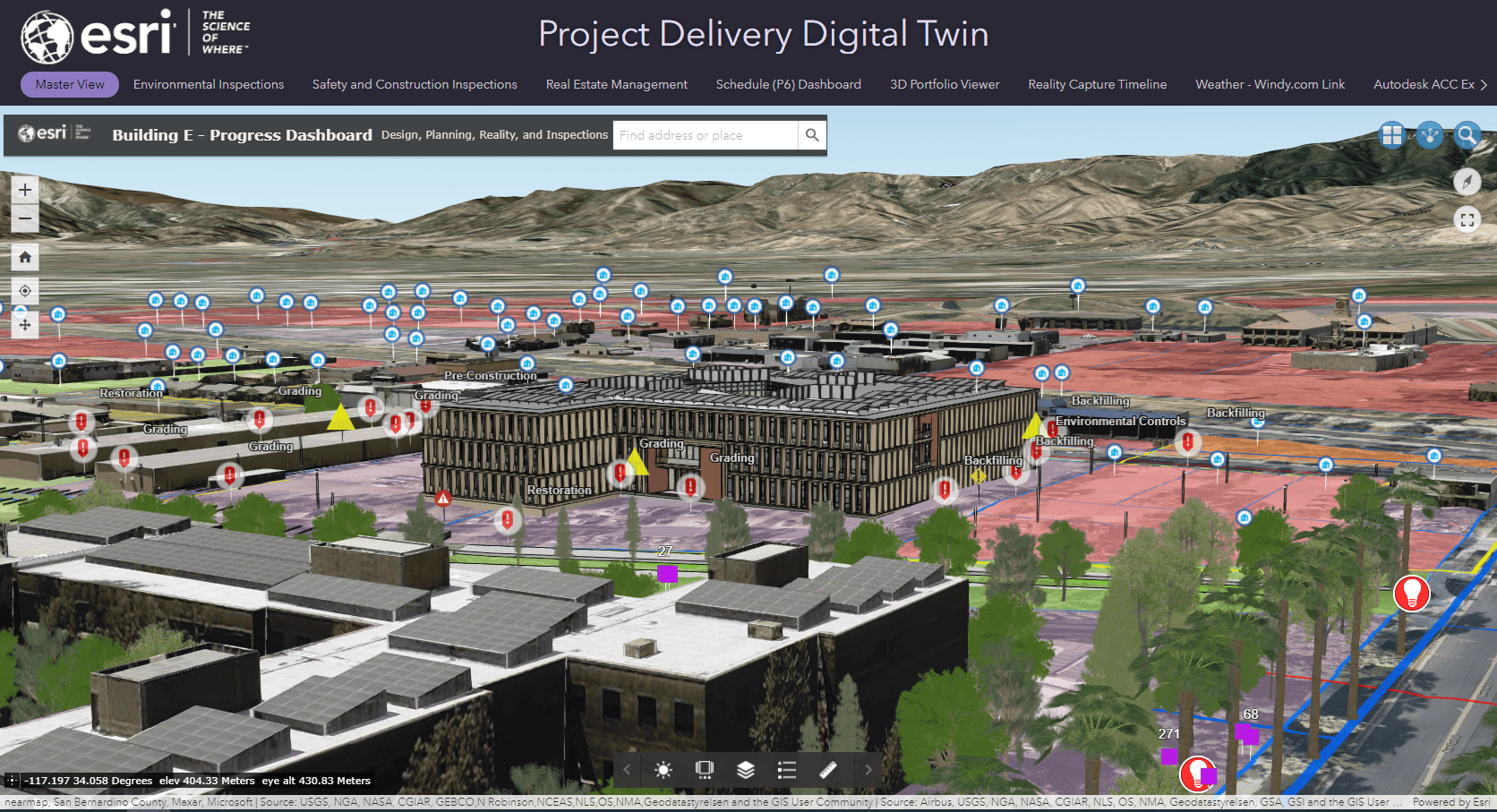 Autodesk Revit and Civil 3D Support
In addition to the IFC support, ArcGIS Pro 2.9 builds on existing Autodesk Revit integration by supporting versions 2017–2022. The Revit files are upgraded to the latest version in memory while loading. Direct support for Civil 3D expands with object support that includes alignment, parcel, pipe, and more. Now site designs, GIS data, and building models can all share the same space. Additionally, this can give valuable insight to office and field crews. The bottom line is all project teams can streamline their project workflows, which can save time and money. Ultimately, this enables greater opportunities for project success.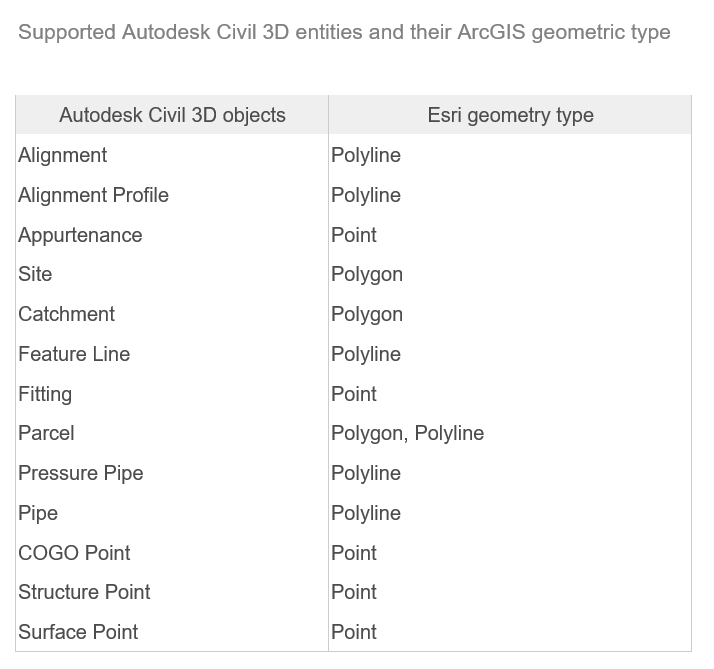 BIM Cloud Connection
The BIM Cloud Connection in ArcGIS Pro allows users to directly connect to Autodesk BIM 360 or Autodesk Construction Cloud. This BIM and CAD content connection helps to manage models, versions, and collaboration efforts between the design and GIS teams. This ability to go directly to the source of truth for BIM and CAD design iterations enables users to manage versions being represented in ArcGIS.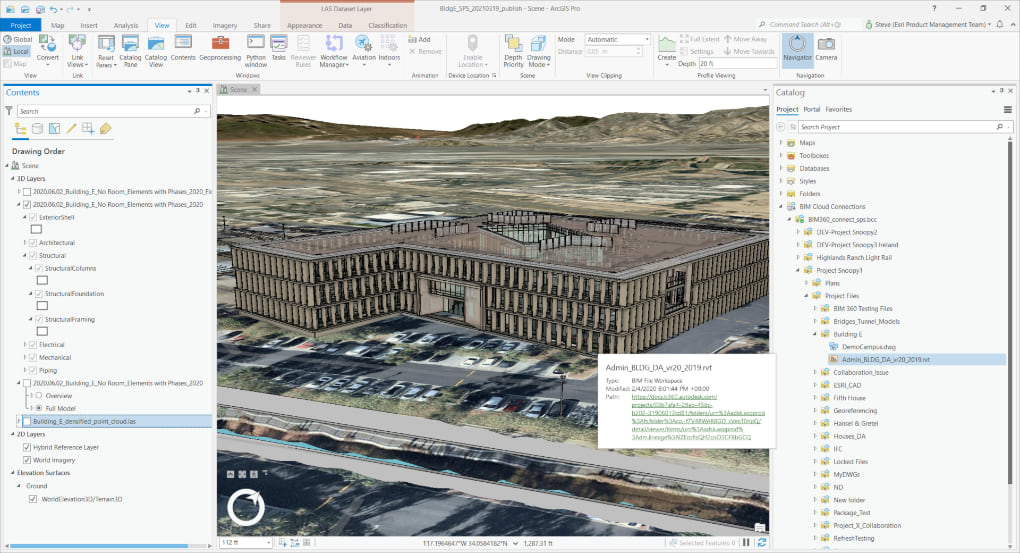 ArcGIS GeoBIM—The next step in BIM integration
The other big news in GIS and BIM integration is the release of ArcGIS GeoBIM. After leveraging ArcGIS Pro to establish your BIM content and publish the models, you can create powerful new web applications. These applications can include direct links to Autodesk Construction Cloud or BIM 360 content with ArcGIS GeoBIM. Connecting the ArcGIS cloud directly with the Autodesk cloud offers the ability to interconnect and collaborate directly with the design teams. The result is an easy-to-use, cloud-to-cloud solution to help project teams make coordinated, informed decisions.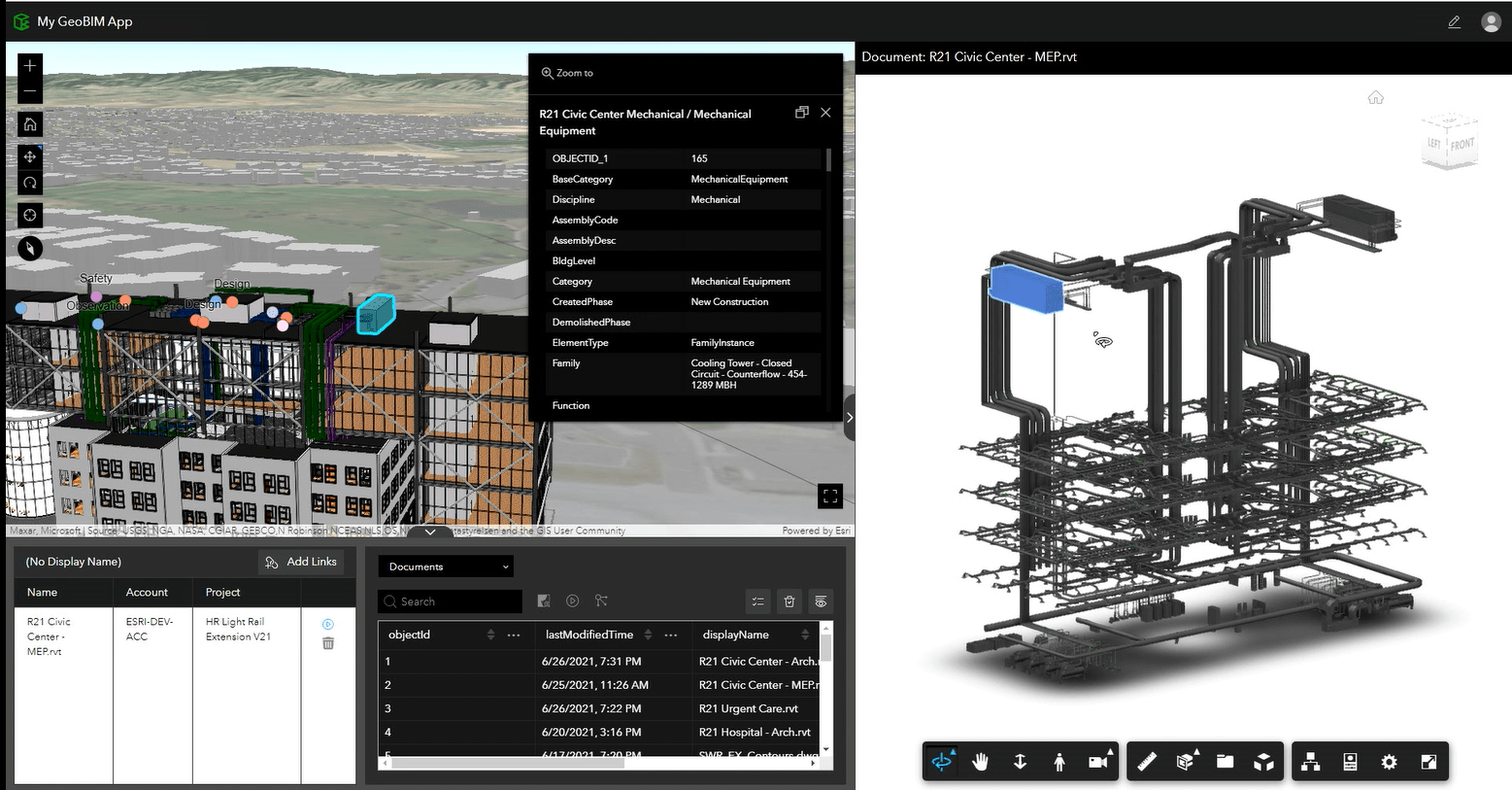 The ability to tie GIS features directly to the corresponding BIM element gives powerful insight to stakeholders beyond the GIS and design teams. Linking data from multiple systems and configuring GeoBIM web applications simplifies communication and collaboration. Viewing issues and linking to drawing sheets and other records has never been easier. The initial October 2021 release supports ArcGIS Online, and ArcGIS Enterprise support will follow in 2022.