The word "Omniverse" already just sounds exciting, doesn't it?
I remember visiting the Game Developers Conference (GDC) a few years back (I think it was 2018) and getting invited to a demo of the NVIDIA Omniverse real-time 3D collaboration and simulation platform. It was set up in a hotel room (I do admit, I was slightly suspicious and left my co-worker with the message to come and find me at the hotel if I wasn't back in two hours).
Pretty soon, it was clear to me that Omniverse was more than just a cool name, it was a highly promising concept that had the potential to change the way creators, engineers, and designers work together. In that hotel room, I stared at a huge LED TV screen and watched a guy change the coarseness of a teddy bear's fur in Unreal Engine, while someone else simultaneously modeled a chair in Autodesk 3ds Max. They tweaked and changed things using these different applications and everything changed in the scene in front of me…in real time. I was really impressed and wondered if there might be a place for ArcGIS CityEngine in this world, too. These 3D workflows are highly relevant in a multitude of industries.
The CityEngine team kept our eyes on Omniverse as it evolved over the years. When NVIDIA started to publish Omniverse Connectors to other apps like Autodesk Revit and Rhino3D, we jumped on the bandwagon and created an internal prototype and a demo video which gained some attention at NVIDIA GTC last spring.
The demo also contributed to a conversation about geospatial computing between Jack Dangermond (CEO, Esri) and Bob Pette (VP, Professional Visualization, NVIDIA) at that same conference.
Half a year later, GTC is back, running Nov. 8-11, and we are finally able to announce the beta release of the Omniverse Connector for CityEngine 2021.1.
You can play with it right now! Make sure you have CityEngine 2021.1 installed, then head over to NVIDIA Omniverse, download the launcher, and you'll see the Connector for CityEngine in the "Exchange" section.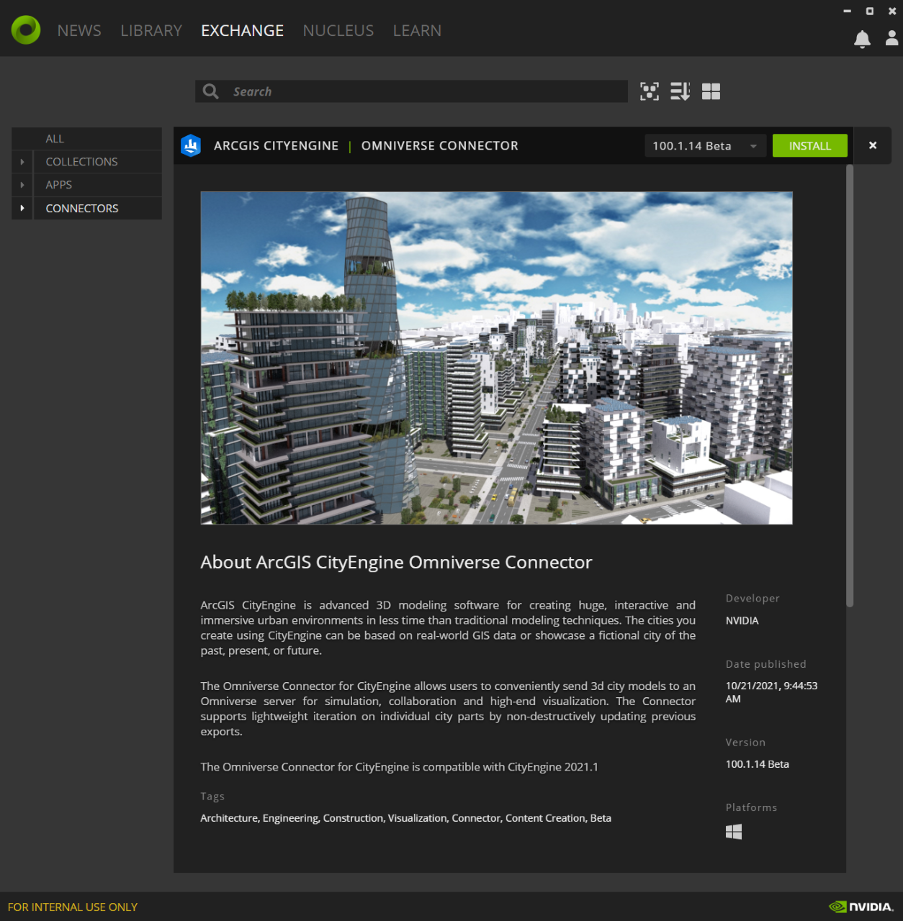 This is the first iteration of the Connector. We are still exploring the possible UX, given the large and complex ecosystem of Omniverse. Our main use case for this release is to take a Revit BIM model and provide an urban context for it.
We started by building the Omniverse Connector on top of our existing USD exporter and extended it to be able to conveniently send models to an Omniverse server.
As you can see, there are just a few simple options necessary. Basically, you need to tell CityEngine where to send the models and which name to use.
Re-exporting large city models just because a single building needs a change is not fun, but USD and Omniverse have a solution for that. Enter live sync and USD layering techniques.
USD allows us to simply hide the offending building and layer an updated version on top. That's exactly what we've added to our Omniverse Connector. If the Connector detects a prior export (e.g. `/Users/CityEngine/myCity/myCity_root.usdc`) on the Omniverse server with the same name (e.g. `myCity`), it will non-destructively layer the new models on top of the existing data and hide the outdated models.
The Connector will evolve in the next few months, and we look forward to feedback from you, our adventurous early adopters!
In the meantime, make sure to checkout this nice sun study demo created by Matias Codesal.
Further resources: