ArcGIS Field Maps is a powerful and versatile mobile app solution used to complete a variety of field workflows. Leveraging the power of a map, Field Maps enhances situational awareness, enables simple and advanced capture capabilities and can record and share where mobile workers have gone, all within a single location-aware mobile app.
It's been a busy year, with lots of exciting new product developments, and it's hard to believe this is our last major release of 2023!
Highlights on previous 2023 updates:
June 2023 release details – added support for the Windows 11 platform, introduced new collection settings to ensure accurate location capture, improved form constraint profiles, and added Arcade support for creation of advanced Geofence messages.
February 2023 release details – added a new way to get basemaps to devices that simplifies offline workflows, integrated the new Arcade Editor, added dynamic form element behavior, updated location sharing settings, and added smart card support on iOS.
Getting Started with ArcGIS Field Maps
ArcGIS Field Maps includes two components: the Field Maps Designer web app and the Field Maps mobile app. The magic begins with Field Maps Designer and for the past several releases we've been making it easier for map authors to get started and rapidly deploy mobile workflows.
Creating new empty maps
Sometimes the best way to start is with an empty canvas. New in Field Maps Designer, we've added the ability to create a New empty map by clicking on the +New Map drop-down menu. Creating a new empty map is helpful if you already have layers ready for field workflows. Providing a map name and folder location, you can create an empty map to get started with. To learn more, see Create a map with Field Maps Designer.

Create layers in maps
Whether starting from scratch with a new map or configuring experiences with an existing map, you can create new layers without having to leave the map you are working on. Clicking Create layers from the Add layers drop-down menu allows you to create layers and add them to the map. This is the same guided experience presented when creating a new map from the Maps page.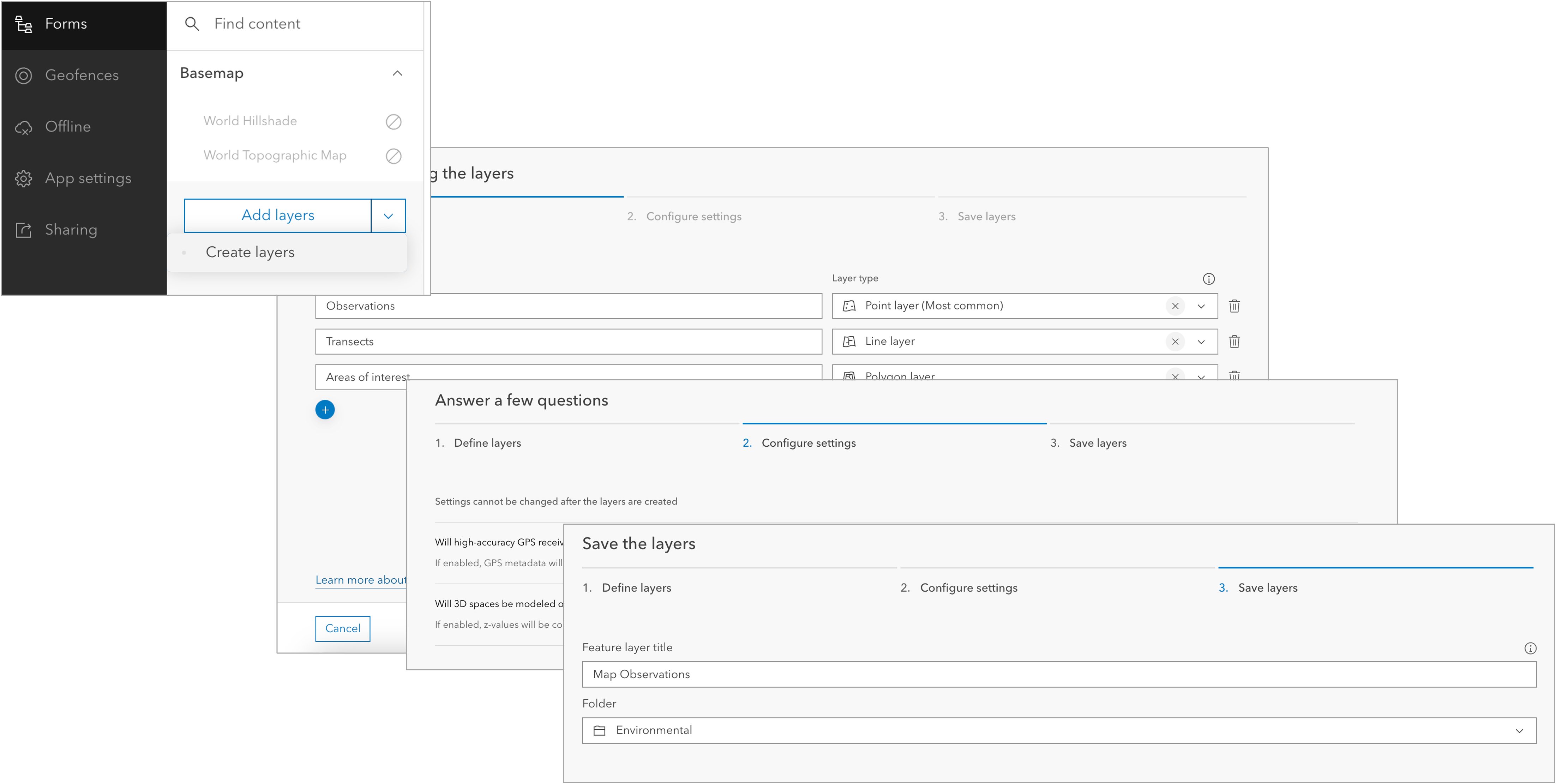 Once new layers are created and added to the map, you can build their forms and modify templates without having to leave Field Maps Designer. To learn more, see Add and remove layers.
Set default map extent
In the Map section of the App settings page, you can now configure the default extent of the map when it's opened by mobile workers. Use the organization's extent or region, find a location, draw the extent, or enter coordinates. To learn more, see Set default map extent.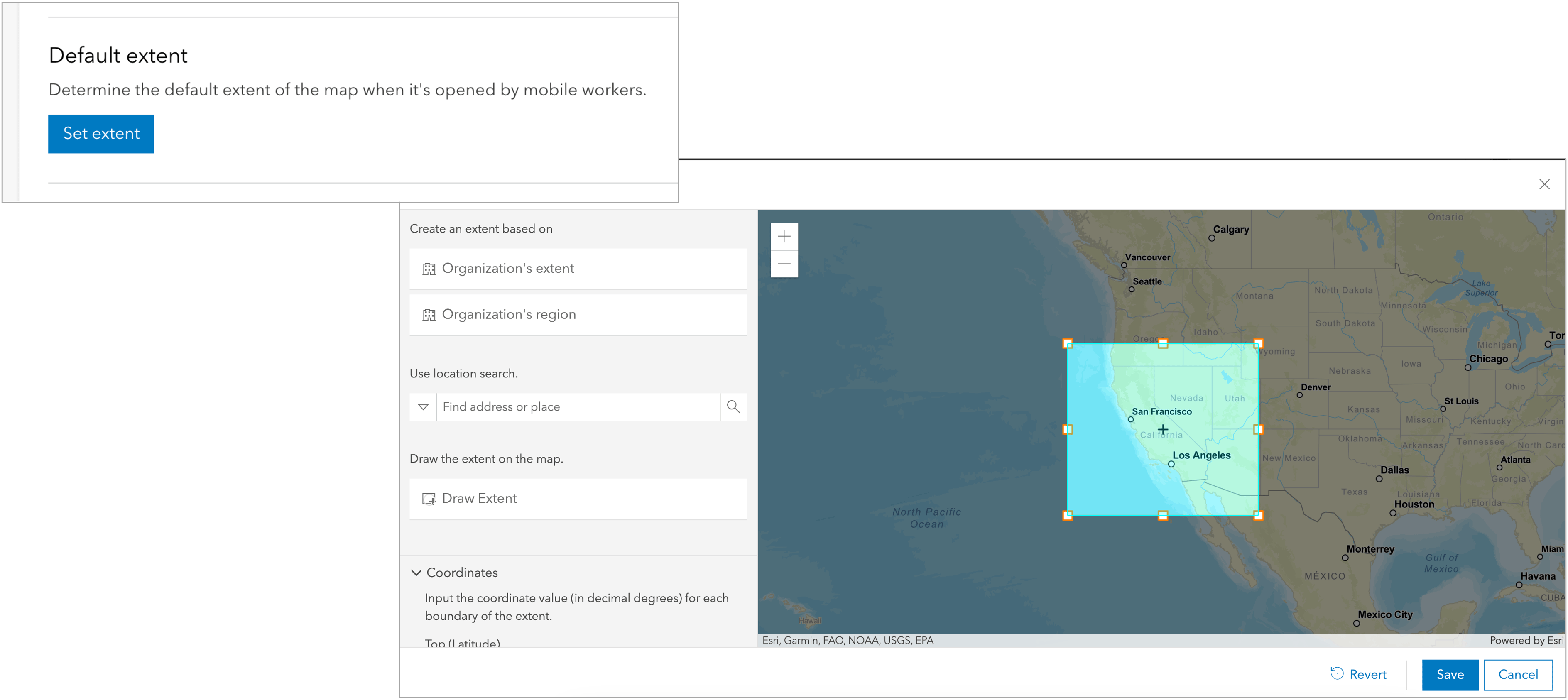 Form authoring improvements
Field Maps Designer is the authoring component for forms across the ArcGIS system and we're continually adding new form capabilities with each release.
Create and modify choice lists
We've closed a gap when working with choice lists. Now you can create and modify lists for existing numeric and string fields. Previously, any modifications to an existing choice list required leaving Field Maps Designer and editing the list of values in the item page for the layer or table. To learn more, see Create and edit a list of values.
Add and edit ranges
Numeric basic form elements (double and integer) can support a range of valid values, and now you can set and edit an acceptable range in Field Maps Designer. Once set, mobile workers must add a value within the range to submit edits. To learn more, see Create and edit a range.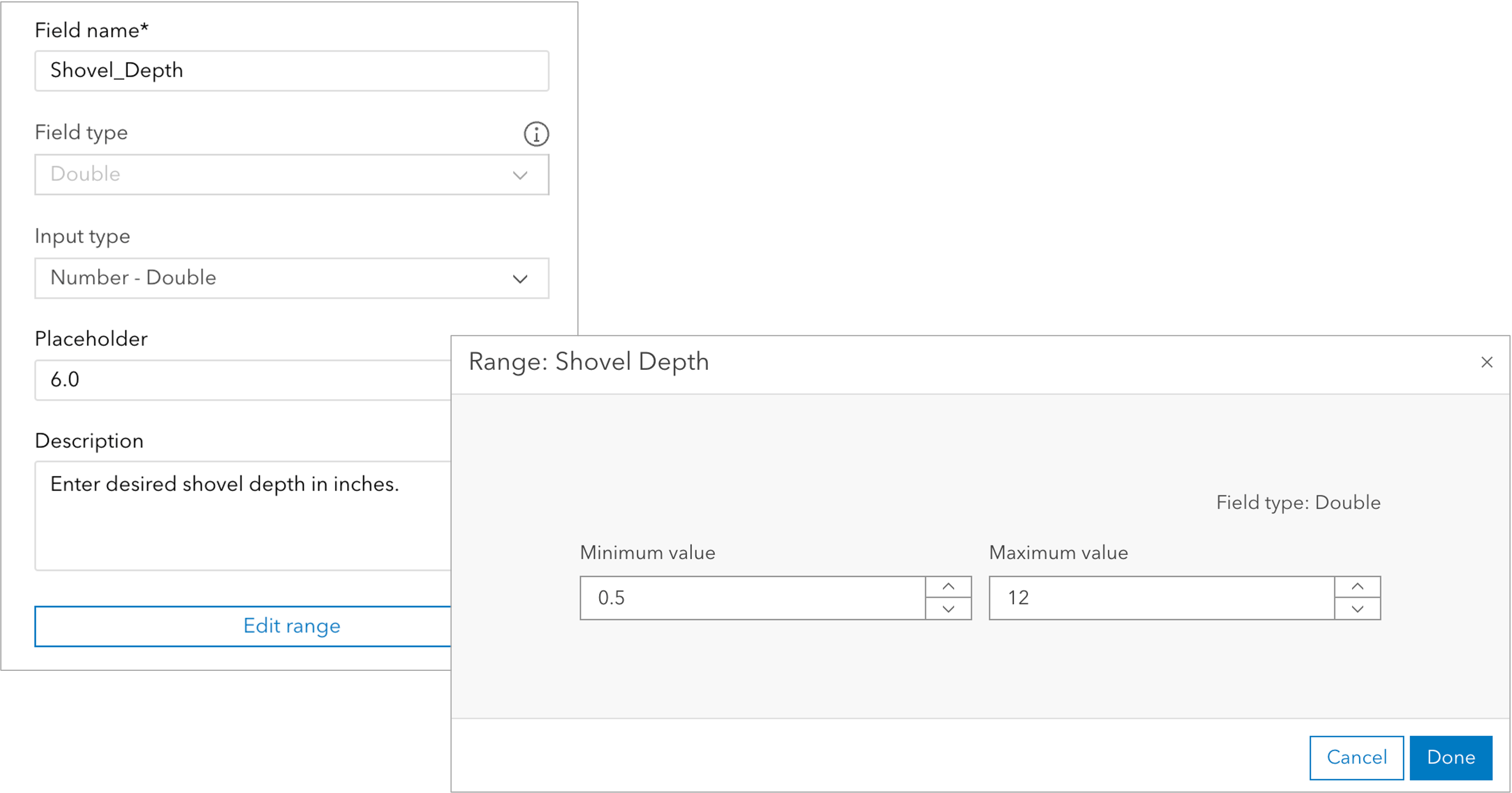 Offline improvements
Field Maps Designer helps prepare maps for download to mobile devices. Maps must meet data requirements, and layers and maps need to be enabled for offline use.
When clicking the Offline tab, Field Maps Designer will analyze map content and look for inconsistencies that could cause issues when creating offline map areas. With the October release, we're analyzing the map for many additional properties such as proxied basemaps, field character length limits, and more. To learn more, see Enable content for offline use.
Mobile app improvements
With our efforts focused on improving experiences for map authors using Field Maps Designer, we made minor quality and performance improvements to the mobile app. In addition to bug fixes, we spent time improving accessibility workflows. No new features were added to the mobile apps in this update.
Doc site improvements
We've made updates to the Field Maps documentation site to improve the way information is organized. There are now three tabs on the help site to guide you: Get Started, Prepare Maps, and Use Maps.
The Get Started tab includes a new Get started with ArcGIS Field Maps topic, in addition to the Requirements, What's new, and FAQ topics. The Prepare Maps tab includes topics focused on preparing maps for the field and includes a version switcher which allows you to select whether you're using ArcGIS Online or a version of ArcGIS Enterprise. This switcher ensures you're viewing relevant information to the software you're using.
The Use Maps tab is focused on working with maps in the Field Maps mobile app, and includes a version switcher which allows you to select whether you're using an Android or iOS device.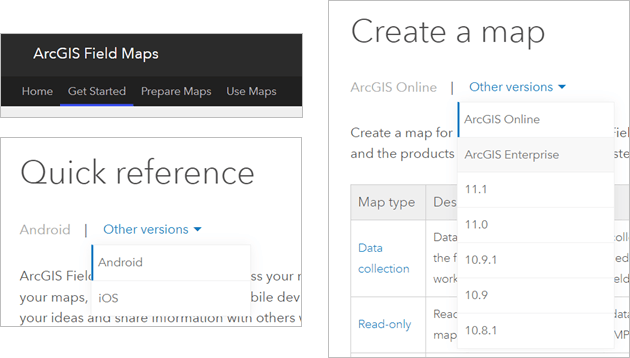 What's coming in 2024
We are busy at work with next year efforts and there will be a lot of exciting new capabilities that will come in each major release.
As we close 2023 and enter 2024, look for opportunities to preview new enhancements and beta test existing workflows. We're very proud of the advancements in ArcGIS Field Maps this year and extremely excited by what's coming in the new year!
Please continue to let us know how we are doing, share your experiences and needs by posting to Esri Community and communicating with your account management.