ArcGIS Field Maps is a powerful mobile app solution that streamlines field workflows for exploring maps, collecting and updating data, and sharing where mobile workers are and where they have gone, all within a single location-aware mobile app.
The June 2023 release is our second major update to ArcGIS Field Maps this year and includes the following key enhancements:
Added support for Windows 11 devices.
New collection settings that can improve the quality of location capture.
Author Geofences with custom Arcade expressions
Several improvements to forms.
Windows 11
We are pleased to announce ArcGIS Field Maps for the Windows 11 platform! With this release, all of the capabilities available for the iOS and Android platforms are now supported on Windows 11 devices.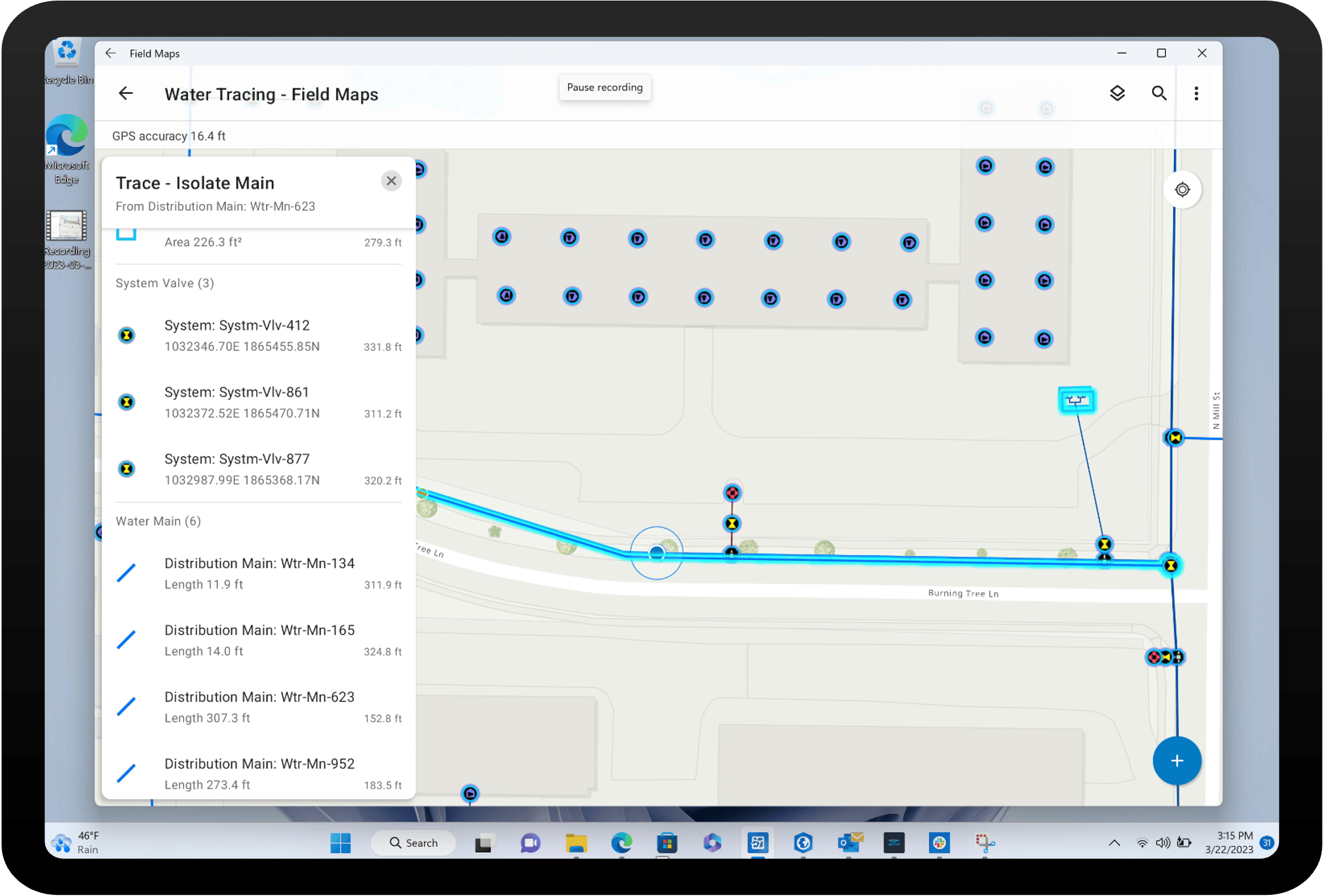 Utilizing the Windows Subsystem for Android (WSA), available for Windows 11 devices, you can install and use Android mobile apps available in the Amazon Appstore for Windows. We've released ArcGIS Field Maps on the Amazon Appstore and it is approved for deployment to compatible Windows 11 devices.
WSA is an Android virtual machine. It looks and feels like an app built for Windows devices, but there are some considerations:
Amazon Appstore for Windows – you must first install the Amazon Appstore for Windows to deploy WSA on devices. Once deployed, you can install and use ArcGIS Field Maps. WSA is not included with Windows 11 at this time. Please read our support article on how to install Field Maps on Windows 11 devices.
External GNSS receiver support – Bluetooth is not supported within the virtualization. We've introduced TCP/IP support, just for Windows, so you can work with high accuracy GNSS receivers. Please read our support article for details.
Availability – the Amazon Appstore for Windows is currently available in the following countries and regions.
Our FAQ documentation includes a full list of WSA limitations. Microsoft is continually updating the Windows Subsystem for Android and you can stay informed of updates from their github site.
Improve location capture
With the June release, we've added 2 new collection settings that can help your organization improve the quality of location capture:
GPS Fix Type – warn when GPS Fix Type threshold isn't met
Manual location – block manual collection or warn when it's used
GPS Fix Type
Now you can warn mobile workers when the GPS fix type does not meet a required fix type threshold specified for the map.
Threshold options include:
RTK Fixed
RTK Float
Differential
Any (default setting)
The threshold will be applied to all feature layers that contain GNSS metadata fields. This new collection setting can be applied to a map from the App settings tab in Field Maps Designer.

Manual locations
Warn or block mobile workers from manually placing locations. A manual location is a vertex or point feature that is placed without the use of a GPS receiver or snapping to an existing point or vertex.
Collection settings include:
Allow manual locations (default)
Warn when manual location is used
Block manual location
This setting cannot be overridden by the mobile worker.

Authoring these new Collection settings using Field Maps Designer are currently available with ArcGIS Online and will be available in a future release of ArcGIS Enterprise.
Geofences
With the June 2023 update, we've advanced the way you can work with geofences by introducing the Arcade editor to the overall design experience.
Now you can use an Arcade expressions to trigger location alerts or location sharing. Authoring of Arcade Expressions using Field Maps Designer are currently available via ArcGIS Online and will be available in a future release of ArcGIS Enterprise.
The example below illustrates how to present a focused after-hours message when a mobile user enters a restricted area than when entering during business hours.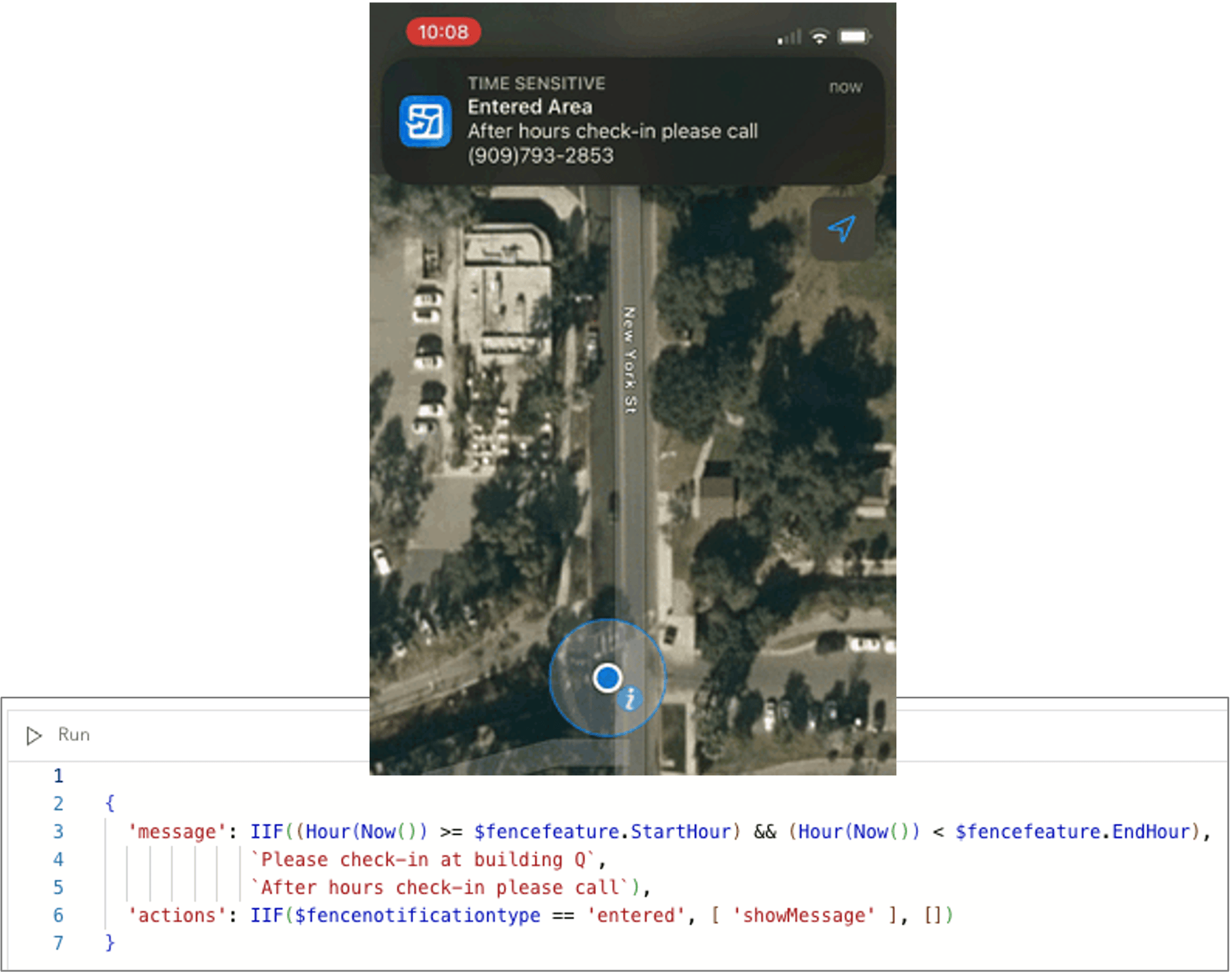 Form improvements
We've included some minor improvements to the forms experience in Field Maps with this release.
The Form Constraint profile has been enhanced to support the use of FeatureSets for editable, required, and visible expressions applied to form elements. For example, now you could display certain form elements when inside of a parcel or flood zone.
With added support for Full Editing Control, map authors and admins can configure and save maps and layers even if editing is disabled.
Field Maps will gracefully ignore related form elements that have been introduced for web editing in the Map Viewer.
The Field Maps mobile app will not support the creation or editing of features within a Subtype Group Layer.
In addition to the enhancements mentioned above, we've addressed several defects and performance issues with the June release.
What's next
The Esri Users Conference will be held July 10 – 14th in San Diego California and we hope to see you there! Bright and early on Thursday morning (8:30am – 9:30am PST), in room 32AB, we will highlight what's coming next in Field Maps. For a complete list of ArcGIS Field Maps sessions, consult the detailed agenda.
We have one additional major release planned for later this year. The primary focus will be on enhancing Getting Started workflows with Field Maps Designer. We are busy at work on our next big additions to Field Maps coming in 2024. Stay tuned for more information and beta opportunities coming later this year.