The right technology is pivotal in supporting the essential needs of any security organization. In today's ever-evolving landscape of threats, enhancing capabilities and optimizing efficiency across field operations, investigations, and critical event management requires a more integrated approach. Seamless collaboration within an organization and security partners is vitally important.
ArcGIS and Microsoft Teams can deliver unconventional advantages to security organizations worldwide. ArcGIS spatial data and analytics integrated within Teams' collaborative environment yields numerous benefits and unrealized potential. This powerful union transcends specific sectors and resonates across local, state, federal, and private domains. Operationalizing spatial data within GIS while facilitating cross-agency collaboration through Microsoft Teams' robust collaboration platform provides benefits realized across the entire homeland security enterprise.
This fusion equips security teams with tools to synchronize efforts seamlessly, arrive at informed decisions collectively, and tap into insights that are rooted in a geographic context.  Since the actual design of this integration can vary based on the requirements of each organization, a firm reliance on no-code/low-code configurations allows for unlimited adaptations.
Organizational Challenges
Teams-based spatial collaboration enables a broader audience with location intelligence to support real-time information sharing across organizations. It provides incident-focused cooperation in a single place, brings tools that spatially enable data at point of intake, improves alerts and notifications across multiple platforms—including text messages, and provides mapping and analysis to everyone. This approach ensures that every team member, including field officers, agents, and analysts, can access user-friendly spatial information within familiar applications.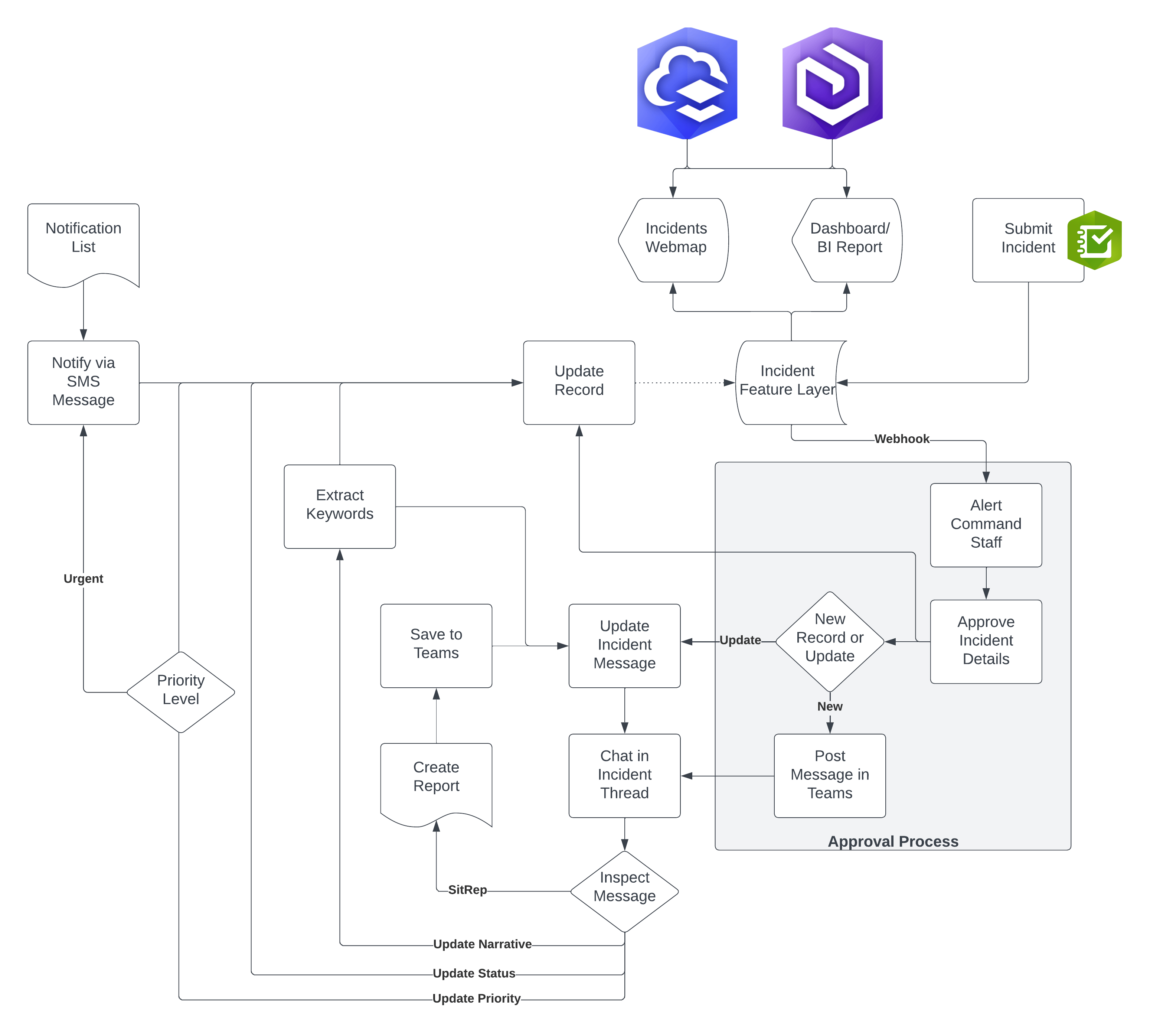 This pattern addresses a common problem faced by many organizations, the constraint of limited technical resources. No custom code was written, all capabilities are built using configurable components, like ArcGIS Dashboards, Survey123, and Microsoft's Power Automate to build comprehensive workflows.
Mapping and Analysis in a Single Location
In typical, non-emergency situations, 85% of daily operations involve communication and information gathering from various sources.  Teams-based spatial collaboration supports day-to-day work and can scale and expand capacity when critical events arise. ArcGIS and Teams working together facilitates capability delivery to everyone supporting the event using applications they are familiar with as part of their day-to-day work.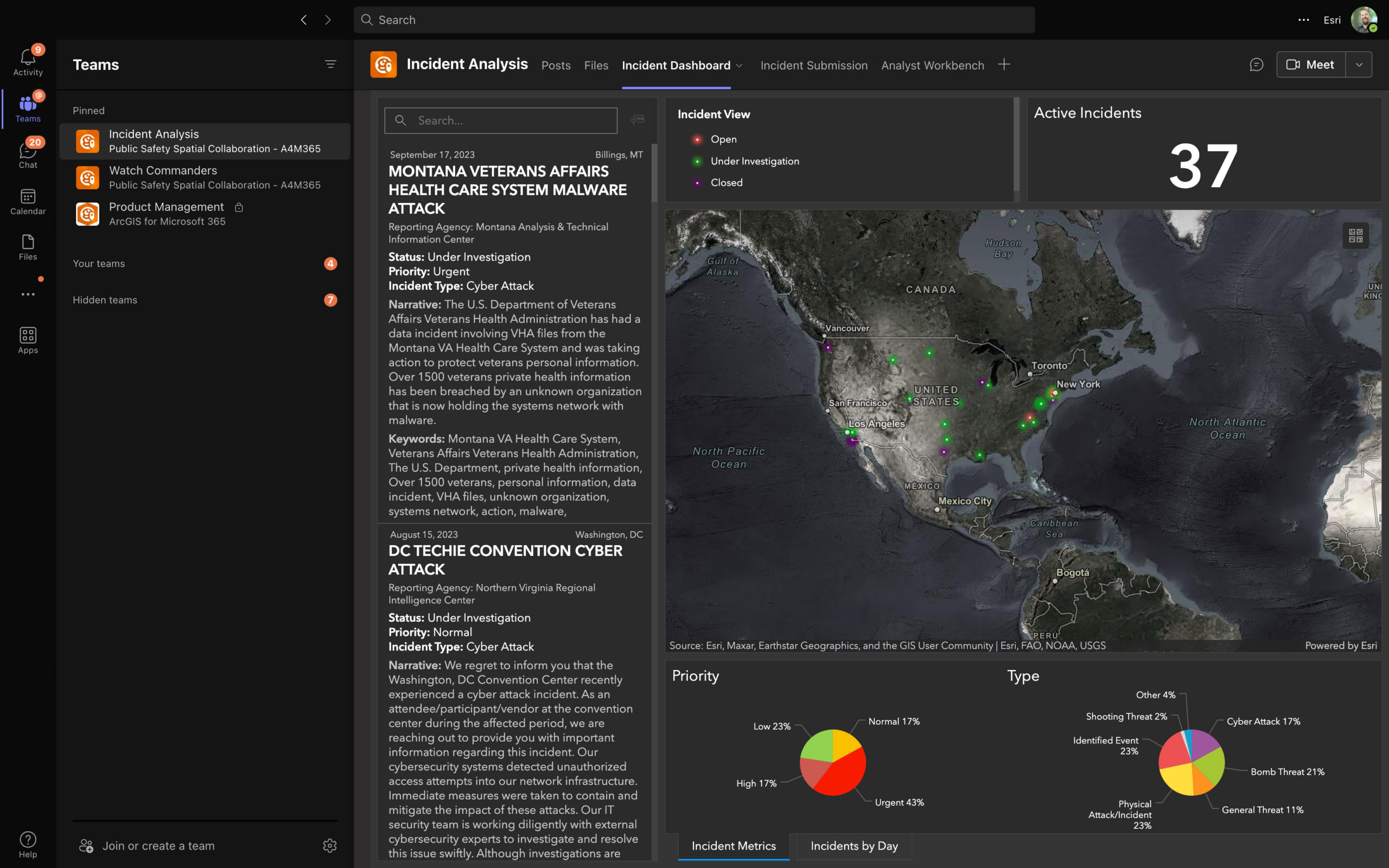 As ArcGIS is the industry leader in geographic information systems and Microsoft 365 is the leading productivity suite, numerous organizations already have these technologies in their portfolio and are able to leverage their existing technology investments.
The interoperable nature of ArcGIS and Microsoft 365 allow these systems to be incorporated, not creating an additional siloed environment. They are a bridge allowing people to access information, sourced from a variety of systems, in a single place. Leveraging the Teams channel construction, users can be added to teams or channels based upon their roles and responsibilities. This structure also harnesses the ArcGIS sharing model to access data and information products relevant to their operational functions.
Spatially-enabled Incident Intake and Data Validation
When incidents occur, it is crucial to collect the appropriate details based on the incident type—including the spatial aspect. Survey123's context-aware forms are able to collect the appropriate information and spatial details when a record is created.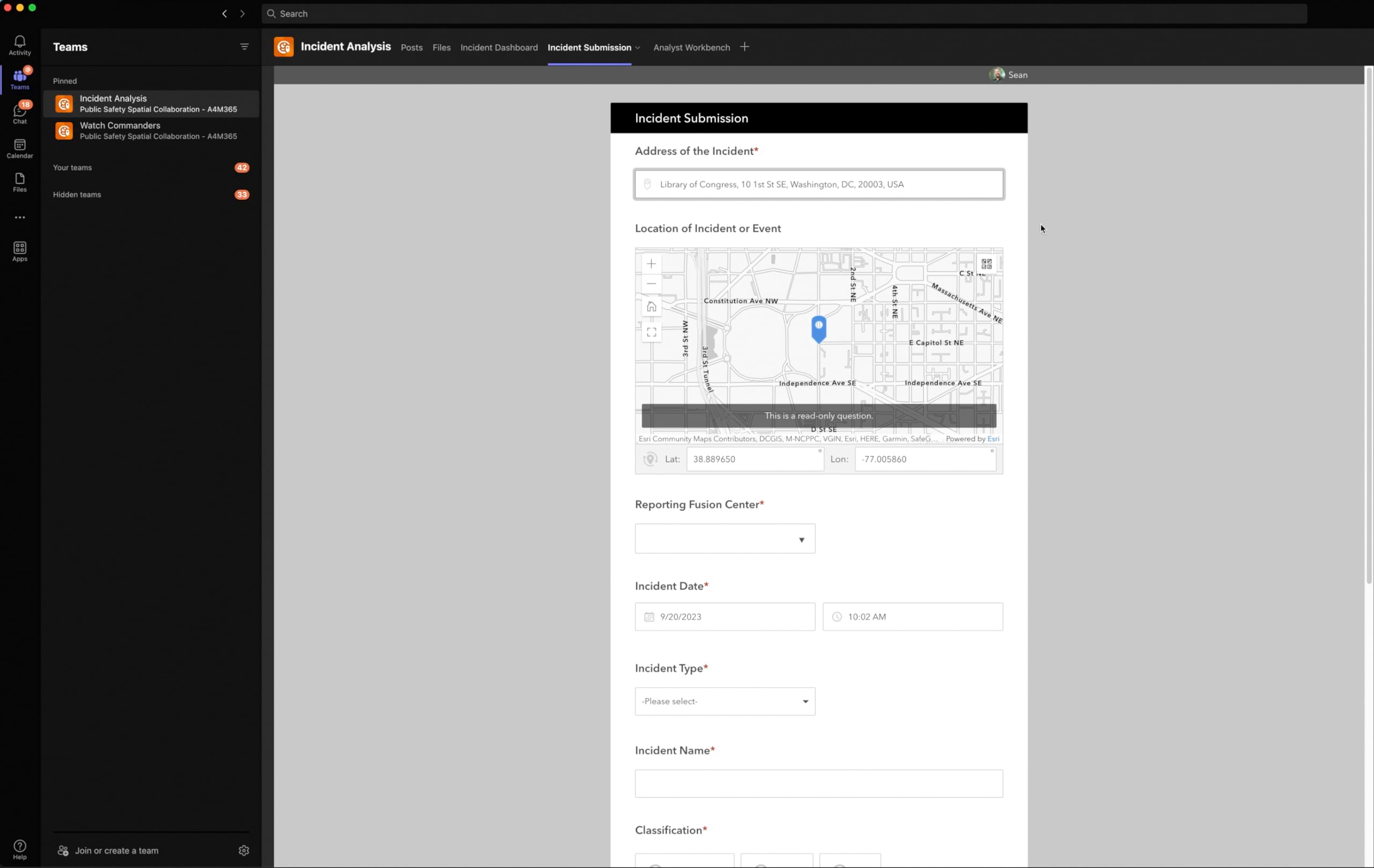 Getting and sharing the correct information is of utmost importance. Implementing a triaging step validates and adds an additional level of confidence in the information. Microsoft Power Automate and adaptive cards construct focused workflows that present the appropriate level of information as well as focused workflow tasks. Because this workflow is configurable, it can be adapted to present users the appropriate information to help guide them toward the next best step.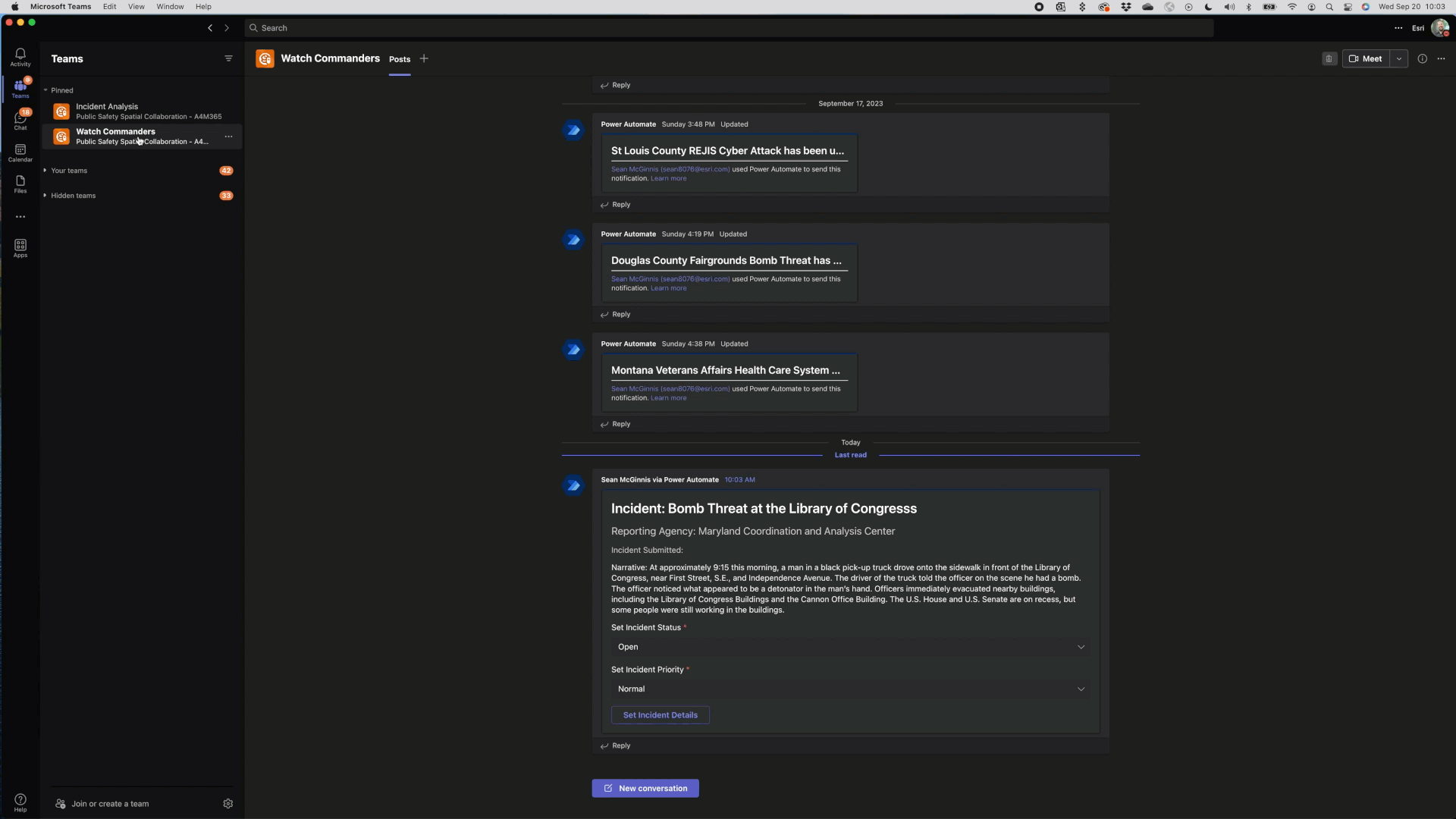 Incident-focused Collaboration
When interactive visualizations are supported by intelligent automations, the workflows become even more powerful. These workflows can now listen for keywords or commands to either change the status or priority of an incident or provide a structured situation report with up-to-date details about an incident. This takes advantage of out-of-the-box capabilities, like Microsoft's AI Builders, to analyze a narrative and extract key entities and objects. An approach like this simplifies incident searches based on keywords and supports subsequent in-depth analysis.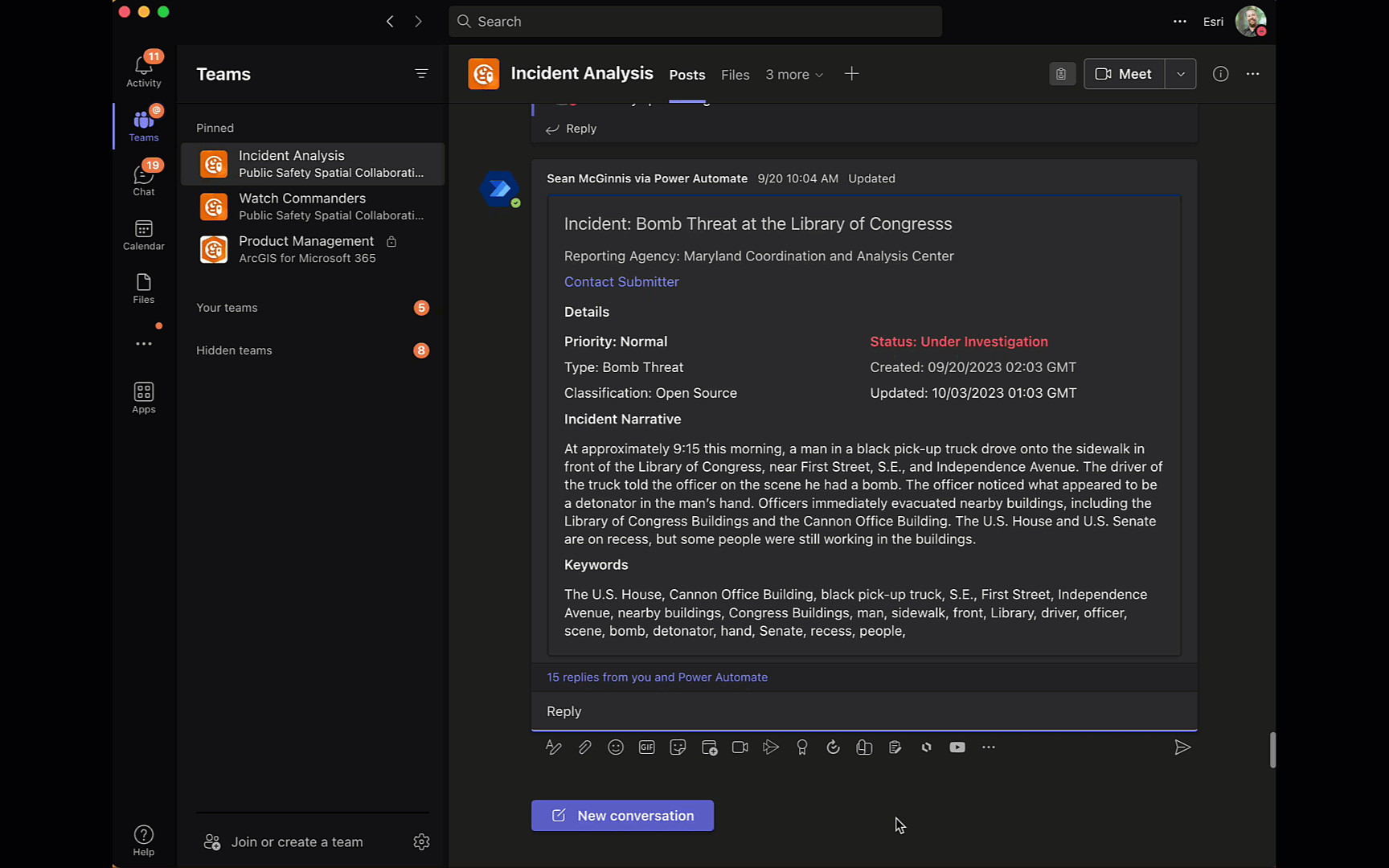 Improved Alerting and Notifications
Today's modern security protocols do not require individuals to spend their entire day in front of a computer screen. Keeping everyone informed about evolving situations remains essential. . The automated processes inspect the information gathered as part of the collaboration and can determine if there is a need to alert users via direct chat messages in Teams or pushing an SMS to their mobile devices. This ensures relevant individuals are aware of events as they continue to evolve regardless of where they might be at that point in time.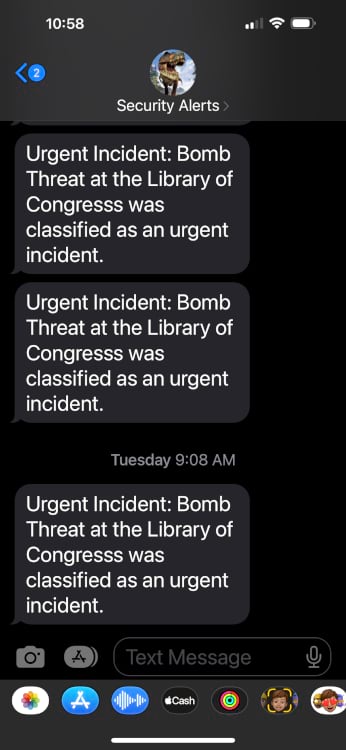 Technology
As previously noted, incorporating these configurable components leverages your organization's existing technology investments. The familiarity of Microsoft and ArcGIS and the ease of no-code/low-code environments allows users to get started quickly as new workflows arise or iterate as the workflows evolve or new needs are identified.
The technologies used include:
What's Next?
Given the level of interest customers have expressed in implementing workflows of this type, this is the first in a multi-part blog series about the considerations and steps to build a spatially collaborative workflow to support your organization.
Please follow along with this series and join Esri's ArcGIS for Teams community to share any workflows you would like to see demonstrated using the Teams-based spatial collaboration pattern.