***Updated Network Management Release Plan graphic to include November 2022 changes
Going into our fourth year since the debut of the utility network, we are pleased to see projects around the globe in production and making progress towards implementing their enterprise solutions.  With additional customers moving into production this year, you may have noticed the rapid cadence of utility network specific updates and patches released for ArcGIS Pro 2.6 and ArcGIS Enterprise 10.8.1.   Organizations taking advantage of the updates provided in ArcGIS Enterprise 10.8.1 and ArcGIS Pro 2.6 can rest assured that we will continue to patch ArcGIS Enterprise 10.8.1 through July 2024 (four years from initial release) and ArcGIS Pro 2.6 through July 2022 (two years from initial release) in accordance with the designated release plan. 
As more projects get underway, there is a need for Esri to designate specific releases for targeted delivery of patches and updates on a long-term support release.  Our goal is to provide a stable platform that will support the diverse and complex solutions essential to utility and telecom organizations into the future.   This fall will mark the first iteration of the Network Management Release plan with ArcGIS Enterprise 10.9.1 and ArcGIS Pro 2.9.  This designation of specific releases is aimed to enable users to land on the versions that are best suited for utility network solutions with confidence.  By reducing the number of enterprise upgrades, utilities will be able to more efficiently test and implement patches. 
Every two years, the next designated iteration of the network management release plan will be announced for utility and telecom customers.  This means that the next designated release of ArcGIS Enterprise will be announced in 2023, following the initial 2.9/10.9.1 release this fall.   When this occurs, the next iteration will include all utility and telecom-related improvements implemented for 10.9.1 through hotfixes and patches, in addition to all new functionality and enhancements introduced since that release. When the next iteration is available, organizations will have the option to migrate to the newly designated network management release plan or to remain on 10.9.1 for the remainder of its product lifecycle.  Esri will continue to provide patch support on this release for an additional two years (until 2025).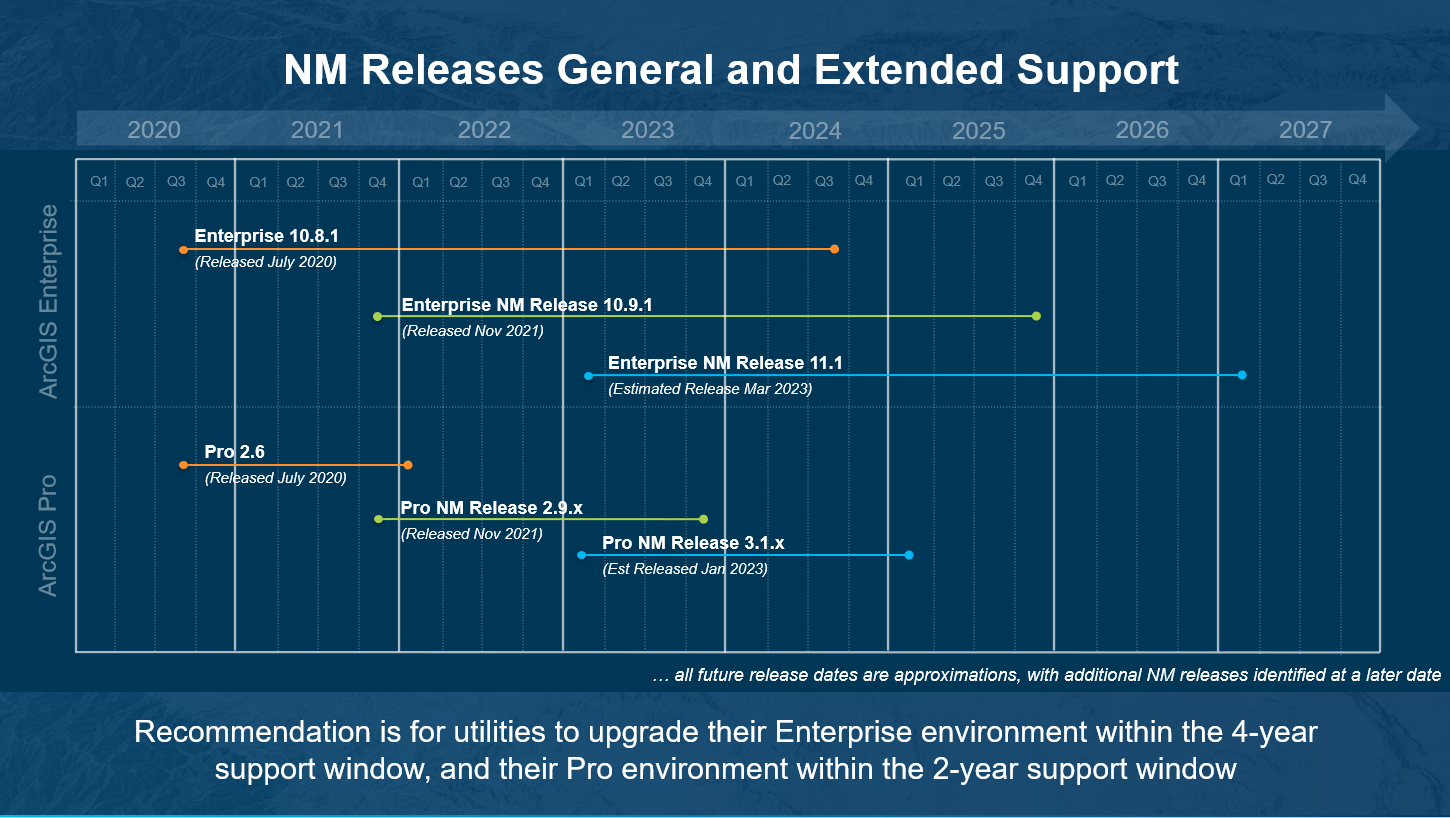 ArcGIS Pro 2.9 will be supported for two years, and all updates related to utility and telecom workflows will be applied to this version of the software (even when newer versions of ArcGIS Pro are released).  The next designated release of ArcGIS Pro will follow two years after the release of 2.9 (in 2023) and will include all the utility and telecom-related updates implemented for the 2.9 release in addition to all new functionality and enhancements introduced since that release. Esri recommends that utility customers always upgrade to the latest designated release of ArcGIS Pro.   
Esri advises that all electric, gas, telecom, and water utilities incorporate and use the network management release plan specifications for their projects and ongoing system maintenance plans.  New projects and planned upgrades should deploy the versions outlined in the specifications for guidance to match their anticipated production go-live.   Moving into the future, utilities need to provide their users with a scalable platform that is designed to keep up with software updates in a more efficient manner.  The network management plan is designed to give utilities a more sustainable way to take advantage of application updates without the cost of full upgrades.