The latest release of ArcGIS Enterprise includes an important update to the support given to the product. The ArcGIS Enterprise product lifecycle will now include short-term support (STS) and long-term support (LTS) releases. A product lifecycle defines the number of years that technical and software support such as patches and other security updates are made available.
Esri is making this change to streamline the number of releases under support by Esri so that we can continue to provide quality software and support for our many different customers. The advantage of this change for our customers is to clarify the level of support Esri plans for each release so they can make informed decisions to best fit their business needs.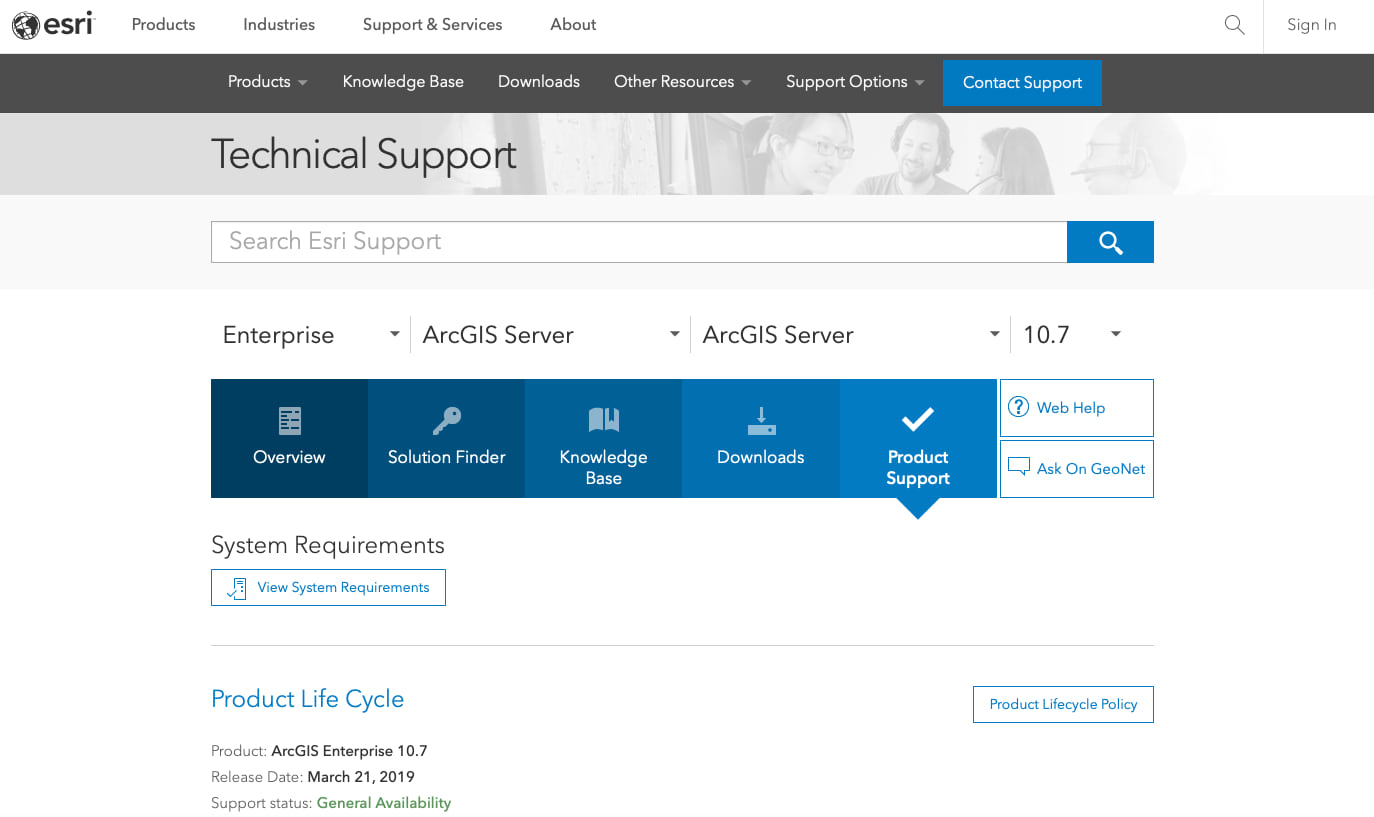 A long-term support release mirrors the product lifecycle as it has been defined since ArcGIS 10.2, which includes a total of 6 years of support; the concept of a short-term support release is new, and it includes a total of 3 years of support.
This new product lifecycle will apply to ArcGIS Enterprise 10.7 and beyond. Existing supported releases, 10.2.x through 10.6.x, will continue to follow the old product lifecycle. This means that all versions prior to 10.7 are essentially viewed as LTS releases. Future releases will be designated as either short-term support or long-term support at the time of their release.
Specifically:
ArcGIS Enterprise 10.7 will be a short-term support release.
ArcGIS Enterprise 10.7.1 will be a long-term support release planned for this summer.
What Esri software is affected by this update?
This update affects:
ArcGIS Enterprise 10.7 and above.
The product lifecycles for other software like ArcGIS Desktop or ArcGIS Pro are not changing. All other software will continue with their current product lifecycle definitions.
What is short-term support (STS)?
STS releases will receive a total of 3 years of support.
The biggest change for STS releases will be that they will receive patches and updates for 1.5 years compared to 4 years under the old lifecycle policy.
What is long-term support (LTS)?
LTS releases will receive the same 6 years of support as today including 4 years of patches and updates.
It is the same lifecycle as today.
What does this update mean?
Under today's model, the 6-year support cycle resets when a new major version is released, but not when a minor release is made available. In other words, the start of the 6-year cycle for ArcGIS Enterprise 10.6.1 was actually when 10.6 was released.
Going forward, under the new model, each release will reset the support clock. ArcGIS Enterprise 10.7.1 will get a full 6 years, rather than roughly 5.5 years from when 10.7 was released. This change is not retroactive. Existing supported releases will continue under their current product lifecycle. This means that 10.3.x to 10.6.x are all treated as LTS releases.
Anyone who plans, builds, and maintains ArcGIS Enterprise deployments needs to understand the new product lifecycle definitions in order to pick the right release when planning for, setting up a new system, or upgrading an existing system.
Customers who plan to upgrade at least once per year can use any release and should pick the latest available version. Customers who plan to upgrade at most every 2 years should pick the latest LTS release that is available.
In general, Esri releases a new version of ArcGIS Enterprise roughly every 6 months. This gives customers one short-term support release and one long-term support release per year.
What is Esri's recommended action for customers?
Customers who want to receive the latest software and functionality on a regular basis are encouraged to adopt STS or LTS releases as appropriate for their organization.

Organizations that adopt STS releases should plan to upgrade, at minimum, to every other release of ArcGIS Enterprise.
Customers that tend to stay on a single release and desire an environment with a minimum of changes over an extended period of years, are encouraged to adopt LTS releases in order to receive support for a full 6 years including patches and security updates for 4 years.
Esri strives to support customers in ways that reflect their preferred workflows and this change in product lifecycle is designed to do just that. We understand some customers upgrade frequently, while others do not. If you have any questions, please reach out to your account manager. You can also learn more on our support page.
Commenting is not enabled for this article.