case study
The United Kingdom: Community-Designed Transit
Given all the advantages of cycling over driving, one might think getting short-distance commuters to make the switch wouldn't be a big ask. Biking is healthier and cheaper than driving to work, benefits the environment, and can be a lot more fun than sitting in traffic. Yet for all their efforts to get more commuters on bikes, Cambridge transport planners were stumped: why weren't more commuters swapping steering wheels for handlebars?
Rather than speculating or waiting for a city council meeting, Cambridge Ahead, a nonprofit organization working to improve life in Cambridge, decided to do what common sense would dictate—ask commuters directly. It partnered with property consulting firm Carter Jonas to create a bespoke questionnaire in ArcGIS Survey123, which combined with an Esri web application, allowed users to not only give their view on cycling infrastructure and attitudes toward cycling, but also record locations on a map to pinpoint the problem areas.

As an Esri partner, the geospatial team at Carter Jonas was ideally placed to combine Survey123 and Esri web maps into a single application as well as organize all the feedback it received. Using the power of ArcGIS Pro, the team helped Cambridge Ahead visualize all the information on maps. This helped planners to quickly see how to build biking lanes that more people would want to use.
A key aspect of managing and designing smart cities is responding to citizens' needs, but city planners need to hear about issues in order to address them. Community meetings are the traditional way of creating this line of communication, but the difficulty of attending them ensures some voices are never heard.
Accessible from computers, tablets, and smartphones, ArcGIS Survey123 makes it easy for every citizen to share their opinion–anytime, anywhere. For Cambridge Ahead, this meant citizens could mark location-specific obstacles like potholes or traffic jams immediately after encountering them rather than at a meeting two weeks later, when they might not remember the exact location or even the existence of the hazard.

Any organization can use Survey123 to establish communication with its audience, whether it's hoping to connect with constituents, customers, or clients. Along with all levels of government, smart surveys have already been created by national parks, engineering firms, and humanitarian organizations.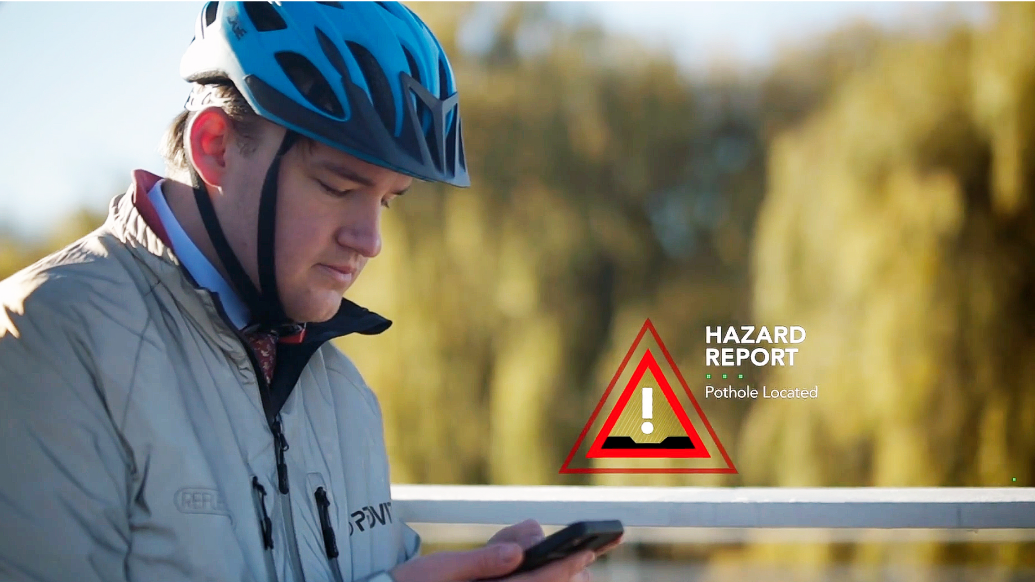 With Survey123 on mobile, cyclists can share preferences while on two wheels.
In addition to improving the existing cycling infrastructure, Cambridge Ahead plans to use survey responses to drive infrastructure decisions for the future, especially as they relate to e-bikes.
Popular routes and other geographic data volunteered by the community will help Cambridge Ahead identify priorities for infrastructure upgrades, safer cycling routes, and other improvements that could be the difference in changing a resident's decision to adopt the new technology.
Customizable surveys and the creation of communication channels make it easy to follow up with your network of responders, and whether you choose to send out subsequent surveys or publish your results in a hub site created with ArcGIS Hub, there are plenty of ways to keep the conversation going.

With Survey123, the questions you ask today could lead to the answers you need tomorrow.
Take Off the Training Wheels