As the number of devices connected to the internet is increasing at a fast pace, the Internet of Things (IoT) and big data are becoming more incorporated into our daily lives. Connected devices share huge amounts of data through real-time sensors, and organizations aim to harness this data to learn patterns, trends, and insights. In today's world, well-analyzed data is extremely valuable. And when it is analyzed in real or near real time, we can derive conclusions that can help make informed decisions for continuous improvements within operations. The trends and patterns observed from the data can be used by machine learning algorithms to perform predictive analytics and support data-based learning.
Many companies still lack either end-to-end or partial visibility to their supply chains and processes. Despite the availability of several technological solutions, many companies still heavily depend on email and phone communication for controlling and monitoring a product's flow from the procurement of raw materials to the distribution of the final products to the end customer. Such inefficiencies create silos within the supply chain, which in turn imposes additional costs to the whole system.
This is where connected devices and big data will rise toward restructuring the entire process by which supply chains operate. The power of IoT lies in intelligently connecting data, processes, and people via devices and sensors, creating an ecosystem of continuous live data sharing, collecting, and analyzing. This provides unprecedented end-to-end visibility into each process at every step of the supply chain, which, in turn, eliminates inefficiencies and enhances monitoring and rapid decision making. In addition, fully transparent supply chains respond more rapidly and effectively to disruptions and extreme events, which reduces business risks and enhances performance.
An example of a case for IoT application within the logistics industry is the GeoDecisions-Bristow business relationship. Bristow offers transportation for crews going to off-site drilling platforms with a goal of zero accidents, zero downtime, and zero complaints. GeoDecisions has a real-time asset intelligence application, GeoDecisions Track, that uses the power of Esri technology to expose additional analytical capabilities, show trends, patterns, and manage the entire logistical system. To help Bristow meet its safety goals, GeoDecisions Track allows Bristow operators to easily see where each aircraft is located at any time and view the details of each flight and communication with each pilot. Utilizing maps, GeoDecisions Track draws flight plans using geofences and alerts the operator if the aircraft deviates from the plan. The application is also able to store long-term data for Bristow, allowing operators to see the history of each flight and plan for possible obstacles.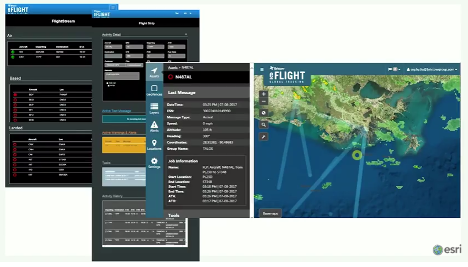 Visualizing and utilizing data from IoT data streams within the supply chain and logistics industry often have their challenges. Here are some of the challenges that organizations face:
They don't have a way to visualize and analyze hundreds of thousands of records per second in real time.
Personnel and IoT systems need to minimize response times in critical situations.
They can't support the volume or velocity of their data with existing tools and workflows.
It is difficult to share real-time and big data analytics results with the people that need them.
ArcGIS Velocity is specifically designed to address these challenges. ArcGIS Velocity, the real-time and big data capability in ArcGIS Online, enables users to ingest, visualize, and analyze spatial and big data in real time to gain new insights and make informed decisions. Explore streaming IoT data on maps and dashboards, identify temporal patterns, and extract location-based intelligence.
To learn more: https://www.esri.com/en-us/arcgis/products/arcgis-velocity/overview