The world is not as predictable a place as it seemed, even a few years ago. Retailers, Consumer Package Goods (CPG) companies, and other companies that serve consumers directly have had to learn to react to a series of shocks to their business models. Supply chain disruptions have significantly impacted operational efficiency and bottom-line results. Meanwhile, changing consumer preferences in product sourcing have forced many companies to prioritize efforts to improve sustainability in operations, providing consumers with increased transparency in how and where products are made, how they are transported, and how these operations impact the environment.
This report from RSR Research outlines what consumer-facing companies are doing to react in this fast-changing business environment. It uncovers what firms are doing around agility, resiliency, and sustainability to react to demand signals driven by market changes and their customers' increasing demands for transparency and responsibility from the companies they do business with.
Focus on the Supply Chain
Discussions about supply chains have moved from the purview of supply chain practitioners and logistics professionals to the mainstream and the family dinner table. Disruptions and associated expenses have impacted the reliability and cost of many products that consumers use every day. Best-in-class retailers know the ability to visualize supply chain assets in real-time, coupled with predictive modeling, are critical for improving reliability and mitigating future disruptions—the gap is growing wider between successful retailers and "others" in this area. Winners are leveraging technology, specifically geo-spacial data and analysis, to monitor their supply chains so that when disruptive events occur, they are ready to act and can quickly allocate the right resources, at the right time, to the right places to mitigate the disruptions and serve their customers.
Technology Enablers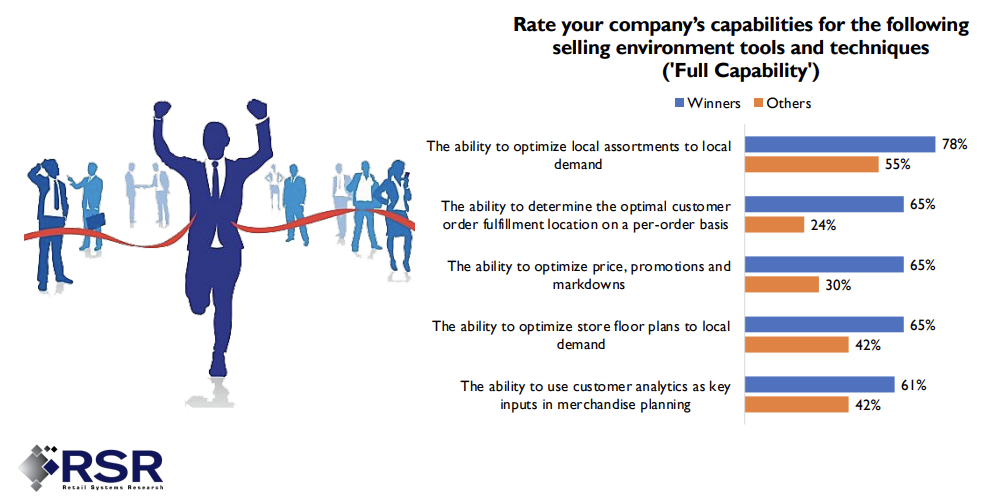 One of the most dramatic gaps in between "winners" and "others" in this study was in the area of localization and personalization. From local assortment planning to price optimization, the ability to leverage customer analytics in the planning and execution of their merchandising strategies. Companies that have invested in technology to support these capabilities were more likely to be successful by, in some cases, a 2:1 margin over their struggling competitors.
These capabilities are highly dependent on data that companies collect from their location-enabled tools. The best performers have integrated geolocation tools into their existing analytical tools to bring location-specific insights to their strategies and tactics.
Sustainable Growth- it's more than just a buzzword.
Best-in-class companies prioritize several qualitative sustainability attributes- ethical sourcing, social responsibility, and environmentally conscious business practices over quantitative measurements like energy efficiency, waste reduction, and reducing carbon. They're doing so because it's what their customers are demanding. We are in the early stages of this effort in business. Still, the demand is getting louder, and winning companies are investing in technology to position themselves to be agile and resilient while at the same time providing transparency in operations and sourcing. All to meet the demands of their customers.
Speaking of customer demands, today, there is a vast amount of customer-generated data available for retailers, who can use that data to understand better who their customers are and what they want. This enables them to meet their needs more completely, driving loyalty and market share growth. Retailers recognize that authentic customer engagement is one of their most critical challenges to continued growth. 80% of "winners" rate Customer Analytics as being very important to growth. Even the "others" agree; 70% of those companies also see customer analytics as critical.
The Future – Predictive Modeling is Vital
Fully three-quarters of the" winners" view their ability to leverage predictive modeling techniques as critical to reacting to challenges to their supply chain and to reacting to sudden shifts in consumer demand signals.
In conclusion, the report by RSR Research stresses the importance of data and analytics to achieve sustainable growth for consumer-facing businesses. Firms must invest in IT, use location-based technologies, prioritize customer analytics, and focus on top-line growth and operational efficiencies to achieve their goals. Retailers must pay attention to consumer concerns to improve customer engagement and achieve sustainable development.
Looking to download the entire study? Click the link below: