User Story
How One Colombian Student Embraced Esri GIS Education Opportunities, Kick-Starting Career
Key Takeaways
• Diana Catalina Beltrán Huertas, an Universidad Nacional de Colombia student, participated in Esri education programs and professional development opportunities to jump-start her career.
• Through these programs, Beltrán attended the annual Esri User Conference, gave a lightning talk at Esri's Education Summit, and networked with young professionals from around the world. 
• The programs highlighted in this article are Esri student assistantship and the Esri Young Professionals Network.
For universities and businesses alike, the question of how to best prepare students for the workforce and navigate career options is often challenging.
One student found the answer in a series of Esri programs that gave her the opportunity to speak at the company's annual User Conference (Esri UC) as part of its Education Summit, attend the conference sessions, and network with professionals and fellow students.
Diana Catalina Beltrán Huertas, who studies environmental and automation engineering at the Universidad Nacional de Colombia, was first introduced to geographic information system (GIS) technology, specifically Esri's ArcGIS, as an undergraduate. As a graduate student developing her master's thesis, she has been using GIS to develop low-cost technologies for monitoring water quality and quantity in Colombia.
With the encouragement and help of her hydrology professor, she successfully submitted an abstract to be a presenter at the 2022 Esri User Conference Education Summit, entitled Hands-on Training: New Age of Learning Hydrology Through ArcGIS. Beltrán's presentation explained how a project-based learning strategy that focused on providing hands-on training in ArcGIS alongside hydrology concepts made coursework more interesting and prepared students for their professional careers. 
Diana Beltrán, an Universidad Nacional de Colombia student, attended the annual Esri User Conference, gave a lightning talk at Esri's Education Summit in July 2022.
Leveraging Student Programs to Make the Dream Happen
Once Beltrán was accepted as a User Conference speaker, a friend who works for Esri Colombia recommended that she visit Esri's student careers page to view available internships and assistantships. Beltrán applied for the weeklong assistantship program for the Esri User Conference, submitting a cover letter and recommendation letter, which would give her full registration access to attend conference sessions and social events when not working. At the conference, students work alongside Esri staff, helping with attendee registration, technical session monitoring, conference logistics, and the Esri Store.
"The student assistantship program allows opportunities for students to connect with Esri staff and business partners while learning of possible career paths within the GIS community," said Corianne Jones, program manager of university programs at Esri. Angela Lee, director of education solutions at Esri, noted that a student "might discover a career path they didn't know existed, such as a GIS developer for NASA [National Aeronautics and Space Administration] or the GIS manager for a ski resort. I think meeting people who use GIS in so many different ways can really open your mind to the possibilities for your own career, and the professional connections you make at Esri UC will be valuable throughout your career."
The assistantship program also provides students with lodging and a stipend for meals. Esri seeks students for assistantship roles at many of its conferences, including the Esri Federal GIS Conference, Esri Developer Summit, and Esri Energy Resources GIS Conference.
Beltrán felt that attending the User Conference as a student assistant and as an Education Summit speaker made the experience more impactful. 
"I am grateful for my experience presenting at the Education Summit," Beltrán added. "It was amazing to see [the audience] was interested in the new methodologies we are using in Colombia to teach with GIS."
A key highlight for her was meeting her "GIS rock stars," who inspired her use of GIS for her hydrology work and attended her workshop. "It was amazing to see them there," Beltrán said.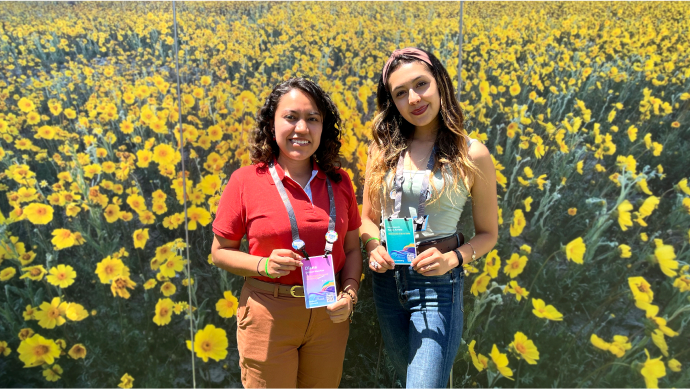 Beltrán attended the Esri User Conference as a speaker, a student assistant, and networked with the Esri Young Professionals Network.
Student-Focused Professional Development Opportunities Foster Career Advancement
For Beltrán, one of the biggest benefits of the conference was networking with some of the many attendees from various industries and universities. At the conference, she discovered the Esri Young Professionals Network (YPN), a community of professionals at the beginning of their GIS careers who are looking to connect with like-minded peers and industry experts and gain leadership experience. There she was able to attend YPN events and network with peers.
In considering her future, Beltrán plans to grow her professional network and continue her research on water resources. She hopes one day to become a professor in Colombia. "I would like to inspire future generations to have less fear of learning GIS tools," she said.
Kick-start your GIS career
Learn more about Esri student programs