The Magazine for
Esri Software Users
GIS: A Framework for State Governments

State governments deal with everything from the delivery of health services to environmental protection to maintaining the transportation infrastructure. Geography is the one common element that unites information on these diverse activities. The benefits from geographically based information management-eliminating redundant work, capitalizing on economies of scale, and improving operational efficiency-can only be fully realized through coordination between entities. Partnerships between government and the private sector, between federal, state, and local government, and between agencies within individual states must continue to be developed and strengthened.

Information Integration
The role of state governments as an intermediary between the federal government and local governments has made state governments more acutely aware of the value of integrating operations and exchanging information using GIS. One prominent organization of state governments, the National States Geographic Information Council (NSGIC), is dedicated to helping states effectively use information technologies, particularly GIS, for decision support.
Though state governments have used GIS extensively for years, this use has often not been obvious. In many states GIS is integrated into the operations of large departments such as environmental management or transportation rather than being centralized in a separate agency. GIS use by states is expanding and transforming from traditional planning or monitoring applications to applications focused on management, decision support, and information transfer.

GIS Use Expanding
Previous issues of ArcUser magazine have highlighted successful state GIS programs though not actually characterizing them in that way. The last issue featured an article about the innovative ways the Illinois State police are using GIS to assign personnel, disseminate information within the organization and to the public, and, soon provide decision support for officers in the field. The April–June 1999 issue, focused on GIS in health, contained an article that described how the South Carolina Department of Health and Environmental Control has created a system that georeferences health data for use in research but aggregates that data so patient privacy is preserved.
An article in this issue describes how the State of California is using a geographic framework to manage economic data.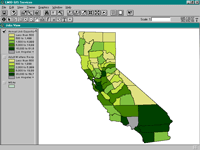 Four years ago researchers for California's Labor Market Information Division, a part of the Employment Development Department, began using GIS to analyze and communicate labor information for the State's world-class economy. Organizing data by its spatial relationships has allowed analysts to arrive at optimized solutions that would not be feasible by working with the data in tabular or chart form.
The 2000 census brings to the fore another critically important task of state governments--redistricting. The use of GIS for this intensely spatial activity, outlined in an article about an application developed in North Carolina, is also included in this issue. The application, developed by the North Carolina Center for Geographic Information and Analysis (NCCGIA), provides decision support for policy makers and public access to redistricting information.
Esri has developed an extension to ArcView GIS that aids state, local, and federal agencies in redrawing political boundaries and can also be used for defining sales, school, or voting precinct dostricts. Download the Districting extension for ArcView GIS at no cost.

Toward an Enterprise GIS
The emergence of organizations such as NSGIC and the implementation of the National Spatial Data Infrastructure (NSDI) are two forces that are moving GIS from isolation within departments to a more central role. Established by an Executive Order, NSDI promotes sharing of geospatial data and encourages the development of technologies, policies, and standards that improve the acquisition and use of spatial data. Numerous state governments have embraced this initiative and have created geospatial clearinghouses that make data readily available through dedicated Web sites. States have also been active in the establishment of metadata standards that promote data maintenance and sharing.

Data Sharing Strategies
State governments are using a number of approaches to sharing data. The Pennsylvania Department of Environmental Protection (DEP) created the Pennsylvania Environmental Navigator System (PENN) to leverage existing data by creating a State-wide data warehouse that is available to investigators and researchers via the State's Intranet.
GIS is a tremendous technology for delivering governmental services over the Web. It isn't limited to educating people about their government but is a way for them to interact with the government. The Pennsylvania DEP has also developed the Pennsylvania Facilities Analysis System (PFAS).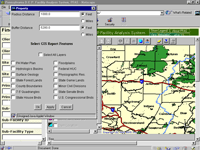 This Web application gives the public access to DEP permit information using Internet Map Server (IMS) technology. The application integrates permitting information with various State-wide data layers on one single map that the user controls. Pennsylvania's DEP is the first to create such an application and was recognized with a Special Achievements in GIS Award at the 1999 Esri International User Conference. PFAS is an excellent example of how Esri's Internet mapping solutions let state governments provide location-based services quickly and reliably. Routing to services, permitting, and other types of improved application processes eliminate the need for physically going to often distant state offices to transact business with the state.

Return on Public Information Investments
The development of national spatial data standards, the emergence of an organization that helps coordinate GIS activities at the state level and between the state and other levels of government, and the development of Web technologies will enable state governments to realize returns on their investments in public information.
For more information on how GIS is being used by state governments, please contact

Christopher Thomas
State and Local Government Solutions Manager
Tel.: 909-793-2853, ext.1-1819
E-mail: cthomas@esri.com.