With the CityEngine 2016.1 release, we've added many cool new features such as an OpenStreetMap-ready rule set, revised Inspector with faster user interface, and an enhanced Alembic exporter.
OpenStreetMap-ready CGA rule
We've added procedural rules for OpenStreetMap (OSM) buildings. The CGA rule is automatically assigned when you launch 'Get map data'. It also auto-interprets attributes on import to provide these rules with the information they need to generate your 3D buildings. If the OSM data for the area of interest does not include attributes, the rules apply smart defaults based on city style.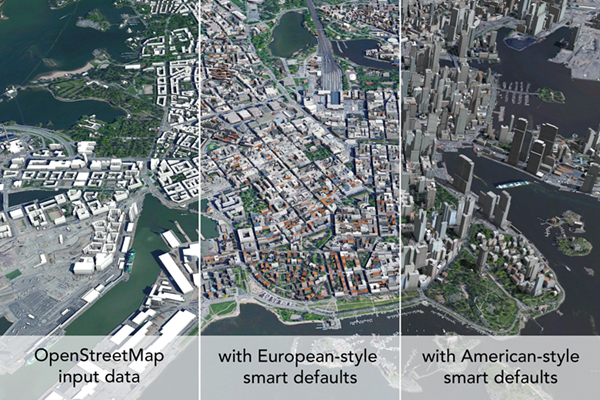 Cross-platform scene layer packages with attributes
You can now open Scene layer package (SLPK) files generated from CityEngine also in ArcGIS Pro and ArcGIS Earth. CityEngine supports the generation of attributed SLPKs in both global and local coordinate systems.
Inspector 2.0
We completely reworked the Inspector resulting in significant performance improvements and a smooth overall user experience. Also, we fixed several usability issues and the color picker user interface is back.
Look-around tool
The newly introduced Look-around tool allows you a panoramic 360-degree viewing experience. Furthermore, in the Viewport you can display bookmark positions as camera gizmos in the 3D scene.
Enhanced Alembic exporter
You can now group the 3D data inside an Alembic file, into cells. This allows for fast and isolated displaying of specific parts of the 3D model. Also, we've added a new tutorial where the workflow of exporting Alembic files to SideFX Houdini, The Foundry KATANA, and ChaosGroup V-Ray for Autodesk Maya is presented.
360 VR Experience
Stay tuned for our next blog when we talk about CityEngine's newest attraction, 360 VR Experience!
Be sure to visit My Esri to upgrade to CityEngine 2016.1 or try it now with a fully functional free trial version. And please leave any comments or questions you might have below.
Enjoy!
The CityEngine team
Commenting is not enabled for this article.