Download the 3D GIS Events & Activities flier to help pick out sessions specific to your area of interest.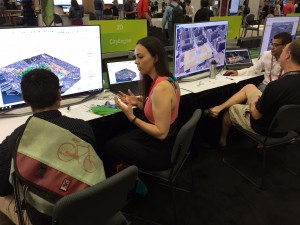 Our world is 3D – and 3D is the common visual and analytical experience for tomorrow's GIS. Next month at the 2017 Esri User Conference in San Diego (July 11th-14th), connect with 3D GIS experts to learn about the latest 3D GIS software and experience how Esri's 3D GIS technology has transformed the way 3D information can be managed, utilized, and integrated with your enterprise GIS. 3D is a core GIS capability that's easier than ever to integrate into your current workflows.
At the 2017 Esri UC, visit the 3D GIS Showcase where you can:
Discover how Esri's Enterprise 3D GIS strategy can transform your work.
Learn best practices when creating 3D scenes and experiences.
Connect with Esri professionals to answer your questions and help you get started with 3D GIS.
The 3D GIS Showcase will be open:
Tuesday, July 11th           9:00 am–6:00 pm
Wednesday, July 12th      9:00 am–6:00 pm
Thursday, July 13th          9:00 am–1:30 pm
Ground Level Exhibit Hall B, SDCC
Also, be sure to check out theater sessions to dive deep into 3D and see how it's all done. Esri staff will demonstrate the latest in 3D technology, from CityEngine to Web Scenes, and provide the audience with great tips & tricks to implement into your current GIS workflows. The sessions highlighted below provide a complete overview of all things 3D at the 2017 Esri UC.
3D GIS Demo Theater 13
Developer Demo Theater 11
Esri Showcase
Tech Theaters Exhibit Hall A
3D GIS Technical Workshops
Facebook Live 
For the first time, Esri CityEngine is going live on Facebook. There are three opportunities lined up to join in on the fun, and chat virtually with CityEngine experts.  Tune in on Facebook:
Tuesday, July 11th @ 8am PST with Eric Wittner, Product Manager for CityEngine at Esri. Eric will be giving a brief talk on what's new in CityEngine, followed by an interactive Q&A with those who tune in!
Wednesday July 12th @ 8am PST with Devin Lavigne, Principal/Cofounder of Houseal Lavigne Associates, an urban planning and community development consulting firm in Chicago. He is one of the profession's top graphics professionals and is recognized for his ability to communicate plans, planning concepts, and incorporating development visualizations into the planning process. During the Facebook Live session, Devin will dive into his work with CityEngine in the planning space. You may remember Devin from our 3D Planning with SketchUp and CityEngine webinar.
Thursday, July 13th @ 8am PST with Matthias Buehler, founder of vrbn: a multidisciplinary consultancy and service provider, specializing in high-end procedural urban 3D environment modelling and visualization. Matt will provide a unique perspective into the entertainment side of CityEngine. Last year, Matt gave us great insight into his work on the movie Independence Day: Resurgence in this webinar from VES.
Harnessing the power of 3D has never been easier. Take advantage of 3D as a core GIS capability, allowing anyone to access 3D content and tools anywhere and in any environment. Use 3D GIS to deliver useful content and capabilities to anyone who needs them, in the way that's best suited to their work. We hope you'll stop by the 3D GIS Showcase to experience the latest and greatest – don't be a stranger!
-Madeline
PS – Follow Esri CityEngine & Geodesign on Facebook, Twitter, and Instagram.