Elevation is a common foundational layer for your work in 3D; it's the layer you place your features on, above, or below. ArcGIS comes with a ready-to-use global 3D terrain layer. You can combine your unique GIS layers with this freely available terrain to make powerful 3D maps (or scenes). To create the scenes with the Terrain 3D layer you can use ArcGIS Pro, ArcGIS Online Web Scene Viewer, or in forthcoming Runtime apps. You might wonder, "How do I add the Terrain 3D layer to my project?" Don't worry, Terrain 3D is the default elevation layer in all three apps.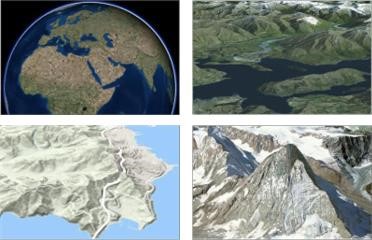 Terrain 3D provides global coverage of 3D elevation for your work at global scales all the way to your work in a city.
The latest release of Terrain 3D now includes detailed void-free 1 arc-second, or about 30 meters (98 feet), SRTM (Shuttle Radar Topography Mapping) data for Asia and Australia. SRTM data for Asia is provided by NASA, and the Australia DEM (DEM-S), which is a cleaned and smoothed version of SRTM 1 arc second, is courtesy of Geoscience Australia. NASA previously limited the resolution of STRM data outside the United States to 3 arc-seconds, or about 90 meters (295 feet). This update to the Terrain 3D layer completes Esri's compiling of recently released SRTM 30 meter content (except for the unreleased Middle East). View more information here on the Asia and Australia content.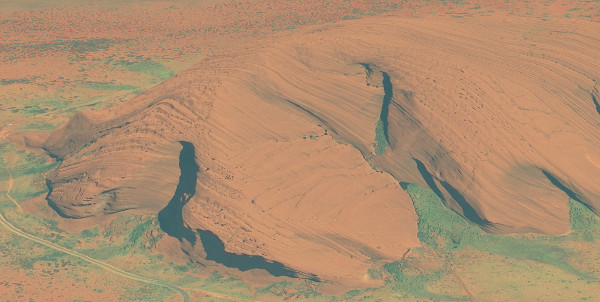 Uluru (Ayers Rock), in Uluru-Kata National Park, Northern Territory, Australia
K2, Pakistan (8,611 meters/28,251 feet). K2 viewed in 3D provides a compelling glimpse at the world's second highest peak in a way an ortho image is unable to achieve.
First released in December 2014, this release is the third update to the Terrain 3D layer. With each release, Esri provides higher resolution (smaller pixel) elevation content from community and open data sources. Resolution for the layer ranges from 3 meters to 1,000 meters globally. As an example, in the United States resolution ranges from 3 meters to 10 meters, and 3 meter data for all of the Netherlands was included in the March release through the Netherlands Kadaster's open data policy. See coverage map here.
The Terrain 3D layer is a derivative information product of the World Elevation Service (FAQs). The World Elevation Service provides a comprehensive collection of layers and tools to support your elevation needs. You can find a complete list of available layers and tools here. Additionally you can contribute your authoritative high resolution elevation data through the Community Maps Program—Apply to contribute now. Lastly you can showcase exemplary work by you and others through the Esri Living Atlas. You can nominate an outstanding map or scene via the Living Atlas Nomination App.